BY SEÁN P. FEENY
ONE of Donegal's most famous musical exports, Goats Don't Shave, have just released their long-awaited third album.
Having reformed for occasional concerts in 2012, well-known singer Pat Gallagher and the band decided they wanted to give their fans something brand new.
Songs From Earth is a real songwriter's album, featuring a collection of beautiful folk songs, penned in more recent times by Dungloe man Pat Gallagher.
The new album also features the Goats' version of Pat McClean's The Evelyn Marie, which the band rearranged for a recent documentary on the fishing vessel which sank in 1975, tragically taking the lives of six men.
"I was asked to record the song by Helena Gallagher from Arranmore who lost her father in the tragedy. I actually took part in the search when I was a young boy with my father, who was also a fisherman, so it was a great honour to record Pat's song."
It also features a lot of songs that show the band's great connections with Glasgow, including The Glasgow Bus, a song about Pat's personal journey as a young man leaving Donegal to work in Glasgow and The Little King, dedicated to Glasgow boxer Benny Lynch, whose parents hailed from the county.
Despite receiving offers from record labels to release a 'Best Of' compilation, Pat said the band decided they wanted to release new material.
"We didn't want to tour and just throw out the old stuff at gigs, so we decided to head back into the studio and it was a real pleasure to record new songs. Songwriting is what I do, so it was nice to get some of the new songs recorded," he said.
THE NEXT GENERATION
Songs From Earth also features the next generation of Gallaghers as Pat's daughter Sarah (19) joins the Goats on Strange Star.
"I didn't intend to write it as a duet, but after finishing the song I thought it would be nice to feature a female voice, so we brought Sarah into the studio."
Pat's talented daughter is keen on pursuing a career in music, against all advice from her parents, a determination the Rosses man knows only too well.
"My own father advised me against becoming a musician. Every instrument in the house used to be a banjo to him, whether it was a guitar or a piano. He would say 'stop playing that banjo', but I kept falling back to the banjo and made a career out of music," he laughed.
Formed in 1988, Goats Don't Shave went strong right up until 1995 before taking a breather from recording and touring all over the world.
As the band's 25th anniversary approached, the Goats reformed in 2012 for a number of concerts at home and abroad, but personal commitments have as of yet prevented them from accepting the many offers to travel further afield.
Pat said: "Like anyone, we all have bills and mortgages to pay. We all perform by ourselves and with other bands here in Ireland and the UK so it takes some organising to get all members together for Goats Don't Shave concerts."
Goats Don't Shave will be performing in the Allingham Arms Hotel, Bundoran, on May 23 for what will be the band's only Donegal date this summer.
"We are doing a number of dates around the North and Scotland in May and June, with plans to do a more extensive tour of the UK during the autumn. We have had a lot of offers to travel to North America so that's also definitely on the cards in the near future."
Pat said the music industry has changed a lot since the Goats first started and they have been overwhelmed by the response to their music online.
"We have people all over the world following us on Facebook and the sales through our own website, iTunes, and CD Baby have just been incredible. We were not prepared for the great response we got, it was a real shock," he laughed.
'LAS VEGAS'
The band's most successful song, Las Vegas In The Hills Of Donegal, is of course still a firm favourite with fans and Pat is still very touched when people approach him and tell him where they heard the class Goats song.
"I was playing in Seán Óg's in Gaoth Dobhair recently and a Belfast man who lives in Indonesia approached me. He told me that he had formed a band over there and every time they play our song, the people always get up and dance.
"It's always amazing to hear the stories, when people come up to me and say 'you'll never believe where I heard your song'. My nephew was recently washing his van and I could hear Las Vegas come out of the stereo. I said to him 'that's not us, who is it?' and he told me that it was featured on Nathan Carter's latest release, The Wagon Wheel Show."
Songs From Earth was well worth the wait and we look forward to hearing a lot more from Pat Gallagher and Goats Don't Shave. www.goatsdontshave.ie
Posted: 2:30 pm April 27, 2014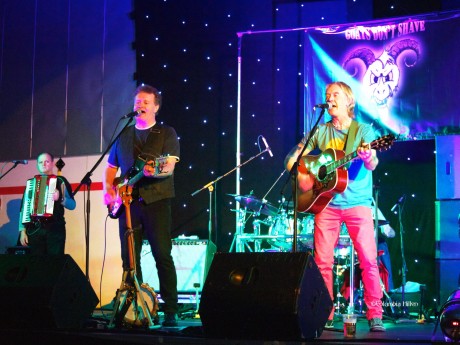 WITH Donegal in the All Ireland Final This Sunday in Croke Park, almost everyone from the county will be...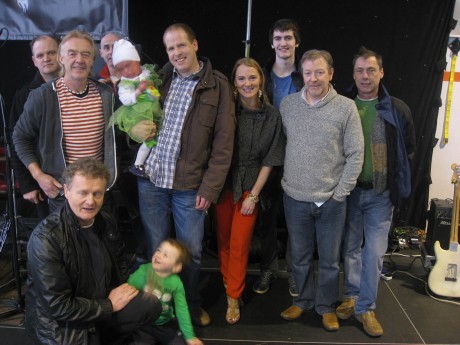 MUSIC is a healer and with that in mind, well-known group, 'Goats Don't Shave,' staged a special St. Patrick's...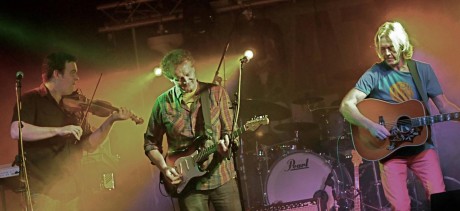 GLASGOW Celtic have asked the Goats to play at Park Head in front of over 50,000 at the SPFL...