By Chris McNulty
at The National Stadium
THE tears were of a different emotion this time.
Finn Valley ABC's diminutive dynamo Eoin 'The Bullet' McGarrell claimed the National Boy 2 33kgs title on Saturday following a deserved win over Myles Casey from Limerick at the National Stadium.
McGarrell was victor by unanimous decision over Casey, the eldest son of Willie 'Big Bang' Casey, who worked the blue corner. After a lengthy wait for the result, it was the hand of the ecstatic McGarrell that was hoisted by the referee, Jim  Murrin, after the Welchtown warrior was given a 29-28 decision by all three of the judges.
The feeling was sheer, raw elation as McGarrell leapt into the arms of proud coach Billy Quigley, aided in the corner by Orin McDermott.
"He was beaten in a semi-final last year and when I met him in the gym on the Monday night, he was still in tears," Quigley remembered..
"He said to me that night: 'I'll be an Irish champion in 2014'. He gave up playing all other sports – and he was good at soccer and Gaelic – to concentrate on the boxing. He is."
The tears here were of pure joy as McGarrell finally claimed the prize.
It proved difficult for McGarrell to connect with his target, but he retained composure and focus for the duration.
Casey was an awkward opponent, but when it came to the crunch, the Limerick southpaw just couldn't dodge the bullet.
McGarrell defeated Oisin Treanor, the reigning All-Ireland champion, to win the Ulster title and kicked on in style this week with a fine 3-0 semi-final win over Neilstown's Killian Geraghty.
"From the North-West zones on he has been excellent; you couldn't fault him," Quigley said.
"He's had a big week this week. He's been brilliant. He's a slick wee boxer and he was excellent in the final."
Next weekend, he heads for Dublin again for training with the Irish schoolboys and Quigley believes his star can keep rising.
He said: "Eoin is in the history books now as an Irish champion and he can only get better.
McGarrell's title win is the 42nd national title in the remarkable ten-year history of the Finn Valley ABC.
Quigley said: "It's unbelievable in ten years. When Conor started the club you couldn't have written it."
A historic day for the Bluestack ABC ended in a myriad of confusion, disappointment and fury after Thomas Doherty was beaten by Oisin Brennan from St Anne's, Westport in the Boy 2 80kgs final. Doherty became the first boxer from the newly-formed club to compete in an Ulster final but, after emptying the tank, he found himself on the wrong end of a particularly harsh 3-0 defeat.
Brennan had been the clear winner of the opening stanza, but Doherty seemed to have done enough in the following two to shade it. Yet his camp was left dismayed after Brennan was named the unanimous winner.
"It doesn't make sense," coach Eamon McAuley said.
"Our man was definitely on top, but this is the way the boxing has gone now. It's crazy this system. It's hard to take."
Yet Doherty could leave with his head high after a gallant display that saw him burst to action from the off in round two.
MacAuley said: "He was nervous. This has been his first time up at the Stadium.
"It's been a great season for the club. It's a whole building process for us."
On Friday evening, Cian Moran (Illies Golden Gloves, 27kgs) and Martin Sweeney (Bundoran, 63kgs) were beaten in Boy 1 finals by Aaron Kirwan (Ballagh) and Scott Boshell (Ballinrobe).
Bluestack's Tom Ward was unfortunate to lose his Boy 2 36kgs semi to Jack Connors (Ballincollig) earlier in the week, with Charles Delaney (Illies), Oran Devine (Raphoe) and Shane Gillespie (Bundoran) also losing Boy 2 semi-finals. James Devlin (St Bridget's, Clonmany) and Lee Harkin (Illies) were beaten in Boy 3 semi-finals, while the Letterkenny duo of Michael O'Donnell and Patrick McShane lost out in Boy 1 semis.
There were preliminary round defeats, meanwhile for Jesse Callaghan (St Bridget's, Clonmany, Boy 1), Oran Wallace (Dungloe, Boy 2) and Jamie Pearson (St John Bosco, Boy 3).
Posted: 5:00 pm April 28, 2014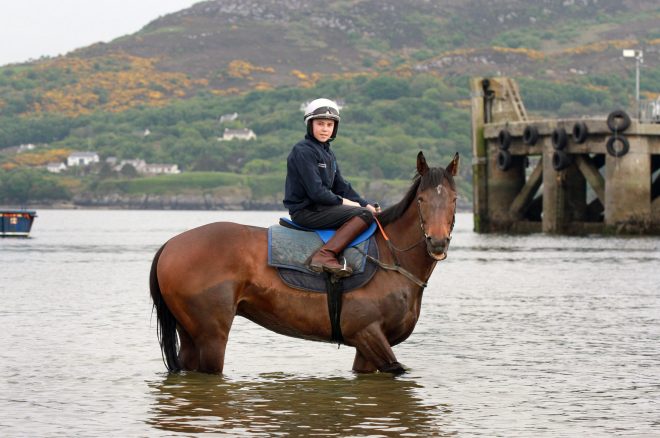 The 15-year-old Errigal College third year student landed five winners on what was the opening day of the North...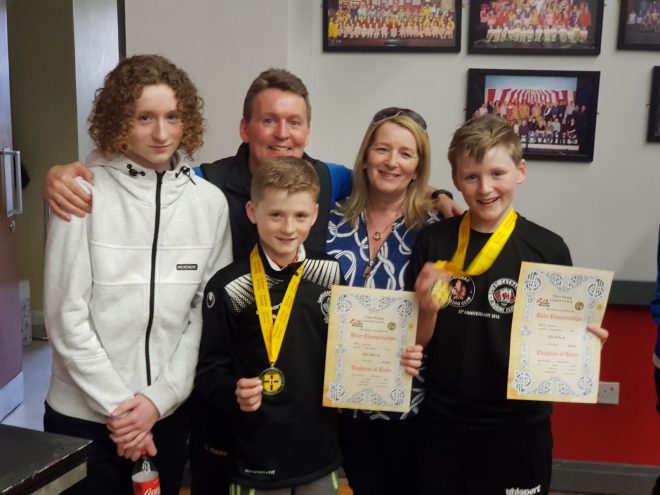 Seán Brady Devenney (11) and older brother Cathaír (12) from Corgary, Ballybofey, now progress to the All-Ireland finals in...