BY CHRIS MCNULTY
OLLIE Horgan put on a diplomatic front, but his annoyance was clear.
Finn Harps' manager had just watched his side match big-spending Longford Town for ninety minutes on Saturday, but they had been undone by a contentious penalty in the 25th minute, scored by David O'Sullivan to hand Longford a controversial win.
In a game that was their last of the season's opening quarter, Harps fell to their second defeat of the campaign when O'Sullivan netted following a decision that had Horgan fuming on the sideline.
It was a night when Harps pressed hard in a valiant attempt to pull something from the embers, but they were burnt by a decisive and debatable piece of officiating in the first half.
To the bemusement of the small attendance, referee Kevin O'Regan awarded a penalty for a handball after Noel Haverty's cross struck Packie Mailey.
The call that had Horgan livid and, while the ball may well have hit Mailey's hand, the Harps player had his arm firmly by his side and didn't appear to have made an attempt to make hand-to-ball contact. O'Sullivan's spot kick was low to Conor Winn's left-hand side and while it lacked conviction it managed to creep under the dive of the Harps netminder, who will reflect that he could have made the save.
Horgan kept his counsel as best he could, but the Galwegian was clearly irked after the game.
"Had we been beaten by three or four, out the door if you like, we might be more content and I could stand here and say: 'The better side won'," Horgan said.
"It's hard. The penalty decision was very, very harsh. Really, there wasn't a whole lot in it apart form that. It's hard to take.
"It was a decent cross, nothing great. Packie seemed to stumble into it and he seemed to be pushed into it in a way, but that's not for me to stay. Look, we'll take our oil. We didn't get the rub of the green here, but so be it. We won't dwell too much on it.
"We matched them for most of the ninety minutes, but we got nothing out of it."
The Harps manager was content with his side's performance.
He said: "We limited them to a couple of chances. They are very strong at set pieces, their delivery and movement is excellent. We dealt with that, but then we conceded the penalty.
"Longford are a decent side with some serious players.
"They are all men out there. Longford have no kids about them. They're all men who have played at a higher level. We have a couple of kids there. We battled with them and we matched them. At the same time, we created two chances, maybe three.
"If we are in every game until the final whistle, as we were tonight, we'll be ok. We had four minutes of injury time and we threw a couple of free kicks in on top of Chris Bennion. Longford have experience out there and they are clever in what they do.
"I feel over the season that Longford will be there with the quality that they have in depth. Don Cowan and Gary Shaw didn't get a start here and most League of Ireland clubs would be glad to have them. I don't think too many teams, not even Shelbourne, have that calibre in their squad."
Horgan is hoping to be able to call on his captain Kevin McHugh again soon, with the Killea man having had an MRI scan and a prp injection in Dublin on Friday for a hamstring injury that has kept him on the sidelines since the first game of the season.
Horgan said: "He is very sore and isn't able to do anything for a number of days, until he starts back at training. We're hoping that he has turned the corner. There is light at the end of the tunnel and we're hopeful that he will be with us in the next couple of weeks."
Posted: 5:30 pm April 21, 2014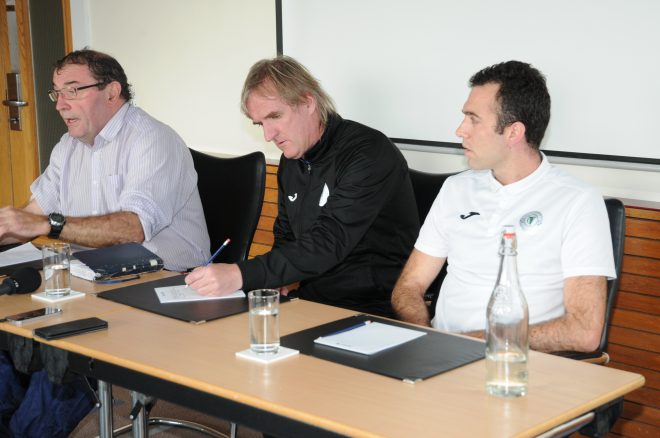 Finn Harps secretary John Campbell said the club's budget for the new season would include four underage teams competing...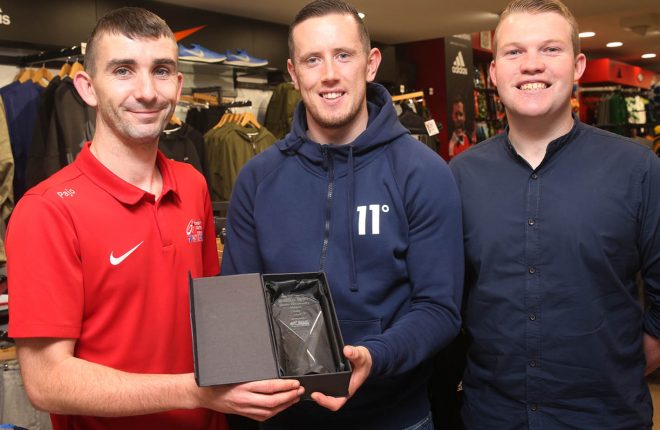 Gallagher was awarded the Donegal News Sports Personality of the Month award for July