BY CHRIS MCNULTY
AFTER a 2013 that was more stop than stop-start, Karl Lacey is delighted to be on the move again.
Lacey and Donegal will be back in Croke Park in three weeks' time for the April 27th Division 2 final against Monaghan.
The Four Masters man missed large swathes of last season after returning from hip surgery the previous winter and then suffering a knee injury that stunted his progress.
With a League campaign under his belt, Lacey is glad to be on the recovery road.
"I'm getting there," he said after yesterday's win over Armagh to guarantee a top-flight return.
"Last year was frustrating for me. I'm taking a slower approach to it this year and it's just about building it back up again with each game and each week.
"I'm doing that and picking up no niggles along the way, which is a massive help in keeping fresh.
"I'll just keep the head down and keep focussed on Derry in seven weeks' time."
Donegal's walking wounded have all returned to action, bar Paddy McGrath who is also said to be on the positive side of the curve once more.
With Lacey, Mark McHugh and Neil Gallagher all back in harness having had spells on the treatment table, the 2012 Footballer of the year feels that Donegal have turned the corner.
He said: "It was a tough year for us last year. This year has been all about getting back to where we were in 2011 and 2012. We took it one game at a time then and we're back doing the same now.
"That's the way it has been since the Laois game. It's worked well for us so far and we won't change it now.
"There is a great panel there, around thirty lads training really hard.
"There are no guarantees of places and Jim says that every night at training. Boys are pushing each other on and it's very competitive. We had the likes of Paddy McBrearty to come in and lift things, which is great. That depth in the squad is vital. Getting us older fellas back in hasn't been easy either."
Donegal were impressive winners against Monaghan last month at O'Donnell Park, but Lacey believes that Malachy O'Rourke's side will be formidable opponents in the final which happens to be a re-match of the 2013 Ulster final.
Lacey said: "It'll be a tough test against Monaghan. We've played them already this year in Letterkenny in the League. They'll have some extra training done, like ourselves. Teams are a lot fitter now. It makes for an interesting battle."
While Derry have been going well in Division One and Brian McIver's team beginning to grab some headlines, Lacey says that Donegal must keep the vision tailored to their own approach to the late-May Ulster quarter-final.
He said: "Derry have been very impressive in the League. They're a match for all the teams in Division One, but we can only control what we have within our group of players and that's all we're focussed on."
Posted: 2:00 pm April 7, 2014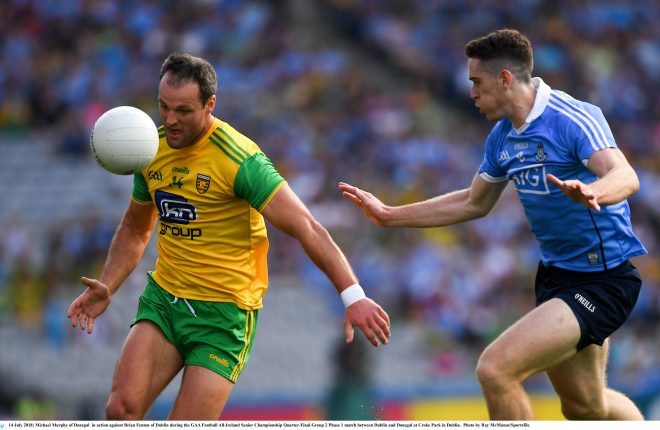 Dublin too strong in Croker.