BY CHRIS MCNULTY IN ARMAGH
c.mcnulty@donegalnews.com
DONEGAL will play Division 1 football again next year after a productive afternoon in Armagh yesterday yielded a five-point (2-10 to 1-8) win.
Michael Murphy's two goals secured promotion and a place in the April 27th Division 2 final against Monaghan, with the result meaning that Armagh will make the drop to Division 2 for 2015.
Donegal's radar is already trained on their upcoming Ulster Championship quarter-final against Derry in May, but a week-long training camp in the Algarve will now have a League final on the agenda.
This Thursday, Jim McGuinness and his squad fly out to Portugal, where they will spend a week in warm-weather training.
The sight seeing, one suspects, could be light.
"My wife is calling it a holiday but we're calling it a training camp," the Donegal manager said.
That'll give us an opportunity to work on the things we've been working on. We will try and nail them down to move towards May 25th. Derry's form is very impressive and it will be a massive challenge to go into Celtic Park to try and win that. The week away will give us an opportunity to streamline things.
"The thing about trips away, you get the chance to talk to people one-on-one.
"There's not the usual pressure with people going to work, or running to training or going home. For people to be out of that environment, it will be good for them after a tough campaign where we can be focused and talk about football all the time."
His team were fairly comfortable winners yesterday. Murphy netted a penalty in the 16th minute and the captain added another four minutes into the second half. Rory Kavanagh was the provider with an inch-perfect ball that found Murphy goal-side of Charlie Vernon. Murphy did the rest and Donegal were on their way.
Armagh had made a game of it when Jamie Clarke squeezed to the net only two minutes after Murphy's penalty, but Paul Grimley's side couldn't quite get close enough.
Grimley had a few choice words for the referee, Fergal Kelly, after a defeat that resulted in his team packing their bags for Division 3.
"We talk about black cards, we talk about rule changes, we talk about giving respect and the elephant in the room is the refereeing," Grimley said.
"We had a player, Stefan Campbell, who rid two head high tackles and a free was given against him. I wasn't happy with a whole lot of decisions."
Grimley's comments were put to Colm McFadden, who gave a neat rebuke on a day when he made his 148th Donegal appearance, moving ahead of Matt Gallagher into second on the all-time list, now eleven behind Brian Roper's 159.
"I don't think I would've been pulled or hauled as much in the other 147," McFadden said.
McFadden hit five points, the last of them in stoppage time, a superb effort from play hit from around the '45 to seal the deal on a day when Donegal had another massive display by Kavanagh and Karl Lacey giving his best display of the campaign so far.
Posted: 7:30 am April 7, 2014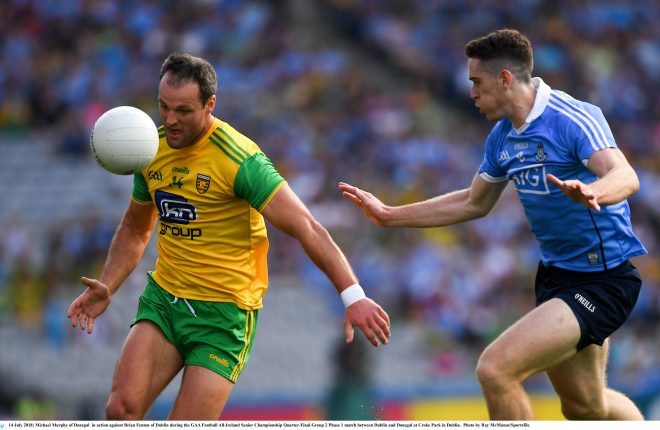 Dublin too strong in Croker.