SEBASTIAN McLaughlin is a self-taught artist from Buncrana who from an early age had a keen interest in art and design.
He pursued Art and Design at college, completing first year, however he felt that the timing wasn't right and he subsequently changed direction finishing up with a MA in Advertising. Sebastian continued to paint and draw self-directed and later moved to New York City to pursue a career in advertising, however his musical and artistic inheritance had other plans.
His Traditional Irish banjo and mandolin playing took him all over the States with various bands, while his art seen him work with new styles, techniques and influences.
It was the city around him, the people he met, the exposure to top class galleries and the classes at the Arts Student League of New York City and more recently night classes at NCAD that taught Sebastiant and changed him artistically.
Since his modest beginnings Sebastian has exhibited in the RDS Dublin, been part of group shows all over Ireland as well as numerous solo shows in Dublin and New York City.
Sebastian's work was also exhibited as part of the 'Art takes Time Square event' in New York and currently has work in private collections in the Ireland, USA, Germany and Sweden.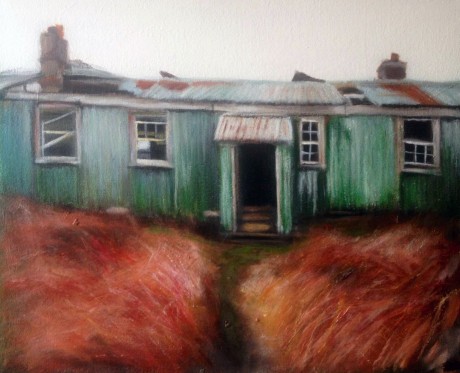 Sebastian said that art comes natural to him, it is part of who he is, a gift given from his mother who is a great artist and dress-designer.
He loves to work with a variety of mediums in his work, such as pencil, charcoal, pastel, conte, oil pastel and acrylic paint.
Sebastian's inspiration stems from history and travel, atmospheric scenes, childhood memories, the human figure, moments and people that have made a mark in his life. Artists that he gains inspiration from is wide ranging from old greats such as Hopper, Degas and Van Gogh to more modern artists like Egon Schiele, Alex Kanevsky, Daniel Pitin and Kim Cogan.
Sebastian's work is a mixture between drawing and painting using figurative, portraits and landscape / cityscape scenes as subjects. He likes to create work that is atmospheric and possesses depth that expresses something that will evoke the viewer to feel, to engage with what they are seeing and to take away a piece of something from the work, be it a thought, an idea, a perspective or a message.
Sebastian's most recent project entitled "Place in Time" investigates the former living quarters at Fort Dunree in Inishowen.
Through this on-going exploration he found its abandoned, rusted, weather and time battered corrugated atmosphere, possessing a desolate overgrown haunt that still watches over the Lough extremely interesting and worth a deeper look.
Sebastian feels that it appears as if they had just walked away, or that time took them and what remains is the shell, the essence of former life, a mark made and left.
The project is not yet finished though some works are completed and one work is currently part of the Glebe Gallery open Easter art exhibition. He has plans to hold an exhibition once all works are complete.
Keep an eye out for Sebastian's work, he is one to watch!
Contact details : Website http://sebastianart.carbonmade.com/; Facebook: www.facebook.com/SMcL.ART; Email: sebastian.maclaughlin@gmail.com

Zara McDaid can be contacted on Facebook, search 'Zara Mc Daid Art', www.zaramcdaid-art.blogspot.ie or e-mail is zaramcdaid@hotmail.com
Posted: 11:30 am April 22, 2014