THIS week I would like to tell you about a very important cause that is coming up here in the county. I am a member of the Darkness Into Light (DIL) Donegal Committee, which is family friendly charity 5k walk or run taking place in Letterkenny on May 10.
The walk will start at Letterkenny Community Centre as early as 4.15am. The idea behind it is to start walking while it is still dark and finish the walk as the sun is coming up, hence the name. I think it is a truly unique event and I cannot wait to take part.
There is something special about getting up in the middle of the night to do something like this. DIL is organised by Pieta House, a suicide prevention centre which help hundreds of people struggling to cope.
The centre originated in my home town of Lucan, Co. Dublin, and has since spread to six other towns around Ireland. Darkness Into Light Donegal could help fund a much-needed centre in Donegal so please come out and show your support.
Registration will take place in various venues across the county next month. I will post more details closer to the time. If you would like to register online just search dil.pieta.ie 
If you have any questions regarding any of the topics I covered, feel free to e-mail nikkibradley59@gmail.com. Alternatively, just scan the code at the bottom of the page. This will bring you straight to my Facebook page.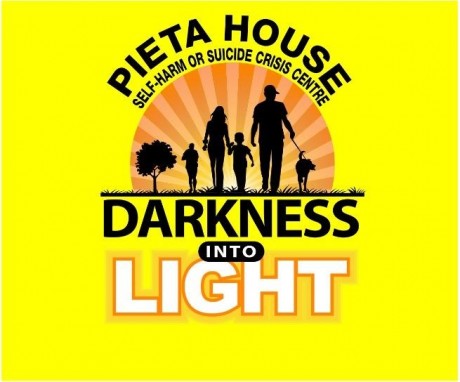 Go hard or go home
I thought of the well-known milk adverts – Them bones, them bones need calcium – as I trained in the gym this week and was reminded of how true this is. I recently increased my training schedule to five days a week and my body is really feeling it.
Everything has a knock-on affect. For example, when my hip gets sore I subconsciously put more weight through my other joints which results in the pain travelling around. Sometimes, my left leg gets very sore as it has to carry the majority of my weight on a daily basis.
This can be quite an inconvenience, especially if you happen to be training to do one-legged skipping. I used to feel frustrated during this time. I would give in to the pain instead of trying to come up with a way around it.
I noticed on Tuesday night that my left ankle was slightly bruised and swollen. It is the first time in a long time that I have had an issue with the left side of my body and the 'old' me would have freaked out. I am in big trouble if the left foot gives out on me and normally I would have over-thought the situation. I also would have overreacted.
This time however, my biggest concern was whether this ankle would interfere with my skipping. It got me thinking about how much my priorities have changed in the nine months since I launched Fighting Fit For Ewing's. When something goes wrong now I don't automatically think how it will affect me, I think how it will affect the campaign. That realisation is a comforting one I must say. 
Strengthening the arms
This week my trainers, Michael Black and Aoife McGill worked with me on strengthening my arms. This strength is vital for my upcoming pull-up challenge. I have struggled with it though.
I cannot seem to get past a certain point as my shoulders want to push downwards, and so far that issue has not resolved itself. We will get there though.
If the challenge needs to be tweaked to accommodate my shoulders, then so be it. We have been practising with reverse chin ups, which I really enjoy.
It makes me look strong. If someone happens to look over they will assume that I have just done a chin up. I'm cool with that! 
My trainers have been absolutely amazing since the beginning. They keep me motivated and encourage me to push myself. I know I have limits, everyone does, but both Michael and Aoife can spot when I am slacking off and they don't fall for my excuses which I like.
People tend to walk on egg shells around me and I often see pity in people's eyes when they talk to me. I have always hated that look.
Michael and Aoife don't pity me, they see me as a challenge. We are constantly finding exercises that 'normal people' can do and changing it around slightly to suit my needs.
I like that as it reminds me that I can still do most of the things you can do, except running, but I think I am KO with that as I always ran, weird anyway.
Nikki Bradley is the founder of Fighting Fit For Ewing's, a campaign to promote awareness of Ewing's Sarcoma. Nikki is sponsored by All Sports in Donegal Town. Support her campaign by giving 'Fighting Fit For Ewing's' a LIKE on Facebook or follow her on Twitter @nikkibradley59
Posted: 12:15 pm March 31, 2014