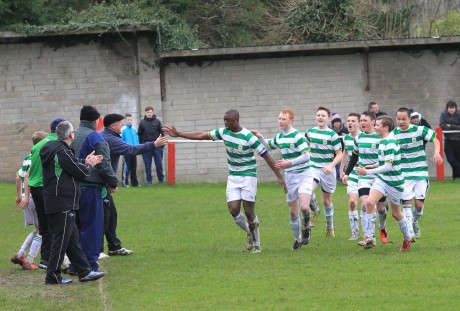 BY CHRIS MCNULTY
SWILLY Rovers representatives are to attend a Schoolboys Football Association of Ireland (SFAI) hearing on Wednesday night next, March 12, in Dublin, it has emerged.
A delegation from the Ramelton club will meet with the SFAI hierarchy at the Red Cow Inn following an allegation of racial abuse during a game at Swilly Park last Saturday.
It has been alleged that 'a small number of supporters' at the club's Under-15 SFAI National Cup game against Castlebar Celtic engaged in chants of a racial nature.
"The SFAI has received a complaint of alleged racist chants made by a small number of supporters at the Swilly Rovers v Castlebar Celtic U15 SFAI Cup match played on Saturday March 1," the SFAI confirmed in a statement to the Donegal News yesterday afternoon, Thursday.
"The SFAI has now received the referee's report from this match and the matter will be the subject of an SFAI investigation. The SFAI takes such matters very seriously and will not be making any further comment until this investigation is complete."
The player at the centre of the allegations is Cameroon-born centre-back Thierry Baba, a 14-year old whose family moved to Ireland in 2007.
The initial complaint was made on the player's behalf by Mayo Intercultural Action, who made the FAI Intercultural Programme Co-Ordinator, Des Tomlinson, aware of the allegations.
On foot of receiving the report of the match referee, Joe McHugh, the SFAI asked Castlebar Celtic to lodge statements. The club has confirmed that it will do so in advance of Wednesday hearing, at which representatives from the County Mayo club will also be present.
Meanwhile claims made in some media outlets have been refuted.
"Claims that the player in question was subjected to abuse every time he touched the ball are unfounded," said Ryan Ferry, who covered the game for the Donegal News.
"I was one of two reporters at the game and although there was a large, vocal crowd at the game, there did not appear to be an undercurrent of racism at the game.
"It was also reported that the referee ordered the teams off the pitch, but that is also inaccurate. However, the referee did go over to a section of the supporters and gave them a stern warning about their conduct."
Swilly Rovers won the game 2-1 and are due to play Kingdom Boys from Kerry at Swilly Park in the quarter-final before the end of the month.
Both Swilly Rovers and Castlebar Celtic declined to comment on the matter.
Posted: 5:30 pm March 6, 2014