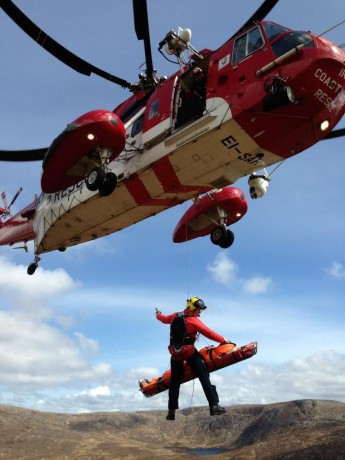 DONEGAL Mountain Rescue coordinated a multi agency rescue of a 62-year-old Kerry woman on Thursday afternoon at Ards Forest Park.
The rescue was coordinated in excellent support and cooperation from the Mulroy Bay Coastguard Unit, a HSE ambulance crew and the Coastguard helicopter crew 118 based at Strandhill in Sligo. Two handlers from our SARDA dog unit also attended.
A spokesperson for Donegal Mountain Rescue Team said: "We picked up the distress call at 12:40 and dispatched a hasty crew to the area.
"However, the coastguard unit who happened to have a boat unit on exercise in the area dropped off a crew member on Binnagorm beach and he was first to locate and stabilise the casualty on a headland beyond the locally famous Iron Man.
"He remained with her until the DMRT and ambulance crews arrived. The casualty was a 62-year-old female from Co Kerry who was holidaying in the area with her husband. She unfortunately slipped on a treacherous section of track and suffered a broken ankle. The woman was in a state of some shock and considerable pain when the rescue crews from the various agencies arrived but stable.
"Because of the distance she was from the nearest access point, some 2km, a decision was made to call the rescue helicopter."
The spokesperson said the woman was rescued in a classic exercise of a highline extraction to the helicopter in perfect weather conditions at 14:45.
"She was transported to Letterkenny General Hospital where she was was kept overnight and was undergoing surgery on Friday."
Posted: 11:18 am March 16, 2014