BY CHRIS MCNULTY
RARELY do Donegal and Armagh meet when there is little at stake.
Certainly next Sunday at the Athletic Grounds, the old rivals will meet on a stage that will not be a million miles away from the arenas they'll clang their respective swords in the Ulster Championship this summer.
Armagh lost in Galway on Sunday, meaning Paul Grimley's side are hanging by their fingers to their Division 2 spot and peering tentatively at Laois and Galway.
Armagh are on five points, level with Galway, and only a point ahead of Laois heading into the final series next weekend.
With Donegal looking for a win to end on a high note and set them up for a League final, Michael Murphy is expecting the sparks to fly.
"It's going to be a typical Ulster championship clash which is what you want in your last league game," the Donegal captain said.
"There's bite going into the last game, it's not a game which doesn't mean anything. It means something and all of our games so far have meant something, which is crucial.
"You take every league game on it merits and always build and get bodies out playing and try and keep the squad as healthy as possible.
"That's vitally important and we have done that by enlarge this year, maybe a couple of injuries are starting to creep into things now but I suppose that is to be expected.
"Hopefully we can get them cleared up during the week and get buzzing again for Armagh. It's going to be a huge game and they have Kieran McGeeney in the backroom setup now and in recent weeks they've been flying.
"There's a lot on the line for both teams too which is always crucial and it will make the game even more important."
While Murphy and the forward division got their crosshairs focused well yesterday having been a little off centre against Down two weeks ago, it was at the other end where Donegal had some issues against Louth.
The concession of three goals, all of them of the preventable variety, leaves them with some work to do before they head into the Athletic Grounds.
After the defeat to Down, Donegal came in with a renewed bite yesterday – and raced into a 0-13 to 0-1 lead.
Murphy said: "The first half we set out to really go at it coming off the back of the last result. We had a couple of weeks very good training and we started the game well, showed good impetus going forward.
"At the other end it was a bit of a bugger with the goals and its something we have to work on and try and marry the two things together, the attacking and defending.
"We took a bit of responsibility and the brunt of it ourselves after the last day in Newry. In fairness to the defence before the game against Down if they were told they'd only concede 1-9 they would have taken that.
"At the other end we didn't do our part of the bargain and put the ball over the bar and we did it in patches there today but still we need to be more clinical, and again marry it with the defensive side of the game for the full 70."
With the prospect of a League final in Croke Park on offer for the top two sides in Division 2, Murphy is aiming for a win on Sunday in Armagh, four days before his side jet out to Portugal for a week-long training camp.
He said:  "We are delighted to have gotten so many good games and next Sunday if we can keep to our end of the bargain it might give us a chance of another day out again.
"There's a lot of work to be done between now and then to put right the errors that happened out there today. It was still scrappy."
Posted: 4:00 pm March 31, 2014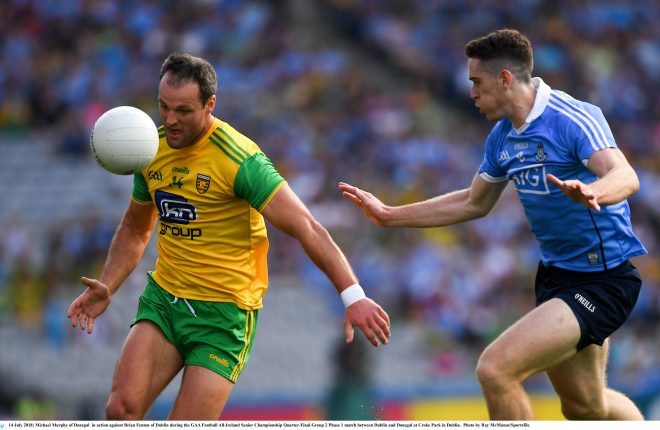 Dublin too strong in Croker.