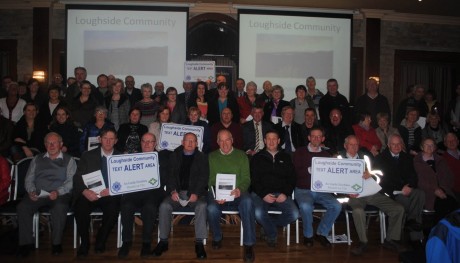 OVER 100 people attended the launch of the Loughside Community Annual Plan for 2014 in the Silver Tassie Hotel last night.
The Loughside Community Group was set up by Noel Sweeney from Cashelshannaghan in November 2014 in response concerns by local residents after a number of burglaries took place in the local area.
The group, which is now an affiliate member of Muintir na Tire (representing by Vanessa Clarke at the meeting), is up-and-running with a text alert system in operation and a hard-working committee in place.
The group has also been liaising with the Garda Siochana community officer and Superintendent Michael Finan was also in attendance on Tuesday night.
Interim Chairperson Noel Sweeney said: "We have received great support from the community and now have over 300 numbers on our text alert database.
The committee has been working extremely hard since November and tonight we are presenting an action plan outlining our intentions for the rest of the year.
"I have been very impressed with the positive response from the community as a whole. All of the committee members have stepped up and taken on shared responsibility for various activities in the action plan.
"Over the year, we will try to address the concerns of the Loughside Community and arrange a number of community events to help generate community spirit in the area.
The planned events include a 5Km fun walk/run, Area Clean up/Coffee Morning, a table quiz night and an end of year party night.
"The group will also put a funding plan in place, develop guidelines for supporting the vulnerable in the community, apply for personal alarms for older residents and roll out a network of Loughside Community Text Alerts signs throughout the Loughside.
The Loughside area, which covers the townlands between Letterkenny and Ramelton, was divided into fifteen Townland Areas (TAs) and at least two TA coordinators were appointed for each Townland Area. The coordinators have been busy recruiting residents into the scheme and informing the community about the text alert scheme.
Technology company SendMode, based in the CoLAB at Letterkenny Institute of Technolog, set up a text alert scheme for the group and sponsored the first 5,000 text messages.
Posted: 12:11 pm March 26, 2014