BY CHRIS MCNULTY
THOMAS Bonnar's is a tale familiar with so many aspiring footballers the country wide.
Ten years ago, persistent injury problems led to the Letterkenny man being summoned to an office at Wolverhampton Wanderers' training ground and told that he was being released.
Back he came to Ireland with his broken dreams. Rescued initially by Felix Healy, then the Finn Harps manager, in April 2005, Bonnar tried his best to get over his rejection at Molineaux.
A promising debut for Harps in a one-nil defeat to Bohemians at Dalymount Park offered a flicker of the flame, but after just five games that season he drifted off into the sunset.
"I was back from England and very disappointed," he says now, a fortnight after making his 100th appearance for Harps in the away win over Shamrock Rovers B on March 16.
"My heart just wasn't in it. I just left football completely – I never kicked a ball at all. I just stopped. I had lost the desire to play. I'd no love for the game.
"I went back and played a wee bit with Dergview and then James (Gallagher) asked if I'd go back to Harps. Luckily I took him up on the offer."
Bonnar tried to fall in love with the game, but had only fleeting spells at Dergview, Institute and Letterkenny Rovers.
Times have changed and the League of Ireland's stock has risen since then, but at the time bringing the holdall home was not something that sat well with young men in their late teens.
"It was such a drop for me – or at least that's how it felt," he says now.
The standard here in the League of Ireland has come on leaps and bounds and there isn't much difference between the League here and the lower Leagues in England. But, at that time, it was the perception that was about coming back from England.
"If I was to do it all again I would do it differently. I wouldn't push so hard to get to England so quickly. You see lads going over and when they feel that rejection they come back with nothing to do and nowhere to go. It's like 'he hasn't made it'. That's how I felt."
Bonnar has been encouraged by Harps' start to the season and they enter this weekend's series of matches ahead of Shelbourne on goal difference at the head of the pack.
However, the memories of last season's promising start and the subsequent bursting of the bubble remains at the front of the minds of Bonnar and company.
When Sean McCarron netted in a 1-0 win over Mervue in May, Harps were second. Their campaign shuddered and in two full series of games they won just twice.
"A few things happened that disrupted our momentum and we didn't recover properly from that at all," Bonnar says.
"We set targets last season.
"Once then we had a couple of disappointing results, with us having a young, inexperienced squad there was panic and a sort of, 'we need to win this game' thing going on. That brought pressure and we didn't handle it well. In ten games we went from being firmly in the mix to being totally out of it.
"We're aware of what happened us last season and Ollie and James have been reminding us of that as we've come through this season so far.
"We've learned a lot from looking back at last season. We had a very good start last season too. Well, it was a good start in terms of results. We put in a couple of good performances too, but it wasn't maybe as good as it looked and we all know how it panned out.
"Hopefully we don't make the same mistakes again. There has been no pressure put on us from the boys about getting promotion or winning the League. Our only target is the next game and trying to pick up something from every game that we play in."
The devil, with Ollie Horgan, is very much in the detail.
Harps have a link up with the Letterkenny Institute of Technology, with students involved in video analysis for Horgan, whose almost-encyclopedic attention is evident to his players.
Bonnar says: "We don't train full-time, so those small things are a big help. We only meet a couple or three times a week so it's about making the most of those sessions. The training is excellent and Ollie goes into every little detail.
"Ollie is mad into his preparation. It's fantastic. From one game to the next it's all about that next game. Everyone here is buying into what Ollie is trying to do for us."
Bonnar knew of his impending milestone at the start of the season and thought of his late grandfather, Tommy Gillen, a Harps stalwart over the years. His uncle, Paul Gillen, remains a huge supporter of the club – and Bonnar wants to push on and make the most of the promising start.
"It's a proud milestone and I'm delighted to have made it to that level," he says, and the feeling is enhanced given that Harps are unbeaten as they prepare to meet another of the Division's new clubs, Galway FC.
"Everyone was delighted, obviously, with beating Cobh five-nil, but we were quickly reminded that it's no different to any other three points. Galway is the focus for us now. From the end of the Cobh game it was all about preparing for Galway.
"It has been a good start by us, but it's very early days yet. It's been positive though and everyone is enjoying it so far. We're working hard. We have a small group of players, but everyone is pulling in the same direction – the right direction.
"Galway will be a real test for us and that's all we're looking towards now."
Posted: 1:30 pm March 28, 2014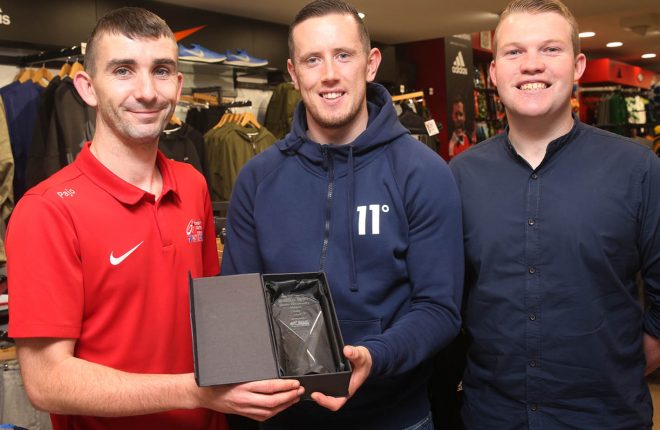 Gallagher was awarded the Donegal News Sports Personality of the Month award for July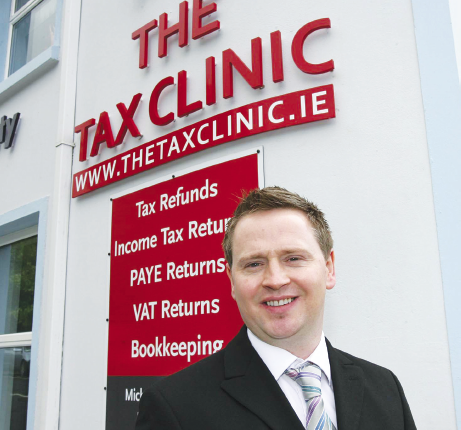 The Tax Clinic, High Road, Letterkenny, will assist you in all your tax return queries.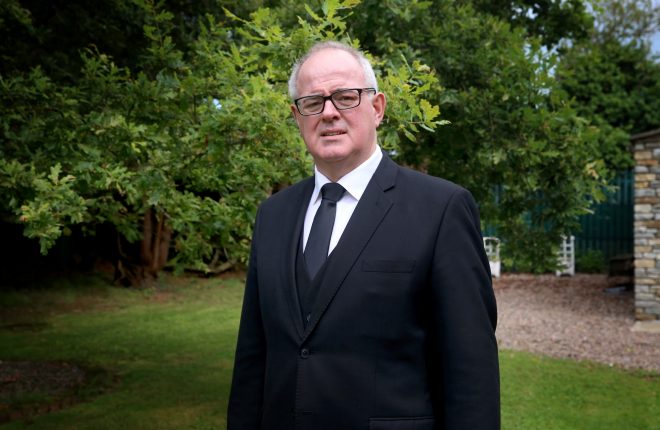 For three decades, Paschal Blake and his team have been providing end of life services to families throughout the...