BY CHRIS MCNULTY
FINN Park could break the 1,000 attendance barrier this Saturday night when Finn Harps take on Galway FC.
Attendances so far this season at the venue have been encouraging and officials on Navenny Street are hopeful that a big crowd will turn out this weekend to get behind Harps.
On the face of it, the 451 in attendance for Friday's five-nil win over Cobh didn't appear too noteworthy but, given that the game only got the go-ahead following an evening of uncertainty just over an hour before kick-off, it is likely that many opted against making the trip to Ballybofey.
However, with 823 having turned up for the opening home game against Waterford United, that is perhaps a more accurate gauge of what Harps can expect this weekend.
The EA Sports League Cup win over Cockhill Celtic had 426 paying customers, a crowd that was double many of Finn Park's attendances for the latter end of last season.
With Harps top of the table on goal difference following two wins and a draw from their first three games of 2014, there is high optimism that the venue could host a four-figure attendance for a League fixture again.
"It would be absolutely brilliant if we could get 1,000 into Finn Park on Saturday," said a club spokesman.
"We have three away games in April with just one home game, so we'd love to maximise March."
Manager Ollie Horgan has been keen to play down his side's start, but the manager has urged the North-West public to come out in their droves as he prepares to face a Galway side that contains familiar faces in the form of Marty Owens and Shane McGinty, both of whom played for Harps last season.
"It was good to see those in attendance stay behind to show the lads their appreciation after Fridays win against Cobh," Horgan said.
"It would be great to see a big crowd come out on Saturday as a good atmosphere can definitely play its part in encouraging any team, and we are no different.
"Galway have a lot of quality and play good football so it's a challenge we will be relishing. It's a very competitive league this year and there will be twists and turns for every side.  As I said before we will never get carried away.
"We are looking for those players who have character, those lads that react the right way when results go against us or when things aren't going well.
"It's important that our supporters see that they have are following an honest team that is 100% committed. We have a lot of hard work to do but we are going in the right direction."
Posted: 12:10 pm March 26, 2014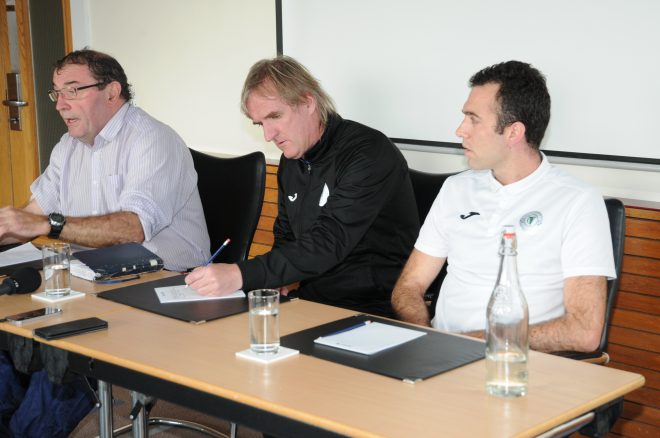 Finn Harps secretary John Campbell said the club's budget for the new season would include four underage teams competing...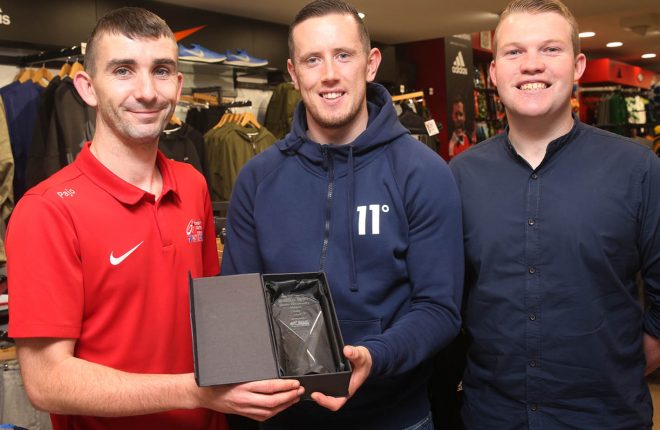 Gallagher was awarded the Donegal News Sports Personality of the Month award for July