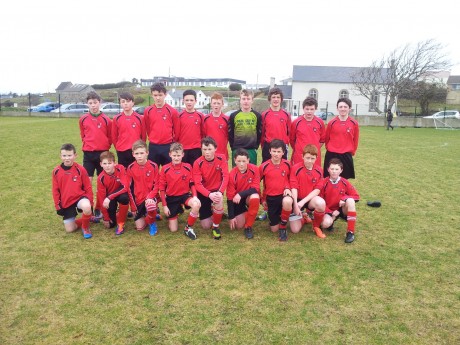 SOCCER: SFAI U14 NATIONAL CUP QUARTER FINAL
DUNGLOE TOWN 1
BELVEDERE FC 4
By Harry Walsh
FOR almost an hour yesterday afternoon Dungloe Town dared to dream the dream.
Leading 1-0 against Belvedere FC, one of the top schoolboy nurseries in the country, Pat Ward's team were edging ever closer to an All-Ireland semi-final.
Following wins over Pike Rovers and Naas FC, both at the Shorefront, they knew that crack Dublin outfit would provide their toughest challenge yet and so it proved.
Ahead through yet another superb individual goal from Aaron McGlynn, home only hours after helping Ireland to win silver medals at a Schools Country meeting in Bolton, they had their more illustrious opponents more than a little worried.
True, Belvedere had up a dozen corners in the twenty minutes after McGlynn's goal on four minutes but they had been unable to seriously threaten Conor O'Donnell's goal.
When they did force home the equalising goal on 26 minutes it looked at though centre half Kevin Healy was at least two yards offside when he stabbed the ball home form close range.
Whether he was or wasn't is irrelevant now but surely a game of this magnitude deserves linesmen to assist referee James Malseed in making up his mind.
"We were disappointed with the first goal while we thought that the big number ten (Belvedere captain Dominic Peppard) was lucky not to get sent off when the score was 2-1. That said, it was probably a bridge too far for our lads but I've nothing but good things to say about them. They've been great all year and done the club, their families and county proud. They'll learn a lot from that defeat today against a very good side," Ward said afterwards.
With McGlynn not flying home from England until yesterday morning, the Dungloe management left it late before deciding on their starting eleven which showed no changes from the side which beat Naas 2-1 two weeks earlier.
Within four minutes the tall Glenfin striker gave the sizeable crowd something to shout about when he opened the scoring. A misplaced pass from Cian Lee quickly made its way to McGlynn wide on the left. He cut inside full-back Padraig Finnerty and before the defender could react the Dungloe number 9 had arrowed a rocket into the top corner.
Enjoying a height and weight advantage in most positions, Belvedere slowly but surely increased the pressure on the Dungloe defence.
With centre halves Danny McGlynn and Ethan Harkin in commanding form though, the visitors found it difficult to make a breakthrough. When they did manage to get past the defensive blanket they met goalkeeper Conor O'Donnell in top form.
On three occasions he did very well to deny the lively Aaron Lynch as he bore down on goal while Peppard and Conor Cowly (twice) should have done better with free headers.
With less than ten minutes to go the break Dungloe could have been forgiven in thinking that they had weathered the Belvedere storm but they finally forced home an equalising goal from their twelfth corner of the half.
Dead ball expert Aaron Lynch played it short on this occasion and when the ball found its way back to his foot he whipped over a ball to the back post which Healy volleyed home from close range.
Dungloe mentors and supporters alike felt that the Belvedere defender had strayed into an offside position but the goal stood.
The visitors started the second half on top but it was Dungloe who should have netted the game's third goal on 43 minutes. Aaron McClafferty's corner was only palmed away by Kalvin Geraghty into the path of Dungloe captain Daniel Ward but he blazed the ball high and wide from six yards.
Dungloe's Aidan McHugh and Peppard were booked in as many minutes as both side struggled to gain a foothold in the game and when the third goal did finally arrive on 54 minutes it had more than a hint of luck attached to it.
Cian Lee picked up possession thirty yards out and while his shot was powerfully hit it wasn't going to bother O'Donnell until it took a wicked deflection, wrong footing the keeper, and trickling into an empty net.
To their credit Dungloe refused to accept defeat and they continued to battle away, albeit with limited success against a very strong Belvedere rearguard.
The game was effectively ended as a contest when Peppard lifted a free kick over the Dungloe wall and into the top corner seven minutes from time and substitute Oisin Devlin added a fourth with his first touch three minutes later.
It was a disappointing end to what has been a wonderful year for Ward and his young charges who will come back stronger and better next year.
Aidan McHugh and Ethan Harkin were the pick of Dungloe's overworked defence while Peppard, Lynch and Niall Blaney were all excellent for the winners.
DUNGLOE TOWN: Conor O'Donnell, Aidan McHugh, Brian Proctor, Danny McGlynn, Ethan Harkin, Aaron McClafferty, Daniel Ward, PJ Doogan, Aaron McGlynn, Oisin Bonner, Calum Boyle, Subs: Dylan Boyle for Bonner (57 mins), Dylan Sweeney for Doogan (67 mins), Dillon Sweeney, Ethan Ward, Thomas Harnett and Martin Ward (not used).
BELVEDERE FC: Kalvin Geraghty, Padraig Finnerty, Niall Blaney, Dean Williams, Kevin Healy, Cian Lee, Aaron Lynch, Jordi Carroll, Ryan Harte, Dominic Peppard, Conor Cowley. Subs: Evan Smithers for Carroll (57 mins), Oisin Devlin for Williams (64 mins), Sean Brennan for Peppard (65 mins), Daniel Madaghjian and Daryl Dunne for Finnerty and Lynch (68 mins).
REFEREE: James Malseed.
Posted: 9:22 pm March 23, 2014