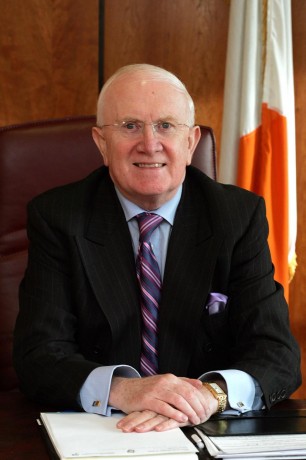 BY C.J.MCGINLEY
SITTING MEP Mr Pat the Cope Gallagher has confirmed he is to seek a Fianna Fáil nomination to contest the forthcoming European elections.
Mr Gallagher, from Dungloe, is to be a candidate in the new Midlands-North-West Euro constituency. The formal convention will take place at the Mullingar Park Hotel, Co Westmeath on Saturday, March 15.
Mr Gallagher was elected to the European Parliament in 2009. However, separately he was first elected to the European Parliament in 1994 and again in 1999, returning to national politics in 2002 after regaining his Donegal seat in Dáil Éireann.
Mr Gallagher is a member of the Committee on Fisheries and the Committee on Regional Development in the European Parliament. He is also the Chairman of the delegation with relations to Switzerland, Iceland, Norway and the European Economic Area.
Mr Gallagher stated today "I will go to convention asking the members of Fianna Fáil within the new enlarged constituency to support my nomination. I am as focused, enthusiastic and motivated as ever before for what will be a huge challenge. I have worked extremely hard over the years as an MEP for Ireland and I look forward to contesting the new Midlands-North-West constituency with the backing of the membership of Fianna Fáil."
Mr Gallagher continued "The enormity of the new constituency does not faze me in any way? Ibelieve that my experience over the years at a local, national and European level can only be an advantage to me and I will continue to provide a service to all corners of the Midlands-North-West constituency."
Mr Gallagher concluded "I believe that these elections will be the most fundamentally important European elections to take place since the first direct elections to the European Parliament in 1979. The Lisbon Treaty has completely reformed the role of the European Parliament and it is an imperative, in my opinion, that the forthcoming campaign focuses on how legislation from the European Parliament affects the everyday lives of all citizens and local communities throughout the country."
Posted: 5:15 pm March 3, 2014