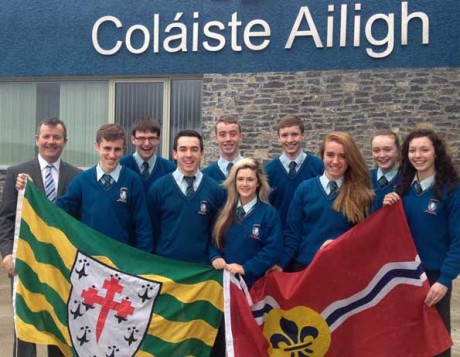 BY C.J.MCGINLEY
NINE Coláiste Ailigh transition year students will head off to St Louis Missouri this Wednesday for what will be a trip of a lifetime.
They will be taking part in a three week cultural and educational exchange. The students will stay with host families and attend two of the top private catholic secondary schools in the country.
The boys will attend Priory College whilst the four girls will attend Villa Duchesne. The exchange programme has been ongoing since 2005 and has proven to the highlight of Coláiste Ailigh's transition year programme for those fortunate enough to be involved.
L-R Micheál Ó Giobúin, Príomhoide,Coláiste Ailigh, Oisín Ó Raifeartaigh, Aodh Mac Giolla Cearra, Evin Breathnach, Sam Mac fhionntaí, Jessica Ní Earcáin, Maitís Mac Ceallabhuí, Aoibhin Ní Mhuimhne, Kirsty Ní Giolla Bháin agus Toni Nic Dhaibhéid.
Posted: 5:14 pm March 24, 2014