BY CHRIS MCNULTY
HE'S got a First Division winners medal from 2004, a 1999 FAI Cup final jersey, a number 9 shirt worn by both Brendan Bradley and Con McLaughlin (autographed by both, as it happens), programmes from all bar 60 home games in Finn Harps' history and he's now in the process of calling ex-players to verfiy their date of birth – welcome to the rarified world of the collector and statistician
Welcome, more specifically, to the attic of Finn Harps' official historian, Bartley Ramsay.
The start of the 2014 League of Ireland season tonight brings a new-found optimism to Harps supporters. Once more at the start of the road, staring into the unknown journey ahead.
For Ramsay, a Letterkenny native who has been exiled in Dublin since 1986, it means a new spreadsheet!
"Years ago I used to keep the stats in diaries; it's much easier now and there's less chance of making a mistake when their in digital form," he says.
"I used to keep all the diaries and only when I was transferring them to spreadsheets did I realise I'd have the same name down twice. Then I'd be away to the library or the old files to check the reports – and, of course, the newspapers aren't always right either!"
In September 2009, he remembers the curious case of a game between Harps and Sporting Fingal at Morton Stadium.
"Stephen McLaughlin scored and on comes the announcer: 'Finn Harps goalscorer, number nine, Christy Connaghan'…It was widely reported that it was Christy Connaghan's goal. Only I was at the game myself and knew it. We went to Michael Hayes, a guy in the FAI who keeps the statistics, he checked the referee's card and confirmed that I was right.
"That was Stephen McLaughlin's first goal in the League of Ireland (McLaughlin is now on Nottingham Forest's books)."
His first Harps game was in 1975, a friendly against West Bromwich Albion, his second was the UEFA Cup game against Everton in 1978 and the third was a Cup tie against Athlone in the 1980/81 season.
"I kinda got hooked during that Cup run," he says. "Harps were my team and I started to follow them all the time.
"I got involved in the programme when I wrote the odd article for Neil Cullen, who was the editor at the time. I always kept programmes, I got away ones through dealers and when I joined the programme club I was the only known Harps collector."
In a bid to keep a record of the programmes he had, he contacted the renowned Irish soccer journalist, Seán Ryan, who had dates for every game Harps had played, allowing the budding statistician in Ramsay to compile a list.
"Gerry McDermott (now the FAI's Director of Communications), who was in the Donegal Democrat at the time, put me in touch with Donal McMullan and Ian Curristan, both in south Donegal, who were doing the same and we began to swap bits and pieces," he says.
He believes his records to be '99 per cent completed', with a complete list of competitive games and players who have played for the club compiled. His current task is working on obtaining dates of birth for the players and, after that, then will come an attempt at putting together a list of the friendly matches played by the club.
"I'd love to do the junior sides and the various Donegal League or Ulster Senior League teams fielded by the club, but that will be very difficult."
He has many prized possession and can't single too many out.
"The whole thing is a prize," he enthuses.
"Could I see a time when I would part with the collection? Absolutely not."
There are some items he remains in search of, like the programme from the '74 European Cup Winners' Cup game against Bursaspor, or a couple of the programmes from the tour of America in the 70s.
"I'd love to get my hands on any original minute books from 1954…I don't even know if they exist."
The temptation is always there if a rare Harps item pops up on eBay, but only if the price is right.
"There's never one of anything," he mentions.
So, how did it all begin?
"It happened before I went to Harps. I was brought up in England and Buxton were the local team. They played into the Northern League and I started keeping bits and bobs. That's where it all started – and, believe me, it's an obsession now!"
He remains in search of Harps memorabilia and asks anyone who may have an item of interest to get in touch.
Posted: 1:50 pm March 7, 2014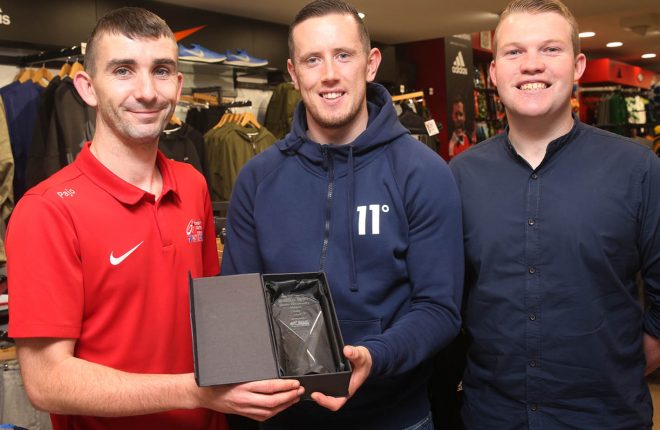 Gallagher was awarded the Donegal News Sports Personality of the Month award for July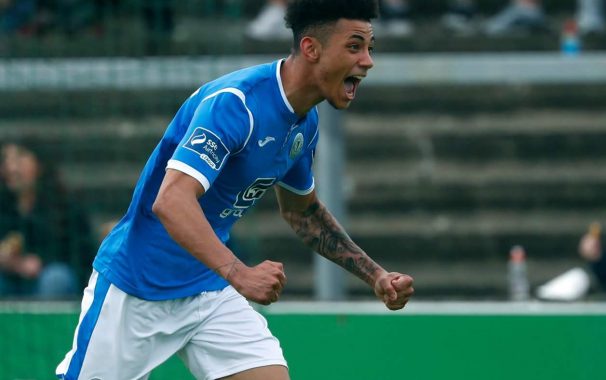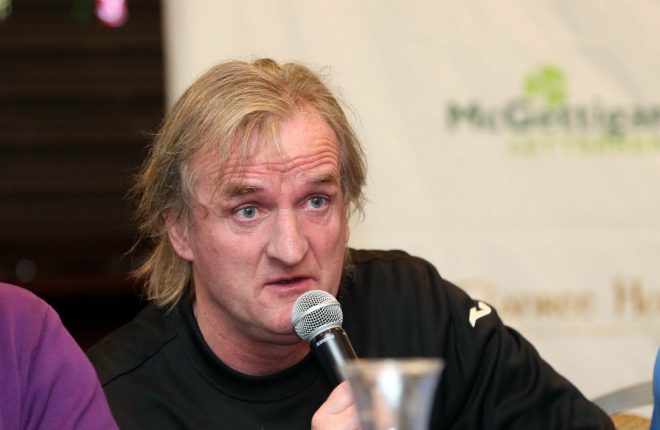 FINN Harps manager Ollie Horgan is wary of Galway United as they make their way to Ballybofey for a...