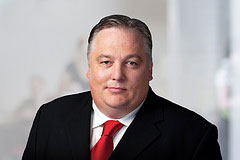 BY C.J.MCGINLEY
A MAJOR political spat erupted this week over an innocuous appointment to the new Donegal Education and Training Board.
Tempers flared as members of Donegal County Council met on Monday to fill a vacancy on the educational body following the resignation of Fine Gael Councillor Barry O'Neill.
During a heated exchange, Fianna Fáil party whip, Cllr Ciaran Brogan claimed Independent Cllr Frank McBrearty had not attended a meeting of the Regional Health Forum since last January, 2013.
Cllr Brogan, said members who were appointed to such committees and did not represent the people of Donegal should resign as they were 'depriving' others of a chance to do so.
However, the claims sparked fury from Cllr McBrearty, who claimed his name had been blackened and clearly Cllr Brogan had 'investigated him'.
He warned if the Fianna Fáil representative did not withdraw the allegations or apologise he would 'take the appropriate action'.
"I can have him investigated and expose and discredit him," he said.
Cllr McBrearty stressed he was Mayor of Donegal during the period and was able to show evidence of representations he made to the HSE on behalf of constituents.
"If he (Cllr Brogan) wants to, I can bring out the same stuff as I did about the guards. He better withdraw the allegations, or there will be war.
"My good name has been tarnished that I'm not doing the job I was elected to do on the HSE. Twenty-three members can take a decision or resolution to expel me if they want," a fuming Cllr McBrearty said.
"My good name has been blackened for the last time by Cllr Brogan and he can see me in the High Court or have me expelled – take his options."
He added: "He had no right to put my name into the public domain- I didn't put anything about him in the public domain – you're dealing with a man who knows the law inside out. You (Fianna Fáil) will suffer the consequences – I'm not bluffing, don't underestimate me –
"I know the Local Government Act inside out,"
Tensions boiled over again when Cllr Seamus O'Domhnaill (FF) said it was unfortunate 'one member had held the whole meeting to ransom for and hour and half'.
"Are we prepared to let allow him to rule the roost and not respect the chair or behave. He should be removed, or asked to desist from such behaviour. It not serving any good," Cllr O'Domhnaill said.
However, Cllr McBrearty angrily retorted that Cllr O'Domhnaill had made false allegations to the gardai about him.
"You have already made a false allegation to the gardai that I threatened to kill you. There has been plenty of false allegations made against me. I'll see you in the High Court," Cllr McBrearty said.
After an adjournment, Cllr Brogan said his party members needed time to consider legal advice as a result of the language used in the chamber.
Posted: 4:18 pm February 25, 2014