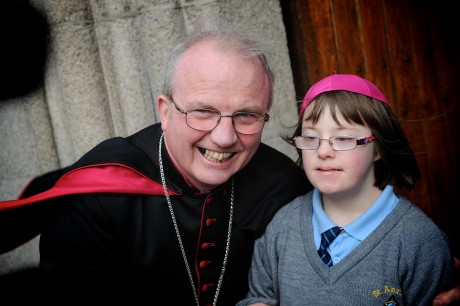 POPE Francis has appointed Bishop Donal McKeown, a native of County Antrim, as the new Bishop of the Derry Diocese which encompasses parts of Donegal. He fills the role vacated by Bishop Seamus Hegarty who retired for health reasons in November 2011.
Bishop McKeown had been working as Auxiliary Bishop of Down and Connor. He was presented today (Tuesday) in St Eugene's Cathedral in Derry.
Donal McKeown was born on April 12, 1950 and brought up in Randalstown, Co Antrim, the first of four children of James McKeown (the local watchmaker) and Rose (neé McMeel), a primary school teacher. He has three siblings – James, Mary and Teresa – and five nephews and nieces. His father died in 1998 at the age of 83 and his mother died in 2008, aged 92.
Bishop McKeown grew up in a large extended family, where community and culture were intertwined. Both he and his father played Gaelic football and hurling with Creggan Kickhams GAA club, which recently won the All-Ireland Club Junior Hurling Final. 
At his presentation Bishop McKeown spoke of his surprise at being made Bishop of Derry.
"Leadership is not easy – in Church, business, politics, sport or family. Mr Family and friends have helped to keep my feet on the ground – and reminded me of the advice that one wise bishop gave me: 'If the Holy Spirit has picked you for the person that you are, be sure that, when he comes back, he can still recognise you!'
"So I arrive here with much enthusiasm – not based on my own experience – rather with trust in the goodness of so many people and with confidence in the foolishness of the Gospel that is wiser than human wisdom. If we place ourselves in the hands of the Lord, he will lead us as we try to follow Pope Francis' call that each particular Church should "undertake a resolute process of discernment, purification and reform". Renewal will take place, only if we go out of ourselves, not into ourselves," he concluded.
The Diocese of Derry consists of most of County Derry, parts of Counties Donegal and Tyrone and a small part of County Antrim. The Catholic population of the diocese is around 245,000 spread over 51 parishes on both sides of the border.
Posted: 11:53 am February 25, 2014