THE LETTERKENNY Music & Drama Group is returning to An Grianán Theatre this week, from February 13 to 15, with the critically acclaimed drama Chronicles of Long Kesh.
Written by renowned Belfast playwright Martin Lynch, this powerful piece of theatre tells the story of the infamous Northern Irish prison throughout the 1970s and 1980s with a perfect blend of comedy and drama recreating key events in the history of the prison. Letterkenny Music & Drama Group are the first amateur group to receive the rights to perform this absorbing play, being chosen by producer Pluincead O'Fearraigh to be the group's entrant into the drama festival circuit for 2014 – the group's first return to the circuit since their incredible All Ireland Confined and Ulster success with "The 39 Steps" in 2012.
Told through the eyes of various prison officers and both Republican and Loyalist prisoners, the cast of six actors – Elaine Gillespie, Eoghan McGiolla Bhríghde, Kieran Kelly, Anthony Delap, Andrew Galvin and Paddy Campbell – bring to life a total of 49 characters with the difficult task of never leaving the stage throughout the two hour running time. Though it depicts a difficult era in Irish history, the play is a huge crowd-pleaser, full of finger-clicking 1960′s Motown songs and wild, irreverent humour.
Classic hits performed a capella by the cast include "Tracks of My Tears" by Smokey Robinson, "All My Loving" by The Beatles, "You Really Got Me" by The Kinks, "Alright Now" by Free and "A Hard Rain's Gonna Fall" by Bob Dylan.
Situated in the townland of Maze, just outside Lisburn, Long Kesh Prison housed paramilitary prisoners from mid 1971 until its closure in 2000. Originally interned without any trial, the removal of their Special Category Status in 1976 saw many prisoners going on a 'Blanket Protest', wearing blankets instead of prison issued uniforms before later embarking on a 'Dirty Protest' where they would refuse to wash. However, the refusal of the authorities to give in to their demands resulted in Hunger Strikes by the prisoners, first in 1980 and then again the following year. Between May and October 1981, ten Republican prisoners died as a result of this strike. In 1983, thirty eight people escaped from the prison while in 1998, the signing of the Good Friday Agreement resulted in the release of the last of the prisoners with the prison closing down in 2000.
All of these significant events in the prison's history are witnessed in the play by Freddie Gillespie (Anthony Delap), the Prison Officer assigned to watch over the wings of the H-Blocks. Under pressure from his wife to find a job, the hapless Freddie tosses a coin between the police and the prison service, with the latter result finding him amongst the prisoners of Long Kesh. The story concentrates not on the big politics of the day or those who became well known as a result of their time in the prison, but more on the experiences of ordinary prisoners, prison officers and their families and the emotions they went through in this difficult period. Audiences will be confronted with a rich assortment of republicans, loyalists, prison officers, chancers, escapees, wives, Smokey Robinson-imitators and even hypochondriacs!
When writing the play, Martin Lynch interviewed dozens of ex-prisoners from both sides of the conflict in Northern Ireland with many revealing personal stories about their experiences in the conflict and in the prison.  Many of these stories were heart-breaking, shocking and also hilarious and made their way into the play through the lives of fictional characters. Eamon (Kieran Kelly) is a plumber and night-school teacher caught up in the Republican struggle when he agrees to hide arms. His life is utterly changed though when he has to decide if he will put his name down for hunger-strike, while Oscar (Andrew Galvin), a Smokey Robinson-loving undertaker from Derry re-evaluates his priorities in life following his imprisonment.
Hank (Paddy Campbell) is a long-term Loyalist prisoner, with a penchant for philosophy and the music of Bob Dylan, who shares a cell with Thumper (Elaine Gillespie), the tasty-dressing, UDA man while poor Toot McGinley (Eoghan McGiolla Bhríghde) can't sing a note and maintains his innocence throughout!
Directed by Pluincead O'Fearraigh, lights and sound are provided by Niall Cranney and Paul Rooney while Tanya McLaughlin is Stage Manager.
This fascinating portrayal of life inside Long Kesh Prison will be performed in An Grianán Theatre, Letterkenny for three nights only from Thursday 13th – Saturday, February 15 before the group take it on the road to the drama festivals of Rush, Castleblayney, Derry, Ballyshannon, Newry, Carrickmore and Strabane.
Early booking is advised and tickets can be purchased by contacting An Grianán on 07491 20777 or www.angrianan.com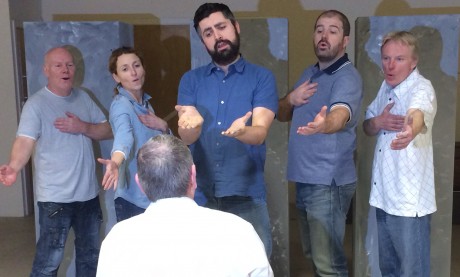 Posted: 2:38 pm February 10, 2014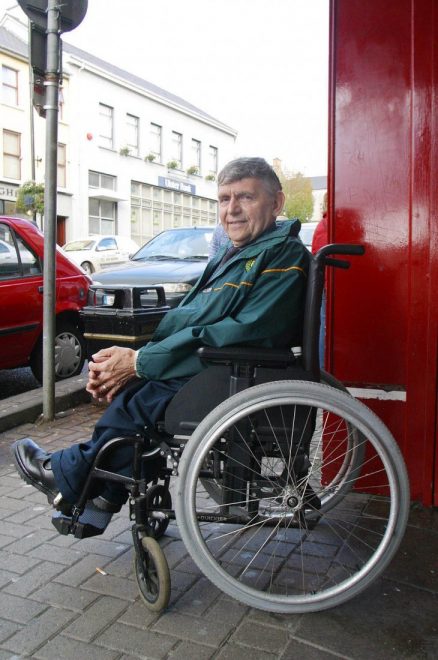 John never received any medals or awards for his contribution to sport but he received many testimonials from people...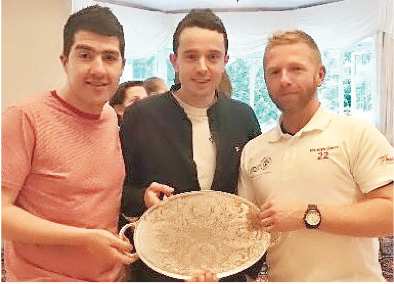 Derek Walker & Christopher Molloy pictured with Kieran Duey of Nancy's Barn Ballyliffin & newly crowned World seafood chowder...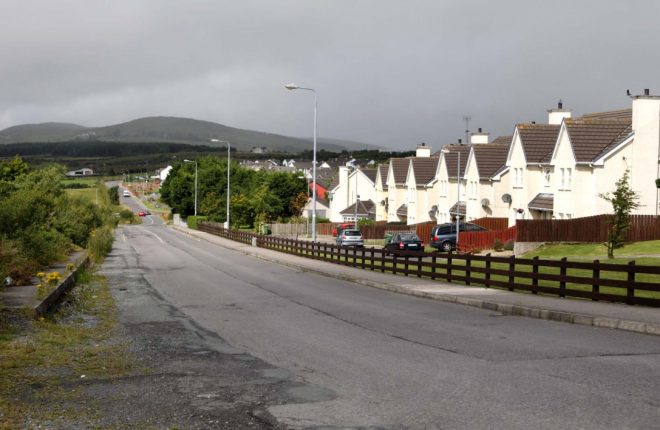 RESIDENTS were left terrified and in a state of shock following an explosion that happened in the Glencar area...