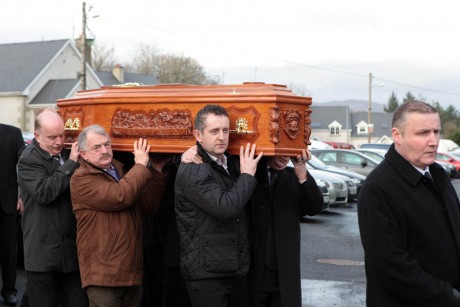 BY C.J.MCGINLEY
PICTURES: DECLAN DOHERTY
THE village of Kilmacrennan came to a standstill today (Wednesday) as hundreds of people from all over Donegal paid their final respects to one of the best known and respected men in the area.
John McGettigan (98) of Meenreagh, a father of eleven, died a month to the day his beloved wife, Brigid, passed away on January 3.
The couple, who were married for 65 years, resided in an area known as 'The Foot of the Hills' and their sad passing leaves a huge void not only for the large family circle but the wider community. They had 20 grandchildren and 15 great grandchildren.
St Columba's Church, Kilmacrennan, was packed to overflowing and hundreds more lined the car park as people turned out in huge numbers for the funeral of an icon in his area.
In his moving homily, Fr Dinny McGettigan PP Raphoe, a nephew of Mr McGettigan's paid tribute to a man who was 'highly respected in the parish and community and was dearly loved by his family and many others as well'
"Just a month ago, we were here in this church for the funeral mass for Brigid, John's wife for 65 years. It was a very long and happy marriage and Brigid's death left a great gap in John's life. Neverthless, John was quite well up until his final illness a few days ago.
"He was conscious and alert until a short time before his death. We can be confident today that Brigid and John are re-united again in the homeland of heaven'
John is survived by his sons, Jimmy, Frank, John Joe, Danny and Freddie, daughters, Anna, Norah, Madge, Rose and Mary, sons-in-law, daughters-in-grandchildren, great grandchildren, nieces, nephews and a wide circle of extended family and many friends. The couple were predeceased by an infant daughter, Brid, who passed away at just six weeks.
"John, a former council worker, was a man of the people who could hold the respect of young and old. He had such a huge knowledge and memory, yet he could converse with a child the same as with a man or woman around his same vintage," one mourner said at the funeral.
"He had an amazing life as he watched the country come from dire poverty, through the World Wars, the rural electricification scheme, to the boom and bust times in recent years. However, following the death of his beloved wife, Brigid, a month ago he missed her so much," the mourner added.
His grand-daughter, Rachel said the wide family circle had just been toghether again last Friday in Kilmacrennan for Brigid's month's mind mass.
"Grandad just wasn't the same since she passed. He missed her so much. We are truly heartbroken but can find peace in knowing that they both passed peacefully and are now together again," she said.
"They were a very much loved couple. Thousands of people visited his wake," she added.
See the Donegal News on Friday for full report.
Posted: 4:56 pm February 5, 2014