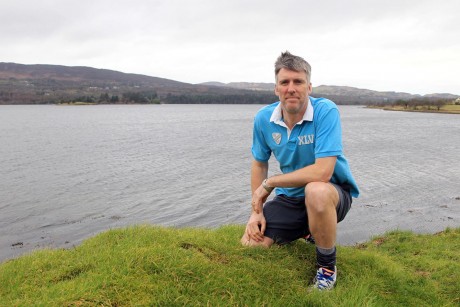 By Harry Walsh
IT COSTS €600 (at least) for the privilege of taking part and will take the best part of 24 hours to complete and has been billed as the toughest endurance event Ireland has ever hosted.
The Race, which takes place in Donegal next weekend, will see eighty ultra athletes from across the globe run, cycle and kayak 260 kilometres over a 24 hour period supporting Self Help Africa.
Seven Donegal men – namely Brendan McBride, Harold McGuinness, Gerard Callaghan, Sean McFadden, Arthur McMahon, Gavin Harris and John Grant – have entered the event. They join a list of ultra athletes from places as far apart as Australia, Canada, South Africa and Europe.
From the North Pole Ultra to the Deca Enduroma; from the Marathon de Sable to Death Valley; they continue to defy expectations, competing in the globe's meanest races. The Irish have travelled the world to take on the toughest but now it's time for the toughest to come to Ireland.
Milford man Arthur McMahon (45) is, by his own admission, one of the least experienced taking part in THE RACE. Managing Director of the Donegal Oil Company, Arthur is married to Julie and the couple have two daughters Kate and Sarah.
"I was looking for a focus after my rugby career finished five or six years ago. I was sitting on the sofa and had no reason to train when a friend, Boyd Robinson, rang me two years ago. He asked me to do the Coastal Cancer Challenge in Dunfanaghy. It was just the incentive I needed and within ten weeks I had gone from coach potato to athlete – well kind of!
"On crossing the finish line I knew that with a little training I could easily take 45 minutes off my time and I spent the next winter thinking about training. Next thing I knew I has signed up to do this ridiculousathon," he laughed.
"I had never run a marathon let alone run one after 18 hours of competition. That said, it was clear to me that no matter what I can't go fast so maybe I can go long so in true Forrest Gump style I extended my training periods," he said.
In October last, Arthur linked up with fellow competitor Gerard Gallagher to take on a 130 kilometre training run.
"Before I committed to THE RACE I wanted to know that I would be capable of finishing it so we did everything in half – that is 130km. We found a course near my house in Milford and it took us ten and three quarter hours to finish but I was still fit to function afterwards. Listen, I won't win the thing but I'm determined to finish," he said.
"My daughter Sarah asked me will I still get a medal if I don't finish inside the 24 hour cut-off point. Let's put it this way – I better," he laughed.
Arthur is expecting to burn up to 20,000 calories throughout the course of this weekend's race and he hopes to get through the event on a diet of ham, cheese and strawberry jam rolls.
"It has all the carbs, fat, protein and sugar I need," he said.
Another motivation going into this event's event has been the death of his mother Anne from cancer.
"In the spring of 2012 mum was diagnosed with cancer. We like to think we are in control of things and that's why I decided to train for the Coastal Cancer Challenge adventure race in Dunfanaghy. The training was short but I really enjoyed it and putting the training together on race day really hooked me and we managed to raise money for Cancer Charities as well.
"Mum passed away at the start of this year. We all really miss her. I hope to finish with a few minutes to spare and she'll be in my thoughts," he said.
THE RACE
The athletes will start to arrive on the shores of Gartan Lake on Thursday evening where they will grab a few hours sleep.  Two hours before dawn, with the park still in a blanket of darkness, THE RACE will begin.
Immediately facing competitors is a pre-dawn half-marathon. The banks of Lough Swilly will mark the end of the 22km run and the beginning of the kayaking section. As the sun rises, competitors will do battle with the North-Atlantic tide, kayaking up the lough.
The next interchange is located in Rathmullan where kayaks are swapped for bikes and the cycling section begins.
Beauty and pain go hand in hand as the gruelling course winds its way along 100km of ceaseless hills and spectacular coastline. Competitors' limits will be tested as bikes are left at the foot of Muckish and they attempt to run or scramble their way up and down the peak.
Only the mentally strong will ignore screaming muscles to again mount their bikes, pedalling west and around Bloody Foreland for a final 75km of cycling. As shadows grow longer, the peaks of Glenveagh will funnel those still persisting towards their final obstacle – a marathon through the national park.
The blanket of darkness will once more descend as competitors battle to reach Gartan Lake and the end of the toughest endurance event Ireland has ever hosted— in doing so they will have completed over 260 km, conquering THE RACE.
Donegal competitors
Moville businessman Harold McGuinness has already run some 29 marathons, the Himalayan 100 mile run in 2000 and the gruelling Marathon Des Sabla in 2005.
John Grant has a successful "hardman" endurance event in Kerry on his CV while Gavin Harris has the experience of two half ironman events, triathlons and lots of cycling.
Another keen cyclist is Sean McFadden who has also run three marathons. Having represented Ireland at the World Age Group Duathlon Championships in Italy he has taken part in some of the toughest bike races in Ireland, including the gruelling 8-day An Post Rás.
Gerard Callaghan held a national cycling title in 1989 as well as a county Donegal gold in the Community Games Under 16 road race. He had not competed in any physical or endurance competition since 1991 until last year when he undertook three major adventure races.
Brendan McBride is also an experienced athlete who enjoys running and adventure races. He has taken place in marathons, Trail Running, Adventure Races  and Gael Force Events.
Each competitor must raise a minimum of €600 in order to take part.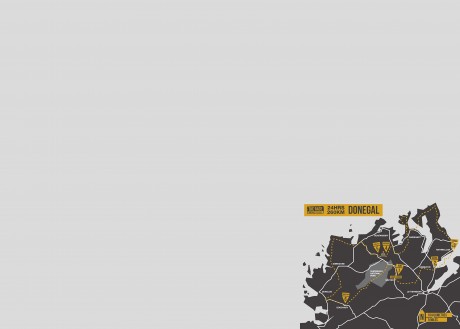 Posted: 12:30 pm February 24, 2014