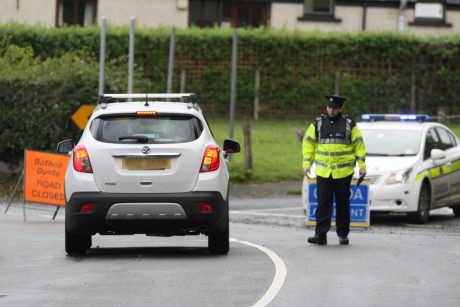 ARMED police arrested two men in separate security operations in Strabane yesterday in connection with Friday's hijacking of a taxi outside the border town, which was subsequently used in a robbery of a bookies office in Ballybofey.
A spokesperson for the PSNI said there was a major PSNI Police operation in the town and it resulted in the arrest of two men in their twenties on suspicion of armed robbery in Donegal.
"Police are working closely with the An Garda Siochana.
"A number of police resources were used in this operation which will explain the enhanced police presence in the town over the past 24 hours. There are no further details at this stage," the spokesperson said.
A taxi driver in Strabane was threatened with a gun at around 6 pm on Friday evening in The Glebe area and forced to drive to Ballybofey, during the terrifying ordeal.
The terrified taxi driver was threatened and ordered to stay in his vehicle while the men entered 'The Betting Lounge' just off Ballybofey's Main Street.
However, the taxi driver fled the scene to a nearby shop to raise the alarm. The gang, who took the car's keys with them, returned to the vehicle and made their getaway.
It is not yet clear if any money was taken in the raid.
Gardai believe the men fled back across the border, and the taxi was recovered on Saturday morning by the PSNI in the vicinity of Castlederg.
Posted: 11:40 am February 10, 2014
GARDAI in Letterkenny cannot confirm reports that two sex offenders from Northern Ireland have reportedly registered as staying...