BY SEÁN P. FEENY
IN ONLY four days a Letterkenny man's online campaign to 'Save the Church Lane' has gone viral and garnered over 1,000 supporters.
The Donegal News has reported on the demise of Church Lane on numerous occasions in recent past, reporting concerns by building owners and business people.
One Letterkenny man, whose family own a dwelling on Church Lane, has now started an online campaign after thinking about the idea for some time.
Donnan Harvey feels that Church Lane is an area of enormous potential in terms of tourism and business if developed properly. During the Christmas holidays, Donnan spoke to several friends and Letterkenny natives about his ideas, and received a lot of positive feedback. 
"With these ideas you are too afraid almost to tell someone, because they might think you'r crazy, but the people I told of my vision of a heritage street leading up to St Eunan's Cathedral and Conwal Parish Church could be a real tourism winner.
"It could also help to regenerate the town centre which is dying on it feet unless something drastically was done. One person I spoke to works in urban regeneration and he totally agreed gave me his business card and told me to contact me."
Donnan also told his idea to Maria Kelly, whom he knows from his school days, and now works as a Heritage Officer in County Dublin.
He said: "Maria thought it was a winner. She said people have asked her was there anywhere nice in Donegal in terms of cultural, in any urban setting, but she couldn't think of one."
Donnan also met an old friend of his who had just returned home from Australia and told him that he was interested in setting up a business on Church Lane. "It was a meeting of minds. On the following Thursday, I outlined my vision to him and he told me further about his ideas."
To generate more awareness of his campaign, Donnan called in the assistance of his nephew Daithí to set up a Facebook campaign. "I contacted fellow Letterkenny man Gabriel Flood, who is deeply passionate about the town, and asked him to be an administrator on the page.
"Since Wednesday, the page has snowballed with people really buying into the idea. But this is only the start and there is a long road to go," said Donnan.
Posted: 11:00 am January 14, 2014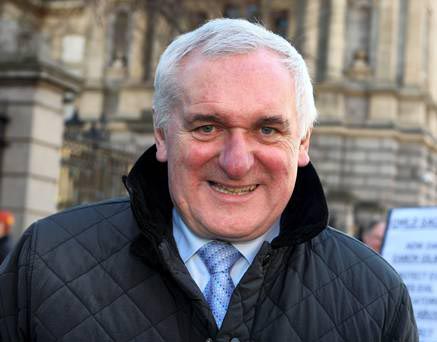 Local Brexit conference in Letterkenny next Friday where the guest speakers will include former Taoiseach Bertie Ahern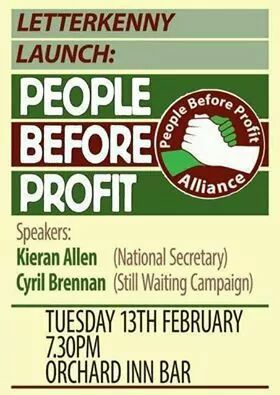 People Before Profit will launch a new Letterkenny branch tomorrow night in the Orchard Inn Bar.  Speakers will...
A MAN in his late fifties was stabbed last night at an apartment in Letterkenny after a number of...