BY GARETH MCKEOWN
TWO MEN due to go on trial for the attempted murder of a student police officer in Garrison, Fermanagh, back in 2009 have pleaded guilty to terrorist offences and will be sentenced tomorrow.
Ex-Irish soldier Gerard James McManus from Letterkenny and Kevin Barry Nolan from Blacklion in Fermanagh originally denied various charges the attempted murder of a student police officer, and possessing a gun with intent to endanger life in Garrison on November 21, 2009. On Monday however at Belfast Crown Court the two changed their pleas and pleaded guilty to having a firearm with intent to endanger life. The two also admitted to possessing articles likely to be used in the preparation or instigation of acts of terrorism. The court heard these related to a car, a balaclava, gloves, lighters and soap.
The charge of attempting to murder the PSNI officer will be left on the books.
McManus (28) from Fernhill and 35-year-old Nolan, of Main Street, Blacklion were detained during an undercover police operation at the time.
During a series of Magistrates' Courts sittings, they heard that the two accused claimed they had no intention of shooting the trainee officer, only to scare him.
They were allegedly spotted in a Vauxhall Astra approaching home before police moved in. McManus, wearing a balaclava allegedly went to the front door, while Nolan remained in the front passenger seat of the Astra, where he was later arrested, allegedly sitting on a magazine, loaded with 16 rounds for a Glock pistol.
McManus escaped, running down the side of the house and firing off a shot.
He was apprehended the following morning, in a garden shed. A mask and gloves were found in the shed, but no gun was ever recovered. During interview, both men maintained they had no intention of harming the student police officer.
In his interviews Nolan, whose alleged role was to give McManus directions, claimed that as far as he was concerned: "No harm was going to be caused," and that firing the gun was to "put the frighteners on him."
Judge Corinne Philpott QC remanded the pair into custody. They will be sentenced tomorrow (Thursday).
Posted: 10:36 am January 29, 2014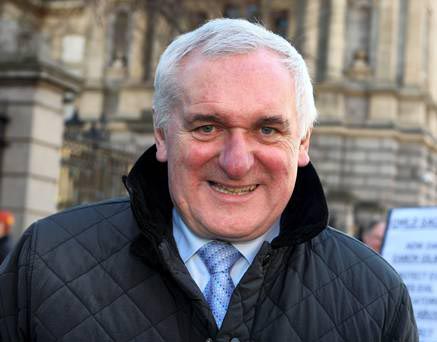 Local Brexit conference in Letterkenny next Friday where the guest speakers will include former Taoiseach Bertie Ahern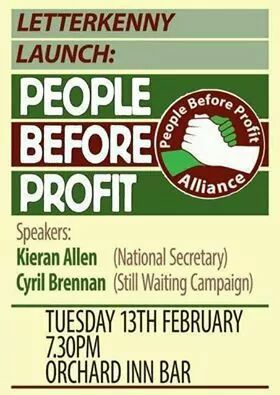 People Before Profit will launch a new Letterkenny branch tomorrow night in the Orchard Inn Bar.  Speakers will...
A MAN in his late fifties was stabbed last night at an apartment in Letterkenny after a number of...