BY CHRIS MCNULTY
c.mcnulty@donegalnews.com
THE sixteen-point defeat by Mayo in the All-Ireland quarter-final was still red raw when Donegal's rumour mill began to swing into action.
Within 24 hours of the battering in August, Frank McGlynn felt it necessary to let local journalists that he wasn't retiring from inter-county football.
It followed rumours which had spread like wildfire.
At just 27 years of age, the Glenfin man was perplexed by the rumour. He turns 28 later this year and on Sunday will make his 100th appearance for Donegal.
In late 2010, he married Diane Toner, a native of Glenswilly who played for the Glenfin ladies team. They are the parents to two young kids, Harry and Gracie.
A schoolteacher in Stramore National School in Glendowan, he speaks like every inch of the young veteran he has become.
"Those rumours seem to just come with the territory of having a young family," he says this week ahead of hitting the century.
"I have great support at home. Nowadays you just couldn't do this without a good support system. I'm lucky to have a great wife, Diane. She enjoys the football too and my mother and father have always been a great support to me.
"You need to know that when you're going to train or going to put in that massive effort – like we have this last couple of years, that there you're doing it for something and that the sacrifice is worth it. You look at some others who have toiled away for over 100 games with no reward.
"I'm only 27, so hopefully I have a few more years."
It is just over eight years now since he made his Donegal debut, in a Dr McKenna Cup game against St Mary's in Ballyshannon.
2014 will be his ninth season with the county seniors since being called up by Brian McIver and handed a jersey for that game on January 8th 2006.
"It was a typical McKenna Cup game," he says of his first appearance.
"It really gave me an insight into the pace of inter-county football. It was an eye opener. From that day on it was pressure – pressure to keep the place. There are fine margins between being good enough and not making it at all. Sometimes you can look or feel as if you're in one side of that, but you just keep trying to meet the challenge and keep the brain on top of it.
"In an inter-county set up you can never relax and tell yourself: 'I've nailed my position now'. The day you do that is the day you're finished. There are so many players who are constantly coming knocking at the door."
He was a county minor in 2003 and 2004 and also played three years with the Under 21s, but he'd caught the eye long before then.
He was a star on Glenfin teams that won an Under 12 Division 2 Championship in 1998 and an Under 13 Division 1 Championship in 1999.
He cites the likes of Paul Houston and PJ Scanlon, coaches during those formative years for the youngster, as big influences and in later years has been thankful for the influences of Michael Lafferty, Michael Houston and Francie Martin, who was a  member of McIver's backroom team when McGlynn was first brought into Donegal's senior ranks.
A talented all-rounder, McGlynn made waves in soccer circles, too. A student at St Columba's College, Stranorlar, he played much of his youth with Drumkeen United and attracted interest from clubs in England. As well as trials at Wolverhampton Wanderers, Leeds United and Preston North End, he actually played for Everton in the Milk Cup.
What might have been we'll never know, but there are no regrets as he gets ready to become the latest Donegal footballer to be presented with the crystal marking the 100-game marker.
He says: "It's a fantastic milestone. I treasure every game I play for Donegal. You take every game of every season as if it's a brand-new season. You just want to make the most of it all. It is a great achievement to be included among a list of fantastic Donegal players.
"It has been mad…if you'd said to me when I came in that I'd be playing in – and winning – Ulster and All-Ireland finals, I'd have laughed. Jim came in with a good system and a good group of players bought into it.
"I remember my first year playing we got to the Division 2 final and while they seem like relatively small crowds now, but at the time it felt daunting to be playing in front of maybe 20,000 people. That seems like only a short time ago.
"You appreciate the good days but no matter what you've won previously no-one will ever just hand you anything. We don't expect to be handed anything and we know that we have to work hard again this year. We need to do the same things that brought us success."
In his first few months on the Donegal squad, he was involved for a National League Division 2 final against Louth – which Donegal lost after a replay against Louth, he was an unused sub against Armagh in the 2006 Ulster final and watched from the stand as Donegal were pipped by Cork in the All-Ireland quarter-final.
The following year, Donegal won Division 1 of the League and it all looked so promising.
The net result, though, was quite different to the projections and Donegal flunked the next two Championships.
"After winning the League in 2007, we had two really disappointing Championships in '07 and '08 with first round exits from Ulster," he says.
"A lot of the time if you win a League it pushes you on, but it had the opposite effect on us for some reason. The next two years amounted to nothing and then in 2009 we ended up with a heavy defeat to Cork in a quarter-final."
After Antrim went away from Ballybofey in May '09 with a win, Donegal were stunned, but they managed to come out of the burning embers to reach Croke Park. They were obliterated by Cork, 1-27 to 2-10.
McGlynn says: "That Cork game was a massive downer but, still, we came away from that game saying to ourselves that we needed to keep getting back to Croke Park. We needed to get back to Croke Park and build confidence.
"When Jim came in that first year, we got to Croke Park for a Division 2 League final and winning that really stood to us in getting experience of being in Croke Park. When we got back there later in the year – and beating Tyrone in the Ulster semi-final really spurred us on too – it didn't seem so much of a task because we knew the routine of what was involved in playing there."
Now he sits with two Ulster SFC medals in his pocket and his Celtic Cross from the 2012 All-Ireland triumph is accompanied by an All-Star gong from the same year.
Capturing Sam Maguire and all that went with it is the undoubted highlight but, as personal memories go, his goal in the 2012 Ulster final against Down just trumps his point against in the All-Ireland final.
"My first goal ever for Donegal and to get it in an Ulster final…I'll never forget it," he recalls.
2013 was a wretched and frustrating year for Donegal, relegated from the League and then having their grips on the Anglo-Celt and Sam Maguire Cups slackened.
"We played three Club Championship games during the Ulster series, so that ate into a good training block," McGlynn says.
"The timeframe is very important. We didn't get groundwork done in 2013. We had only a couple of sessions and while we had work to do we didn't want to take too much out of the bodies."
They're back refreshed and revitalised for the new campaign and head for a clash at old adversaries Armagh on Sunday in the Athletic Grounds.
Their hopes of making the McKenna Cup semi-finals hinge on getting a win following Sunday's defeat to Tyrone in Letterkenny.
McGlynn says: "The mood is positive. We let the standard drop against Tyrone in the second half. Fatigue set in, partly because of the conditions, but we were pleased with our first-half display. We didn't sustain it for 70 minutes, but we'll be aiming to be able to do that as the year goes on."
Posted: 4:00 pm January 10, 2014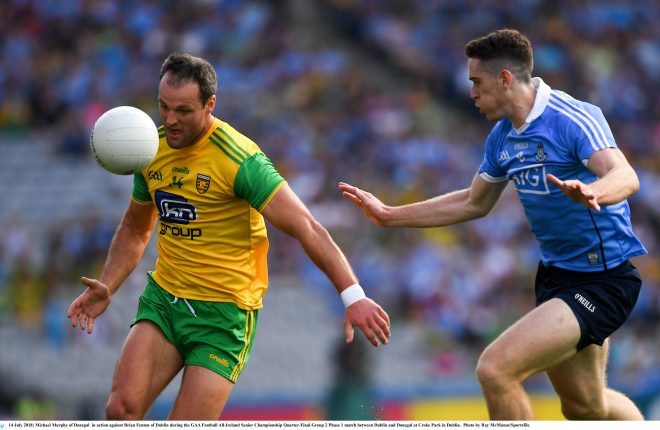 Dublin too strong in Croker.