BY CHRIS MCNULTY IN ARMAGH
WHEN Frank McGlynn went down clutching his midriff, seemingly in some distress, in the opening exchanges of yesterday's game in Armagh, there was a worry that his big occasion was about to end before even it had a chance to begin.
The Glenfin man is made of stern stuff, though – and the wing-back ploughed on to continue in his 100th game for the Donegal senior team.
The 27-year old is the 38th player to reach the magical century of games, joining current Donegal footballers Eamon McGee, Karl Lacey, Neil Gallagher, Rory Kavanagh, Colm McFadden, Paul Durcan and Christy Toye on the elite roster.
It was an accomplished display by McGlynn, a man not usually a friend of the spotlight.
After the game, Donegal county secretary Aodh Máirtín Ó Fearraigh presented McGlynn with a memento of his achievement as relatives, friends and Glenfin club colleagues gathered around.
"It is a nice milestone to reach," he said.
"A lot of good Donegal footballers have reached it so it's good to be mentioned in the same breath as them.
"I've been well supported from family, friends and the club. There are plenty of them about. It's a great milestone."
Of the early incident that had those folk peeking through their fingers for a time, McGlynn said: "I got a bit of a winding, that was all, just a belt to the stomach."
Having lost their opening McKenna Cup clash against Tyrone last weekend, Donegal felt it important to get a win from their trip to Armagh. A determined surge was evident in those late stages when they peppered Philip McEvoy's area in search of scores.
"The signs are good," McGlynn observed.
"We got off to a reasonable start. We weren't happy with last week's second-half performance, but today we had a more consistent performance over the seventy minutes. It's still early, but hopefully we'll keep building during the next game in the McKenna Cup.
"It's important to get as many wins as possible before we move into the League. It's a nice win to get, against a competitive Armagh team at the Athletic Grounds."
Donegal hit 1-4 in the final ten minutes to turn the tables on Armagh.
McGlynn said: "The conditions were very different from last week. The pitch here is fantastic and it was very firm underfoot. That added to the game.
"We were lucky in a way to get the goal. It was scrappy enough, but the goal spurred us on to clinch the game in the end up."
It is eight years now since the a teenager from Glenfin was blooded for the first time in a Donegal senior jersey, for a McKenna Cup game against St Mary's in Ballyshannon.
Now he's one of the elder statesmen looking on at the youth coming through the door, encouraged again by the displays of Darach O'Connor and Odhrán MacNiallais, two bright sparks in the current regime who are aiming to make the cut.
McGlynn said: "They have come in and done well. They're adding to the set-up. If you keep the same faces all of the time things could go stale, but they have added a real bit of freshness."
With a strong team again fielded by Jim McGuinness, it is clear that the Tir Chonaill men are aiming to quickly put that 16-point trouncing by Mayo to the back of the mind.
Donegal are back to winning ways again now.
McGlynn said: "It has been a long time from the August Bank Holiday to this weekend. I'm just glad to be back on the road again and to get the victory."
The winter had brought some soul-searching – and some hard questions demanded answers.
McGlynn said: "It wasn't easy. After the highs of 2012 it was hard to go to the lows of 2013, getting a hammering in Croke Park by Mayo. It's a sign of a good team that it can regroup and we have had a reasonable start to this year.
"You just have to forget about it. When we won the Championship in 2012, we had to forget about that for 2013, so it's the same after a defeat. You just have to move on to the next game."
Posted: 12:00 pm January 13, 2014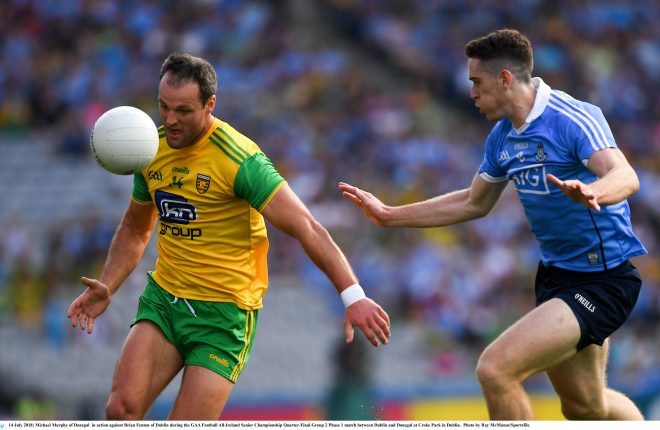 Dublin too strong in Croker.