BY CHRIS MCNULTY
IN 1975, the Sean MacCumhaills GAA club's annual accounts showed total income for the year of £4,500.
Now, it takes €4,000 per month to service a capital loan taken out for the club's development of the Sean MacCumhaills Social Centre and their astro-turf facility.
The job of the club treasurer is vastly different in 2014 to what it was in 1975, when All-Ireland final tickets cost £2.50 or you could get a weekend for twenty-two men in Castlebar for a combined £193.
Last Monday night in the Social Centre at the club's AGM, Eugene Gallagher took a moment and gazed out the window over-looking a floodlit, 17,500-capacity stadium that paints quite a different picture on the Ballybofey landscape to the ground he played in when he won a Donegal senior football championship title with the club in 1971 as a player.
He paused for a moment and reflected on the changes he's seen. A short time later he was re-elected to serve as the club treasurer for 2014 – his 40th consecutive year in the position.
"These jobs are hard to get people for," he says.
"You get people who go forward and then withdraw from the race. Nobody really has challenged me since, bar one year Eddie Walsh went for it."
Five years ago, Eugene was the recipient of a President's Award from then GAA President Nickey Brennan.
He was still a player when first elected to the club's committee, serving as the secretary and then as the assistant treasurer to Charlie Faulkener before being appointed treasurer in '75.
He holds a Donegal SFC medal from MacCumhaills' 1971 triumph over Clann na Gael, but time was unfortunate to him. In his first year with the senior team, MacCumhaills reached the final, but the 1966 county final was never played, owing to a dispute over the venue that couldn't be resolved.
A serious knee injury cut his career short in 1977, meaning he was a spectator when his former team-mates defeated Gaoth Dobhair in the final.
"I had a knee operation in Derry and it didn't work out for me after that so I stopped playing," he says.
"It would have been a natural progression at that time."
It was a different era in many ways.
"We're paying around €6-7,000 a year for insurance, but in those days there was no insurance.
"You just got a rub if you got an injury and away you went. If it was in any way very serious, it was probably a case where the man just stopped playing."
By that stage, his feet were well under the table and he'd long since served an administrative apprenticeship under the legendary Faulkener.
He remembers a significant meeting in 1974, just before he was elected as treasurer. Ten-year tickets for the All-Ireland football finals in Croke Park were on offer to clubs.
"Wee Jim Hannigan in Stranorlar insisted that we buy twenty of them," he remembers. "It cost us £600 and that was an awful lot of money.
"The first All-Ireland final we went up to, in 1975, the face value of the ticket was £3.50.
"The tickets are still going, but we have only about five of them at the minute."
In 1975, there were no levies to the county board and their total income was £4,500 – a world away from the €203,000 that rang through the club's tills in 2013.
"That was a fair deal of money back then, too," he says.
"Our travel bill in those years was only a couple of hundred – there were no mini buses to take players around. The players took their own cars."
His records are an immaculate illustration of the sweeping changes the sands of time have brought about.
The club held its dinner dance in Kee's Hotel in 1977, with each dinner costing the club £2. The attendance of 122 each paid £2.50.
Their profit from the 1975 dinner dance was £19, with other fund-raisers that year including a ten-week draw that raised £300 and a Christmas bazar that boosted the coffers by £254.
The Butt Hall allocated four Thursdays a year to the club to hold fund-raising dances. In 1976, the entertainment included The Mainliners, The Champions, Brendan Shine and the Cotton Mill Boys, those functions earning profits of £115, £32, £77 and £184.
"An interesting one in 1976 was a house card drive I used to organise," he adds. "We had 41 houses each holding a 25 card drive for eight people who paid £1 to play. We made £175 over 41 nights. Imagine!"
Gate receipts in 1976 totalled £86 and 22 club members headed to Castlebar for a weekend that cost the princely sum of £193.
The Social Centre was first opened in 1974. Since then the place has seen rapid transformation into a county ground fit to hold major games such as last summer's Ulster SFC blockbuster between Donegal and Tyrone.
The County Board developed the pitch and the ground, but it is the club who took the lead with the ancillary facilities.
"We had to develop the place," says Eugene, who also serves as secretary of the pitch maintenance committee.
"There was no point in us having a pitch and no modern facilities around it. You have to have the whole package now to get hosting big games.
"I remember when there were no changing rooms or showers and we changed in the Butt Hall. There's some difference now."
Their loan on the development has been chipped away over the last five years and the club has had to be novel in its fund-raising.
"We still have the lotto and the bingo, but we have a lot more too," he says.
"We did boxing last year, we had the Strictly Come Dancing for a couple of years. Next weekend we're running The Kube in the Villa Rose and it's nearly sold out. You have to try and have something different every year. People get tired of having the same thing."
Married to Helen, the club have two sons, Kevin and Shaun. Being the treasurer of CLG Seán MacCumaills is just a way of life.
"It's been enjoyable, but it is tough to keep it up," he says.
"I'd really miss it if I left it. I really enjoy it. I'll hardly see another forty years at it mind you."
Posted: 3:00 pm January 24, 2014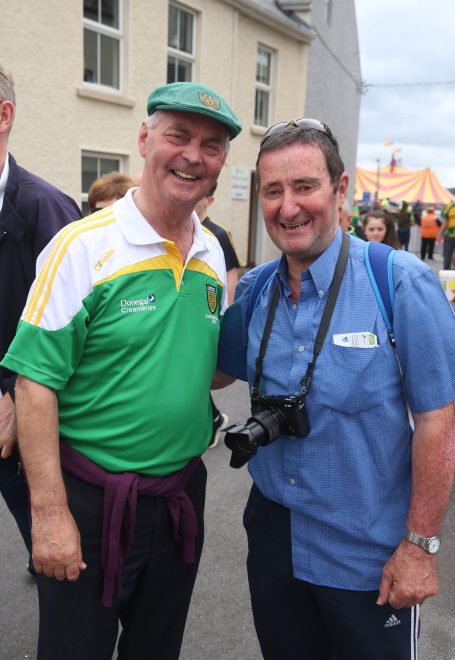 The Glenties native has captured images from thousands of games for local and national publications, including the Donegal News,...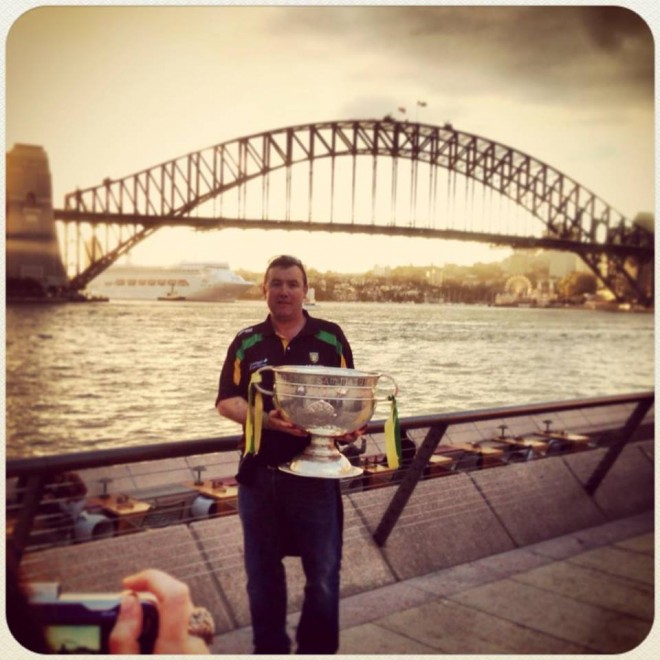 Donegal have been without a Cisteoir since July when St Naul's clubman Cieran Kelly stepped down, and the Executive...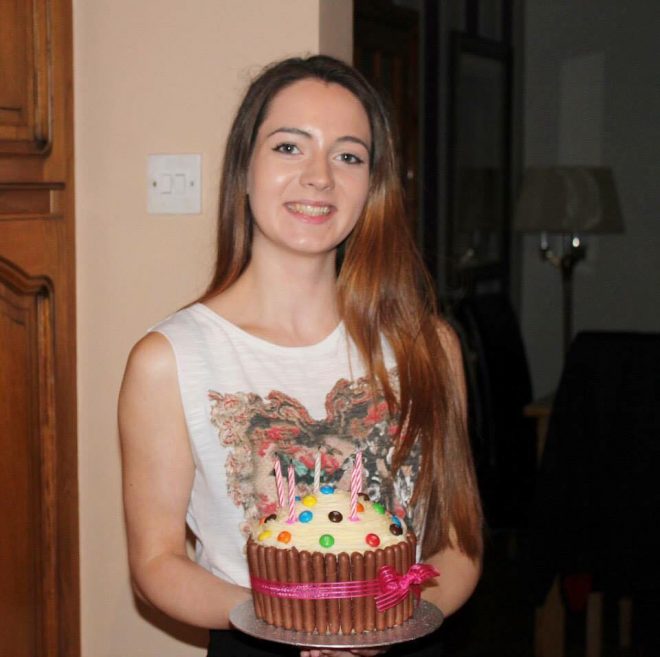 The event starts at 2pm at the shopping centre car park beside McElhinney's in Ballybofey.