FIANNA Fáil Spokesperson on Education Charlie McConalogue has revealed that at least eight schools in Donegal are on course to lose at least one full teaching post in September as a result of the Government's attack on small schools.
A total of 127 small schools across the country will lose a teacher next academic year – with Donegal among the worst affected counties in the country.
Overall, nearly half all primary schools in the country are at risk of cuts in the coming years as they are being classed as 'small schools' by the Minister for Education Ruairí Quinn.
"This exposes the lie that the Government has 'protected' the Pupil Teacher Ratio. Nothing could be further from the truth. Nearly half of all primary schools in the country are being subjected to increases in the PTR – this means larger class sizes and the loss of teaching posts. Next September alone, eight Donegal schools are set to lose a teaching post," said Deputy McConalogue.
Minister Quinn confirmed in response to questions from Deputy McConalogue that 48% of all primary schools are being classed as 'small schools' and are therefore are subject to increases in the Pupil Teacher Ratio announced in Budget 2012. This has already resulted in the loss of full teaching posts at 79 schools nationally and a further 124 schools are on course to lose a teacher in September. That includes 8 schools in Co Donegal.
"Minister Quinn is placing the burden of cuts on small rural schools, minority faith schools and Gaeltacht schools. The North West region is once again the worst affected region in the country. The minister's sweeping attack on smaller schools shows complete ignorance of the day to day running of these schools and their importance to the community. He has made no consideration of geography, a school's position in the community, its ethos and whether or not it is a Gaeltacht school.
"There is no doubt in my mind that this is all part of an agenda to force the amalgamation of smaller schools across the North West. I believe that if Minister Quinn has his way, some Donegal communities will lose their local school entirely.
"There are genuine fears that he is deliberately trying to undermine public confidence in the future of smaller schools. His approach has put many parents in an extremely difficult position as they are forced chose between sending their child to a local school that's facing more cuts, or sending their child to a school further away. Labour and Fine Gael must immediately call a halt to this corrosive attack on smaller schools. It's causing great distress in many of our local communities and having a real impact on education services."
Posted: 10:44 am January 29, 2014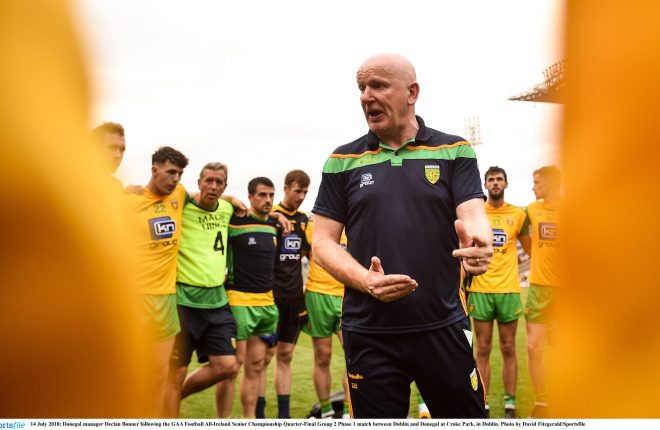 Donegal face Roscommon in Dr Hyde Park on Saturday at 5pm.