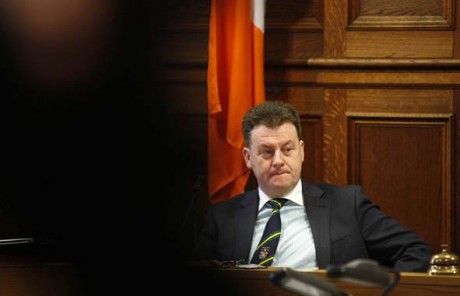 BY C.J MCGINLEY
THE dust may be settling but the political fall out from one of the most acrimonious council budget meetings in years is set to rumble for months across Donegal.
Yesterday (Thursday) the bitter war of words continued between Fianna Fáil party whip Councillor Ciaran Brogan and Independent Cllr Frank McBrearty, and allegations abound depending on who you listen to that a 'stunt' or 'political stroke' was pulled to bring the council back from the brink.
Meanwhile, hard pressed businesses feel short changed after failing to secure a promised cut in commercial rates.
There are also deep concerns about the ability of Irish Water (Uisce Eireann), a subsidiary of Bord Gais to deliver key water services in Donegal and growing anxiety about the legacy of solving leaking sewerage treatment plants and faulty pipes all over the county.
Remarkably, Fianna Fáil Cllr Rena Donaghey was not in the chamber on Monday evening for the vote. Cllr Donaghey said she had a teaching appointment in Buncrana. This, coupled with a dramatic U-turn by Independent Councillor John Campbell facilitated the passing of the budget.
Cynics afterwards claimed Cllr Donaghey's absence was a political 'stunt' and 'stitch up deal' ' by the political parties to pass the budget and break the impasse.
However, this has been resolutely denied by the Fianna Fáil party whip, Cllr Ciaran Brogan, who said their opposition to the budget had been consistent for over four days and never envisaged Cllr Campbell doing a U-Turn and 'selling his soul for thirty pieces of silver'.
Cllr Donaghey explained  she had teaching commitments – a computer course in Buncrana – which she had to meet. Cllr Donaghey stressed her Fianna Fail colleagues knew she had to leave the meeting.
"I have always been against this budget and I have voted against it but I simply could not stay," she said.
"I had teaching commitments with the VEC which I simply could not get out of. I was due to leave at 5.45pm but stayed until 6.30pm. We thought the vote would have been taken by then but it was not," she explained.
If the council had dissolved on Monday night, the Minister for Environment would have appointed a 'Commissioner' to run the local authority until after the May local elections. It would have been the first time in the 115-year history Donegal County Council was dissolved and only the fourth time ever in the state. But, after a record four days of discussions over 42 hours, including 26 adjournments, the budget was finally adopted at 8.40pm on Monday.
The council was saved three hours before it was due to be dissolved, following a decisive casting vote by Mayor Ian McGarvey after councillors were deadlocked at 14 votes apiece.
On Tuesday of the previous week councillors had rejected the budget on a vote of 15-13 with Cllr. Campbell voting against it with Sinn Féin and Fianna Fáil. The councillors believed then they had dissolved the council but were told fifteen minutes later they had another last chance on Monday.
Yesterday, the fall out continued with Independent Cllr Frank McBrearty accused Fianna Fáil of engaging in 'misinformation' and using every tactic possible to divert attention away from the mandate given to them by the people and to pass the budget.
He also defended not cutting commercial rates for businesses' in Donegal claiming it would only 'benefit a very small number of multi-million euro big businesses' while corner shops, pubs, restaurants who can't compete with supermarket chains' would suffer.
However, angrily hitting back Fianna Fáil accused Fine Gael and others who supported the budget of 'stifling' democracy by ramming through a "highly damaging" reduced budget for Donegal County Council.
The Fianna Fáil Whip on Donegal County Council Cllr Ciarán Brogan has said the Government party employed "sneaky tactics to push through a deeply unpopular budget that is not in the best interests of Donegal communities."
In his lengthy statement yesterday, Cllr McBrearty, a former Labour councillor, said at no time over the four days of the budget talks had Fianna Fáil produced a set of proposals.
"I have read and listened to commentary from the FF party over the past week, comments such as sneaky tactics, in the best interest of the people, cynical behaviour, the public have been misled and ramming through of the budget. The word that comes to mind is Walter Mitty and I don't have to remind the people of what FF did to the county in the first budget of the term of this council, which was to deny 19 newly elected Cllr's their mandate to represent the people at local level.
"Irish water is the FF sideshow."
He said the budget itself was fair and the first in first years to have an increase in expenditure. Cllr McBrearty also hit out at Sinn Féin.
"I do not understand the logic of Sinn Féin in giving away their democratic mandate by not passing our budget for the county," he said.
In a statement issued late on Wednesday evening, Fianna Fáil Councillors accused Fine Gael of stifling democracy by ramming through a "highly damaging" reduced budget for Donegal County Council.
The Fianna Fáil Whip on Donegal County Council Cllr Ciarán Brogan said the Government party employed "sneaky tactics to push through a deeply unpopular budget that is not in the best interests of Donegal communities."
"Fine Gael took advantage of the temporary absence of one Fianna Fáil councillor to ram through a budget that will see local services across  Donegal cut to the bone this year. Fianna Fáil facilitated 26 adjournments throughout this process and the one time we sought an adjournment to debate Cllr Campbell's proposals, it was refused and the Mayor used his casting vote to ram through this terrible budget," said Cllr Brogan.
"This highly cynical behaviour flies in the face of democracy. Fine Gael and its supporters were happy to ignore the obvious opposition to this budget and the genuine concerns of members of the public who know how these cuts will affect our local services.
"The public have been misled throughout this process. It is simply untrue to say that this county would have lost a million euro if the Budget had been rejected. In fact, by ramming through a Budget that's riddled with cuts, Donegal is much worse off. The reality of this will soon become very clear.
"The so-called Campbell Deal imposes a huge burden of extra demands on taxpayers throughout Donegal. There has been no attempt to reduce costs for local businesses, no investment in council housing stock and repairs, no investment in unfinished estates and no investment in our crumbling roads network. Meanwhile, our local water infrastructure – that is worth millions – is just being handed over to Irish Water, Fine Gael's new Super Quango that's already wasting tens of millions of euro of taxpayers' money," he said.
Cllr Brogan has also raised concerns that local businesses will be targeted to meet additional costs of €375,000 in Donegal County Council's budget.
"The savings in the revised budget are supposed to come from uncollected rates.  This means that business that could not pay these rates until now will be targeted in an attempt to bridge the funding gap. It's an extremely cynical exercise that could threaten the survival of some local businesses," he said.
Posted: 2:14 pm January 16, 2014