BY CHRIS MCNULTY
HISTORY was made on Friday night when, for the first time ever, an all-female team of boxers left Donegal to take part in a major inter-county tournament – and they returned from Swinford, County Mayo with a landslide win.
The team was selected from the Sunday morning squad training sessions at the Raphoe ABC gym, with nine Donegal girls joined by three punchers from Newtownstewart, Strabane and Eglinton.
The local boxers enjoyed a night to remember in the Conway gym, nine of them winning their contests in impressive fashion.
Carndonagh sisters Jessica and Labhaoise Clarke both took victory, Jessica out-pointing Belmullet's Kayleigh Lynch 3-0 and three-time Irish champion Labhaoise turned in a superb display to score a unanimous decision win over Westport's tricky southpaw Catherine Walsh.
Another Carn boxer, Rosemary Doherty, was beaten the reigning National Intermediate champion, Aoife Hennigan.
Twin Towns BC's Ciara Anderson, a grand-daughter of former Olympian Brian Anderson, was in her first piece of action, but the fifteen-year old Ballybofey woman was out-pointed by Shannon Sweeney of Westport.
Raphoe rocket Cody Lafferty showed superb ring graft to defeat Swinford's Erin McHugh.
Two-time Irish champion Niamh McCole of Dungloe was a deserving winner against Amy Sweeney and there was a ruthless display by Carrigart's European Under 18 bronze medalist Maeve McCarron, who stopped home fighter Amanda Walsh in the opening round of their bout.
"We had a great night with a bumper crowd and credit goes to Johnny Mulhern who takes the squad training in Raphoe every Sunday and who was the match-maker," said the team manager, Raphoe's Peter O'Donnell.
"It was fantastic to make history in taking an all-female team out of Donegal – that's one for the boxing annuals.
"The girls would also like to thank Maeve McCarron, who pleated their hair for the fights and there wasn't one stoppage because of a headgear problem all night."
There was one support bout, with Dungloe's Matthew McCole defeating Peter Butler from Ballinrobe.
RESULTS
Girl 1, 29kg Alannah Mayse (Two Castles) beat Jordyn Bourke (St Anne's, Westport) 2-1
Girl 1, 31kg Cody Lafferty (Raphoe) beat Erin McHugh (Swinford) 3-0
Girl 2, 46kg Chantelle Dixon (Carndonagh) lost to Chloe Moore (Swinford) 1-2
Girl 3, 43kg Jessica Clarke (Carndonagh) beat Kayleigh Lynch (Golden Gloves, Belmullet) 3-0
Girl 2, 46kg Grainne Gallagher (Two Castles) beat Vicky Harraghy (Swinford) 3-0
Girl 4, 50kg Labhaoise Clarke (Carndonagh) beat Catherine Walsh (St Anne's, Westport) 3-0
Girl 3, 50kg Tamika Lindsey (Immaculta, Strabane) beat Saoirse Oliver (Swinford) 2-1
Girl 5, 57kg Niamh McCole (Dungloe) beat Amy Sweeney (St Anne's, Westport) 3-0
Girl 5, 48kg Ciara Anderson (Twin Towns) lost to Shannon Sweeney (St Anne's, Westport) 0-3
Junior 56kg Matthew McCole (Dungloe) beat Peter Butler (Ballinrobe) 3-0
Youth 75kg Maeve McCarron (Carrigart) beat Amanda Walsh (Swinford) TKO 1.
Inter 75kg Stacy Sloane (Eglinton) beat Nicola Garvey (Claremorris) 3-0
Inter 63kg Rosemary Doherty (Carndonagh) lost to Aoife Hennigan (Swinford) 0-3
Posted: 12:30 pm January 27, 2014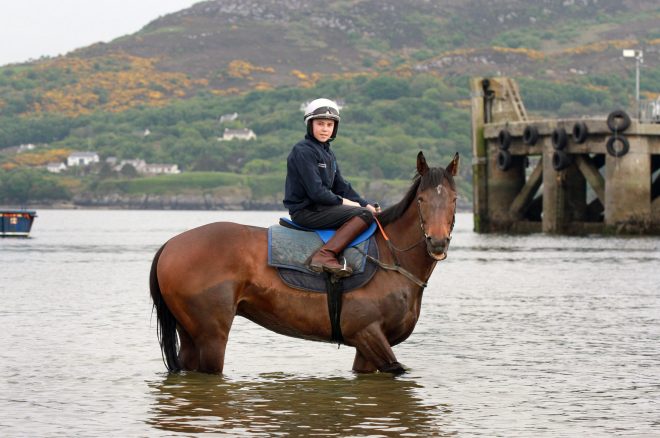 The 15-year-old Errigal College third year student landed five winners on what was the opening day of the North...
Athletes Castlederg's Sommer Lecky and hammer thrower Dempsey McGuigan - Finn Valley AC - and Raphoe's Rachael Darragh, badminton,...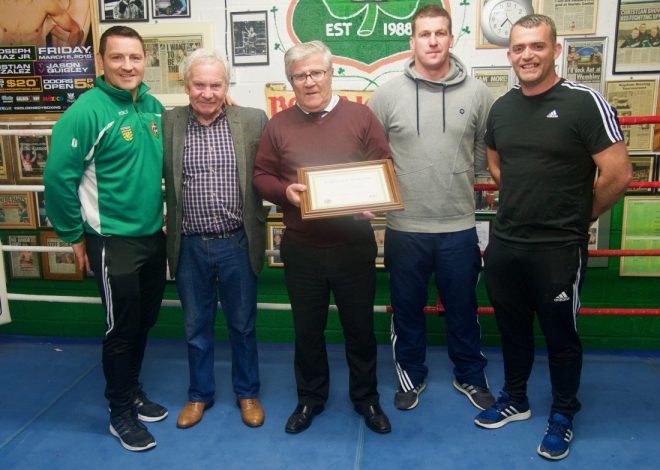 Recently Tommy Stewart was awarded with Honorary Life Membership of the Ulster Boxing Council of the Irish Amateur Boxing...