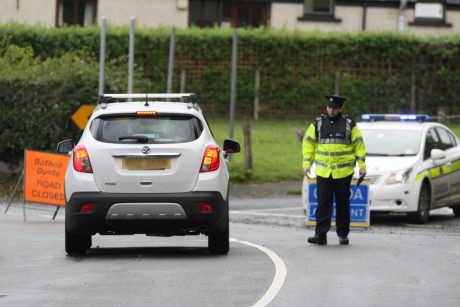 BY C.J.McGINLEY
THE 75-year-old woman who was beaten during what gardai have described as an evil robbery has vowed to remain in her home.
German national Heike Mueller (75), a widow, was at her home near Kerrykeel when the three-man gang struck on Saturday night.
The former solicitor moved to Ireland over 20 years ago. She has been in remission from cancer since a life-saving operation five months ago.
Speaking to the Donegal News, Ms Mueller, said she was horrified by the attack.
"I'm still shocked. It was terrible.  I have lived here for all this time and nothing like this has ever happened to me but I'm going to stay here," she said.
Friends and neighbours have rallied to support her and Gardai have launched a full scale investigation to find the 'thugs' responsible.
Ms Mueller described how she was waiting for a delivery to her home at around 10pm on Saturday when the gang burst into her home.
"I heard a knock to the door and when I went to answer, I asked who was it. I thought it was okay to answer the door but the next thing three men were pushing me back and falling over me.
"They pushed me to the ground and hit me. One man held me while two others ransacked the house demanding money. They were very aggressive," she said.
Ms Mueller said she tried to fight back.
"I tried to kick and hit them back but they kept shaking me. I have bruises to my face, arms and head," she said.
"I think it lasted for about half an hour, but I had no money in the house. As it happens, this month I didn't get my pension because of a computer glitch with AIB. I get paid from Germany and it was sent back there by mistake by the bank because of some problem, so I literally didn't have a cent in the house," she added.
Ms Mueller is well known in the area where she works now alternative medicine healer. She is convinced those behind the attack were from the locality.
"It was not travellers. I know a lot of travellers and they wouldn't do something like this to an elderly woman. They are from the locality," she said.
"I don't have a car, I don't have a television and I have nothing of value. The ordeal has left me very badly shaken. It is more than terrifying when this happens to you, and I am very very frightened still. It is worse than that," she added.
The gang ripped her telephone out from the socket and she could not use her panic button.
"I got one of my dogs and a torch and walked to a neighbour after the attack to raise the alarm. Thank God for my neighbours who have been brilliant. They were able to call the gardai," she added.
"I walked into this house and knew this is where I would stay and I am going to stay now."
Garda Inspector Michael Harrison has appealed for information from the public as part of their investigations into the 'terrifying' incident.
"This was a nasty, despicable attack on a harmless, defenceless woman and the thugs who committed it do not deserve the protection of the public," Inspector Harrison said.
"For anybody, least a woman of that age, to go through such a distressful attack is terrifying and we need the assistance of the public to catch the culprits," he added.
Gardai believe up to four men were involved in the attempted robbery.
"They spoke with local accents and one was particularly aggressive," he said.
"The gang had to have a mode of transport and it is possible they may have travelled through the village of Kerrykeel. We're hoping somebody might have information for us," he said.
"We've already had three callers giving us information, but we need more help to brings these thugs to justice," Inspector Harrison added.
Gardai in Milford are appealing for information. They can be contacted at 074-91-53060 or the Garda Confidential Line on 1800-666-111.
They have also appealed to family and neighbours to keep a close eye on elderly people living alone over the festive period.
"They should get a door chain fitted or some way of identifying who is at their door before answering," Inspector Harrison added.
BY C.J.MCGINLEY
GARDAI have described the attempted robbery at the home of a 75-year-old woman near Kerrykeel at the weekend as 'nasty and despicable'.
Details emerged today (Monday) about the incident on Saturday night in the townland of Renny, between Milford and Kerrykeel where three 'thugs' burst into her home shortly before 10pm
Garda Inspector Michael Harrison, has appealed for information from the public as part of their investigations into the 'terryifying' incident. The elderly woman, who lives alone, was assaulted during the ordeal, but not seriously and despite ransacking the house the gang left empty handed.
—-
Posted: 11:50 am December 23, 2013