BY CHRIS MCNULTY
MICHAEL Murphy will play his first Dr McKenna Cup game in four years on Sunday-week and the Donegal captain insists that the Tir Chonaill men want to hit the ground running in 2014.
Jim McGuinness has named eighteen All-Ireland medalists in his squad for the McKenna Cup, including Murphy who has been unavailable because of Sigerson Cup commitments in recent years.
Mark McHugh, Ryan McHugh (both Sligo IT), Patrick McBrearty (Maynooth), Martin McElhinney (Queen's) and Luke Keaney (Jordanstown) will not be available for the McKenna Cup, which sees Donegal grouped with Tyrone, Armagh and Queen's, but the likes of Murphy are in harness from the off this year.
"That's a big bonus," the 24-year old Glenswilly man told the Donegal News.
"For the last four or five years, I've been traveling up and down from Dublin, maybe heading up on Boxing Day for Sigerson Cup training, coming back down to Donegal again, trying to juggle, mix and match as best I could. This will be one of the first times that I'll be at home properly at this time of year.
"I didn't mind being in Dublin, but the traveling was a killer on the body, mentally and physically. I had company from the rest of the boys who were in the same boat, but it still takes it out of you.
"I enjoyed the Sigerson, but you were in shape and trying to get peaked for the Sigerson as well as being aware that you needed to be getting yourself back up there again a couple of months later for the Championship.
"I loved playing for DCU, but that was always in the back of the head. You were training under two programmes, one with the college and one with the county. This year, it's still the same in that it's busy with training, but the big difference is that it's only with one team now."
Murphy is on a break now having completed his course in DCU. He did a couple of days sub teaching in St Eunan's College and plans to go back to college next year to undertake a Masters in Sports Psychology at Queen's.
First up, though, is an assault from Donegal at the new campaign and it appears as if McGuinness is looking for an instant reaction to get confidence levels back up again.
2013 saw Donegal relegated from Division 1 and they suffered painful defeats by Monaghan in the Ulster final and Mayo in the All-Ireland quarter-final.
Murphy said: "Any phonecalls or meetings that we've had since have been very positive from all of the players.
injury free and hungry
"We spoke about it and we'll take lessons from it. We're coming into 2014 fresh. We're injury free and we're hungry, but look at teams like Dublin, Mayo, Kerry, Tyrone, Cork and Monaghan who'll be bringing new things to the table."
Donegal are in Division 2 in 2014 and open the League with an away double, as trips to Laois and Galway are coming at the start of February.
With that in mind, McGuinness has set about gaining some traction through the McKenna Cup with new faces sprinkled through what is a very experienced panel. Darach O'Connor, Stephen McLaughlin and Hugh McFadden join the returned faces of Ciaran Bonner, Antoin McFadden, Leon Thompson and Thomas McKinley.
Donegal defeated Fermanagh in a challenge game before Christmas and this Sunday, December 29th, they take on Roscommon in another challenge game in Convoy (2pm), before they take on Tyrone on Sunday-week, January 5th, at O'Donnell Park in their opening McKenna Cup clash. Their other fixtures see them travel to Armagh on Sunday 12th with Queen's playing in Ballybofey on Wednesday 15th.
Posted: 4:38 pm December 28, 2013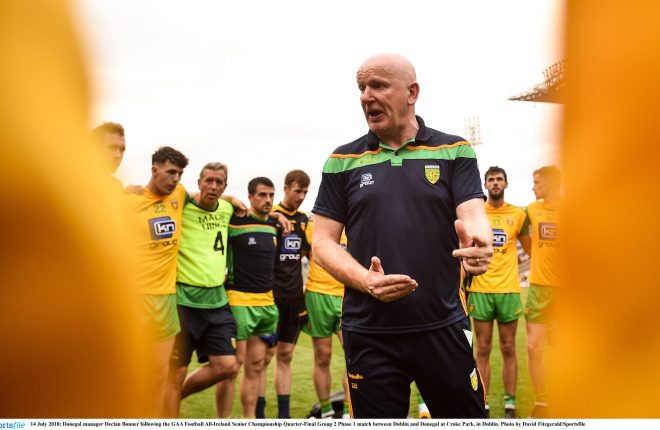 Donegal face Roscommon in Dr Hyde Park on Saturday at 5pm.