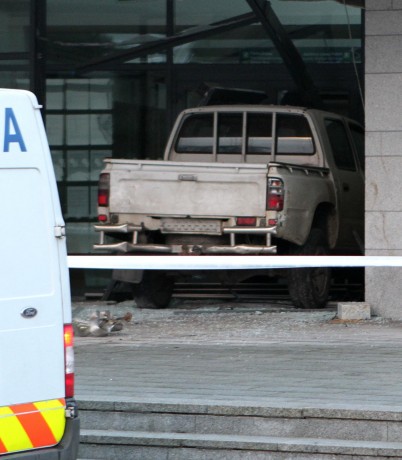 A MAN is due in court next week after he rammed his pick up jeep into Buncrana's Social Protection office causing thousands in damage to the building opened in 2010.
The man, who is in his forties had rammed the 03 registered, white Toyota pick-up into a pub in Muff at around 10.30pm on Friday and gardai were alerted.
The incident came as a huge shock to locals who were baffled as to a motive.
The man then drove towards Buncrana, pursued by gardai and drove the jeep up the steps of the dole office through the glass doors and right into the foyer.
The office was one of 11 pilot schemes nation-wide which was rebranded Intreo last year.
There was local speculation that the man may have thought he was ramming the garda station which is located in a new building next door to the dole office.
Fortunately no one was injured in either incident and the man was arrested, charged, released on bail and will appear in court to face criminal damage charges.
One local contractor who viewed the damage, estimated the repair cost could be more than €50,000.
The jeep smashed the glass door entrance and then damaged the metal frame which supports the entrance to the building. Former Minister for Social Protection, Éamon Ó Cuív, TD officially opened the new building which encompasses both decentralised offices and the district local office of the Department of Social Protection in September 2010.
Posted: 11:58 am December 31, 2013