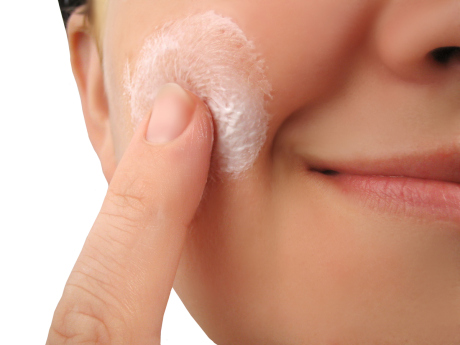 WITH winter comes the dry, rough skin which makes our makeup look dull and patchy. If your skin is dry underneath your make up then it will show through the makeup. Dry patches of skin can be due to low levels of sebum (skin oils), environmental (something we are doing or something we are exposed to on a daily basis) e.g. harsh soaps that are not PH balanced, long showers or excessive use of hot water, exposure to extreme temperatures especially in winter with central heating etc, or the underuse or incorrect moisturiser.
Using a gentle exfoliater will remove the build up of dead skin cells on the surface of the epidermis; this then allows your moisturiser to work more effectively as the dead skin will cause a barrier if not removed. Avoid harsh soaps; use a creamy moisturising cleanser that contains good active ingredients such as salicylic acid, vitamin A, E and C.
This type of cleanser will deep cleanse without drying and also exfoliate any dead skin cells leaving it soft and smooth. A moisturiser which hydrates, soothes and protects is very important as to lock in as much moisture to the skin as possible and protect it from environmental damage. It needs to be rich yet easily absorbed.
I would strongly advise to get a skin analysis and advice from your professional therapist on the correct products to use as buying over the counter could mean you have chosen the wrong products and wasted your money.
To get a skin analysis normally takes 15 minutes and is absolutely free here at Genesis, your make up is removed and a magnifying lamp used to analyse the skin plus a detailed prescription will be given to you so you know exactly what you need. This could save a lot of money as many people buy product after product until they have a huge collection and then realise they are not getting any results.
There are lots of internal reasons for dry skin also and diet plays an important role in healthy skin. A diet that is nutritionally deficient or not taking adequate amounts of water can dehydrate your skin and result in dry flaky skin patches on the face.
Consuming too many sugary, caffeinated products, such as coffee or fizzy drinks can also result in dehydration and trigger off the condition. Of all the vitamins that can provide help for dry skin, one of the most important is omega 3 fatty acids or commonly known as fish oil.
Fish oil is one of the best home remedies for dry skin, it helps keep your skin healthy and youthful by normalising lipids (skin oils) and cells which are essential in keeping the skin moist and is very effective in preventing dry skin patches.
It also helps reduce inflammation and irritation so this vitamin is excellent for not only dry itchy skin, but also for those who suffer from eczema, psoriasis, and acne.
Taking Vitamin E will enrich the skin with moisture from within, helping to smooth over the dry patches; it is excellent in preserving skin moisture and stimulating cell renewal. Vitamin E can be found in nuts, oils, vegetables, sunflower seeds, whole grains, spinach, oils, seeds, wheat oils, asparagus, avocado, beef, and seafood.
Another essential vitamin is Vitamin A which is a great anti-oxidant and helps reduce free radicals which can damage skin cells resulting in early signs of dry skin patches, aging and wrinkles. Results have shown that a deficiency of Vitamin A has been linked to bump dry skin, scalp, hair and eyes. Good food sources of vitamin A are liver, milk, egg-yolk, carrots, and dark green leafy vegetables.
If you are a smoker then it would be best to try to stop as quitting smoking is the best skin care decision you can make. Smoking robs the skin of antioxidants which are needed for healthy skin. It has been proven that quitting smoking improves skin tone and reduces dryness and wrinkles. Moisturising your skin from the inside and outside is the most effective way to have healthy glowing skin and your make up should look radiant on top of a healty skin.
Mary Ferry is the proprietor of the Genesis Skin Care & Laser Clinic in Upper Dore, Bunbeg, Tel 07495 32575, www.genesissalon.ie. If you have a query you would like answered in Mary's column confidentially, e-mail healthandbeauty@donegalnews.com
Posted: 12:30 pm December 28, 2013