By Chris McNulty
Ringside at Pilot's Row Centre
BRETT McGinty showed again why he's so highly regarded by coaches at club and country level with an emphatic win over Conor Vint at the Oakleaf ABC's fight night at the Pilot's Row Centre in Derry on Saturday night.
A five-time Irish champion, the fifteen-year old St Johnston lad gave a polished and powerful display of the weapons stored in his closet to take a unanimous decision, winning the exciting 66kgs contest 30-26, 30-27, 30-27.
While there looked a danger at one point that the referee, Paul McMahon, would give a standing count to the Gilford boxer, McGinty still had to keep on top for the whole nine minutes.
In Vint, he found a durable, granite-jawed southpaw who also happens to be a multiple All-Ireland champion – and he wasn't on Rossville Street to admire the scenery.
McGinty is relentless, though, and when he unloaded the gun Vint felt his full wrath.
With several body-head combos, McGinty put Vint on the back foot from early on in the fight and he kept control of it for the most part.
A rugged ring master who can mix the brain and brawn when its needed, McGinty's star has been on the rise and this was a performance that outlined his potential.
Vint is a serious operator and, that McGinty came out of the contest as the unscathed and comfortable winner says much about his condition.
The first round threatened to become a slugging match, but very quickly McGinty asserted his dominance, landing a cool left-hander to Vint's temple that shook the County Down lad.
A deadly right hand hovers through the air as he works the ring, but it lands a jagged blow and at one point on the ropes in the second round McGinty had Vint to the pin of his collar.
The beginning of the third stanza saw McGinty prise through Vint's guard for a score that was borne out of sheer precision.
The judges concurred, with McGinty taking the unanimous decision on his home canvas.
A bronze medalist at the 2012 European Schoolboy Championships, he competed at the recent European Youths in Russia and will soon be off in search of his sixth Irish title, though the Ulster 9 Counties is first on the agenda in two weeks' time in Burnfoot.
McGinty's cousin Calum Toland was also on the bill – and he scored a thoroughly-deserved 30-27, 30-27, 30-27 win over Buncrana's Aaron Stainsby. Toland was in charge from first bell to last in a composed display by the St Johnston teenager that was so impressive he was given the Boxer of the Night gong.
Another Donegal native boxing in Oakleaf's colours, Burnfoot's Ryan Green, just pipped Illis Golden Gloves' Thomas Mongan in a scintillating 54kgs fight.
Earlier, Convoy's Rory McElhinney was beaten by home boxer Conor Long. Neither boxer left anything behind them, but it was Long who took the unanimous decision following a tight 60kgs contest.
In a rousing cruiserweight bout, Raphoe's Stephen Stokes was defeated by Oakleaf's Sean McGlinchey, who got the night's biggest cheer from the capacity attendance.
The Stokes cousins had mixed fortunes, Tom losing out to Old School's Terry McEntee, with Francie scoring an impressive win over Nathan Young in a cracking bout.
Posted: 5:00 pm December 2, 2013
Marina is taking part in the Corinthian Challenge to raise money for the Irish Injured Jockeys Fund. Sunday's race...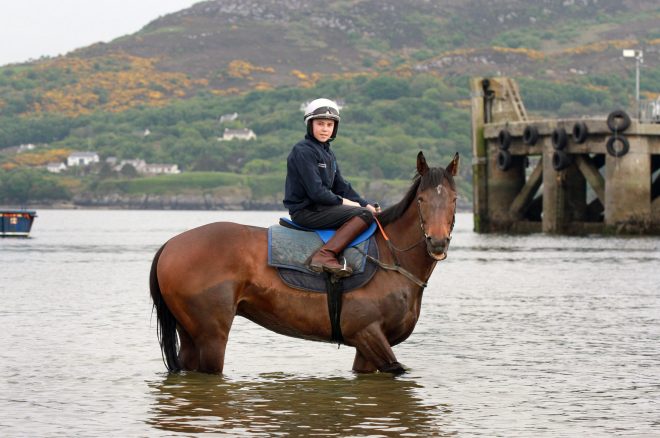 The 15-year-old Errigal College third year student landed five winners on what was the opening day of the North...
Athletes Castlederg's Sommer Lecky and hammer thrower Dempsey McGuigan - Finn Valley AC - and Raphoe's Rachael Darragh, badminton,...