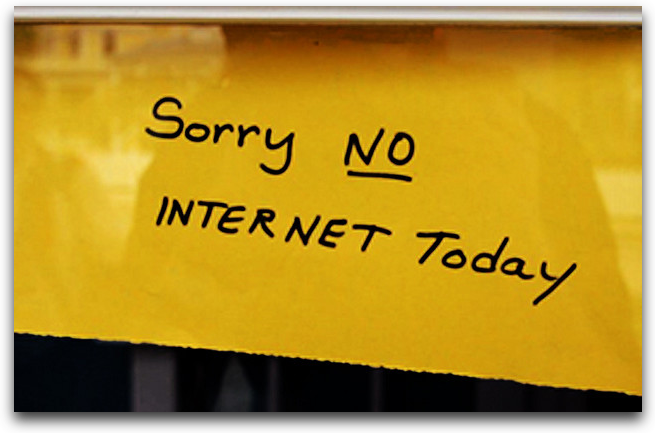 Continuing on with my challenge of no internet connection on my smartphone I experience more highs and lows. Does your life change when you disconnect from the Internet.
Where did the Internet begin?
We are servants to the creation that Tim Berners-Lee created in 1991 called the World Wide Web, which we call the internet now. Our reliance on this platform strays from, one off purchases to daily consumption of maybe 5 hours per day with use of mobile devices.
For those that use the Internet for work all day, this maybe a lot higher. But one thing for sure is that, we use it for near enough everything.
Do we need it for everything? Think about when a journey is being planned to the city?
First, we would check Google for its address. Possibly then, we do a Google Maps journey planner to get directions and print out.
Don't go anywhere without your map!
A sheet of paper sitting on the passenger seat that was printed from the home computer is a common sight in many cars over the last 6 years.
Even with the use of Sat-Nav's, directions on paper was the backup method or to work along the Sat Nav. Remember Collins Map of Ireland, we had shoved in our glove department boxes for use when driving around Ireland.
It was an excellent aid and many a time I would have been lost if not for its usefulness. But, Sat-Nav and Google Map has taken away the pleasure of "Asking for directions".
Can you remember the last time you may have stopped and asked for directions to a place? This makes me think on how renowned public speaker Brian Tracy describing the difference between men and women drivers.
When men are told that they may be going the wrong direction, their reaction is to put the foot to the pedal and drive faster. Tell a woman she is going the wrong direction, they will stop and ask someone for directions.
Google Maps is my guiding star!
With the use of Google Maps on our laptops, tablets and smartphones, we can get to destinations easier.
We type the name of the area into Google and in the top 5 searches Google Maps will have found the location offering a facility on how to get there from our present location.
Most smartphones will also have option of turning the Google Maps into a small Sat-Nav App and guide with the on-board GPS communications, directly to the point where we need to go.
Last week, I had to go out of the county for a 2 hour drive to carry out some IT work. First thought was, not sure where what part of the town this business is, so I better Google Maps it.
Oops I thought, Internet is off the phone. Frustration and uncomfortable doubts were creeping into my plans.
I had to stop myself several times from turning the internet on the phone.
What I decided to do was to use the old method when I first began driving.
Follow whatever signs on the road I can find and hope for the best. Then the challenge of finding the business location was daunting when I arrived in the destination town.
I thought I would do one spin up and down a few streets (I still did not want to let the male pride down YET by asking directions and there was no one else with me to show off to either!) and luckily I found my location within 10 minutes.
I know if I had to spend another 10 minutes driving streets, I would eventually stop and ask someone for directions.
It was a great sense of achievement to find my destination without aids.
Today was a victory, the next day maybe different. Niall 1 and Internet 0.
I challenge you to try no internet connected traffic on your phone for 24hours? I will follow up with my challenges on my new Goal.
To catch up on any missed articles written by Niall Mulrine of Pc Clean, go to www.PcClean.ie and www.CyberSafetyAdvice.com
Posted: 7:12 am December 16, 2013