BY CHRIS MCNULTY IN CONVOY
SEOSAMH Mac Ceallabhuí laid it on the line to his players at half-time on Thursday.
The Donegal Vocational Schools manager might well have been content to have a five-point lead on Tyrone at the interval of their Ulster semi-final, but the Naomh Conaill clubman was concerned, having had the wind in the sails for the opening half-an-hour.
Mac Ceallabhuí had changes at the ready.
The law was laid down – they had two minutes to improve or changes would be made.
The result was a ruthless second-half performance by his team that saw them outscore Tyrone by eleven points to claim an impressive sixteen-point win.
"The most impressive thing is that they were super, to a man, once we asked them to lift it," the Donegal boss said.
"At half-time, Tyrone will have been a hell of a lot happier than we were.
"We were only five points up and you'd have thought that the breeze alone would have been worth a half-a-dozen points. Our fellas didn't play in the first-half, but we had a good word with the team at half-time. We told them that they had to improve – and they really did.
"Once we got the goals, we were fine, but we had been playing with a gale-force breeze in the first-half and we were extremely worried at half-time. We had four or five changes already lined up and ready to go, just like that, at half-time. We weren't happy with things, but gave every man two minutes.  They responded really well."
Led by the outstanding Jamie Brennan, Conor Doherty and Caolan McGonagle, Donegal had no shortage of big performers as they booked their place back in the final of a competition that has served Donegal well down the years.
Pauric McShea was a member of the first Donegal side to win the Ulster Vocational Schools title in 1964 and through the years the likes of John Joe Doherty, Noel Hegarty, Tony Boyle, Adrian Sweeney, Michael Hegarty, Eamon McGee, Neil McGee, Karl Lacey, Paul Durcan and Patrick McBrearty have won titles at this grade.
The class of 2013 is looking good too.
Mac Ceallabhuí said: "Big McGonagle in the middle of the field lorded it and Conor Doherty got a couple of fabulous points. The goals then really put it to bed.
"Conor, Jamie and Ethan looked like they'd been playing together all their lives. They just connected so well and we got a few lovely scores."
The Donegal boss expects a big challenge in the final – but will run the rule over Monaghan and Cavan in next week's second semi-final.
He said: "Cavan will still be the favourites for the Ulster final. Cavan, Monaghan and ourselves are the three teams who are really taking this competition seriously. We were expected to lose the last two Ulster finals, but we managed to win them. Cavan have players who have played on their under 21 team. They probably came out last year in the final the same way we did today and by the time they decided to play the game was gone."
Posted: 11:30 am November 18, 2013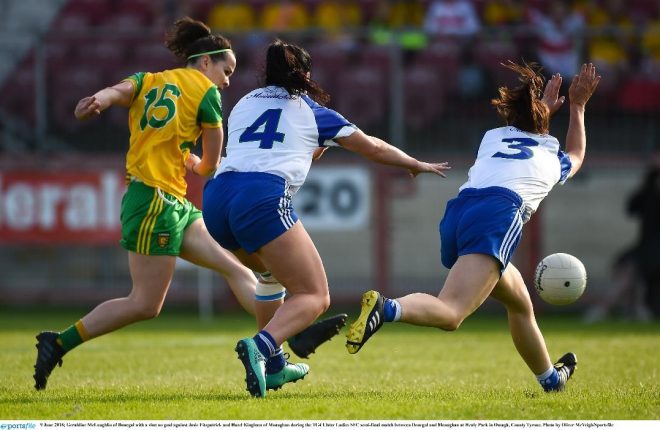 Geraldine McLaughlin is back to her devastating best and is gunning for Ulster SFC glory once more.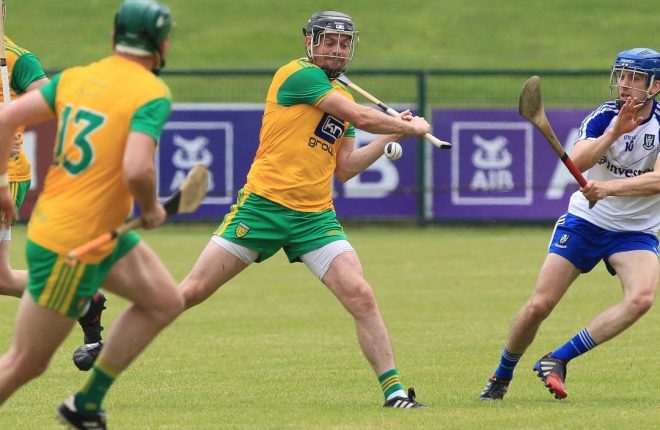 Coulter and Donegal will face Warkwickshire next Saturday.