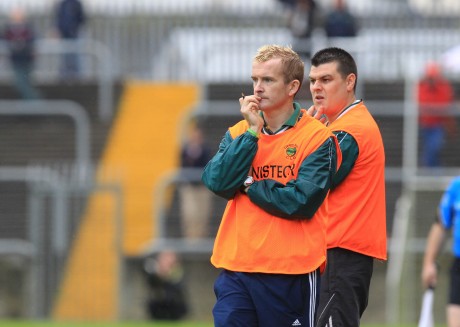 BY CHRIS MCNULTY
AT half-time in the game against St Gall's, the players and match officials had trundled down the tunnel of MacCumhaill Park, leaving only a small huddle of bibbed men on the pitch.
The same cluster had held court at the interval of the Donegal senior championship final, too, in almost the same spot.
Go back through Glenswilly's games in the Championship this year and it has been a feature. In one game, their group game against St Michael's, Gary McDaid and his management team seemed to be an age in discussion on the pitch at The Bridge.
But it's all part of their routine; a repetative system based on precision.
McDaid has brought many qualities to Glenswilly this year, but it is the nth degree organisation that has perhaps been the most important.
The scene now is a familiar one: McDaid with his henchmen viewing the statistics from the first-half to garner a message to deliver to their players when they return to the sanctuary of the dressing room.
"The basis of our team talks are on facts. What we do is based on facts. We meet at half-time and go through stuff with our stats men," McDaid says.
Assisted by selectors Johnny McGinley, Michael Canning and Brendan Walsh, the management team meet their statisticians and do a quick number crunch of the opening half-an-hour. During the management's rendezvous, the players have retreated inside.
"We give the players a few minutes on their own," McDaid explains.
"We let them in first to clear their heads and have a quick chat among themselves.
"We want to look at the positives of what we've been doing and obviously things that we need to correct. We gather that analysis and we feed it back into our system.
"We feel that we're so well prepared. No-one has any sense of nervousness or anxiousness. There will be a wee bit of the butterflies – that's only human nature – but that does mean that we're on the cusp of something big.
"We have routine. It's something we do and when it's something familiar the people around are calm and they know it's just a regular event."
Indeed there has been a real sense of calm around Glenswilly's big days. The concession of two freak goals in the first-half of the county final against Killybegs didn't derail their charge and in the semi-final you could almost see the ice coursing through their veins even when, in white hot Championship temperatures, Ardara thought they had them on the ropes.
McDaid says: "We've come out on top in tight games – especially those games against Kilcar and Ardara. Against St Gall's, there was only a score in it too. We don't care as long as we're on the right side of it.
"They've been there so many times now. They have built up great confidence and they don't panic. Look at our game against Ardara when Ardara came back from seven points down to draw level. We got the next two points to win the game when most other teams would have faltered. The two scores were massive.
"We have a real never-say-die attitude about us now and that's great to have."
McDaid has been surprised at the perception of his team outside Donegal. Having fielded calls from GAA correspondents in national newspapers, McDaid feels as if Ireland has looked at Glenswilly as the Michael Murphy show.
"Everyone is talking about it as if it's a case of Michael Murphy taking on Roslea, but I think that is being a bit disrespectful – we have an All-Star midfielder (Neil Gallagher) that no-one mentions and look at the rest of our team. It's littered with experience," he says.
Indeed, with Eamon Ward, Gary McFadden, Ciaran Bonner and Colin Kelly around, his words are worth heeding.
And in reference to the likes of Kealan McFadden, Leon Kelly and Darren McGinley he says: "We have a lot of experienced players, including a lot of players who would have experience of playing at a good level of Ulster Colleges competition. There are very few clubs in Donegal who would have that – ourselves, St Eunan's and Termon – and there's nothing that will faze these boys.
"The boys have taken great experience from two years ago when we beat Cavan Gaels but then got caught by Latton. We learned a lesson from that and it's very important that we bring that into Sunday's game. I have every confidence that we can do that.
"We've been working very hard and have had a lot of big games lately with Killybegs and St Gall's. With those games we didn't have much of a chance to get really hard training in – but we got that done last week."
Neither Donegal or Fermanagh has tradition in this competition. Since Killybegs reached the final in 1991, only Naomh Conaill in 2010 have managed to get to the final, while it is eleven years since the last Fermanagh team, Enniskillen Gaels, to reach the decider.
Although Glenswilly are the whopping 1/6 favourites with the bookmakers, it should be noted that this is a Roslea Shamrocks team that has plenty of match-winning materials.
Brothers Seamus and Sean Quigley scored 1-11 between them in the quarter-final as Roslea shocked Cavan's Ballinagh. while Peter and James Sherry are among the others to keep an eye on.
The Quigley clan is the big factor, without doubt.
"It will be a massive task for us to stop them from racking up a big score," McDaid says.
"Their team has plenty of experience within it and we have to try our best to curtail what they're going to throw at us."
The midfield battle between Gallagher and James Sherry will tell a fair tale here, while the match-ups are likely to see Ward detailed on Seamus Quigley in what should be a real old-fashioned war of attrition between two men who aren't likely to flinch when the teeth are shown.
Indeed, Glenswilly's pride – aside from the wobbles against Killybegs – has been their defensive selfishness.
McDaid says: "Last year the boys felt they conceded a lot of goals and their confidence was low because of that. It was something that we had to address. When I came in in January we knew that was something that had to be addressed. We had to get our own house in order before we could start thinking about anything else."
It was a minor annoyance for McDaid that many scribes inked that St Gall's had 'kicked away' the quarter-final in Ballybofey.
McDaid's observations have a slight addendum.
"People should look at what we were doing as well," he says, "in that part of that was down to the pressure we were putting on the shots. They didn't get any shots without pressure going on the ball from us.
"St Gall's were the best team we've ever come up against. They are so comfortable on the ball, so experienced and we worked really hard to get that result.
"The big positive is that we won that game without playing to our full potential. St Gall's really dominated the first fifteen or twenty minutes and yet we were four up at half-time. I remember thinking at half-time that if I was in St Gall's shoes I wouldn't be feeling great about it."
With a blossoming Murphy at the other end, Glenswilly can rightfully walk tall. Murphy is their obvious marquee man, but he is not alone. Another feature of the St Gall's clash was their efficiency: Glenswilly hardly wasted an attack all afternoon. Or, 'we nailed our own chances', as McDaid puts it.
"We have shown that we're capable of putting up big up big scores."
The Glenswilly boss mentions his squad players always contributing something. In the absence of Aidan McDevitt the last day, John 'Brockagh' McFadden stepped in seamlessly to the rearguard; while Cathal Gallagher and Ryan Diver contributed to the cause off the bench with Brian Farrelly nabbing a point with his first touch.
In those games of inches, Glenswilly have proved quite astute at aligning their pieces upon the chequered board and when stalemate is calling Glenswilly have managed to force opponents into checkmate.
McDaid has the meticulous thought process of the chess player and he sets to work again this weekend aiming to take 'the Wee club' onto a rung of the ladder that once seemed an impossible dream for Glenswilly.
McDaid says: "It is important that the players realise what's at stake – and we have to make sure that we grasp it. We have to tick all the boxes we set down for ourselves."
Posted: 10:30 am November 15, 2013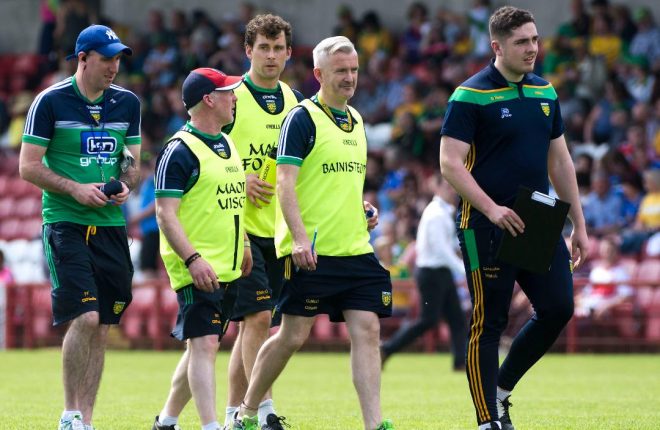 Donegal face Derry at Healy Park
Murphy first captained Donegal in the Senior Championship in 2011.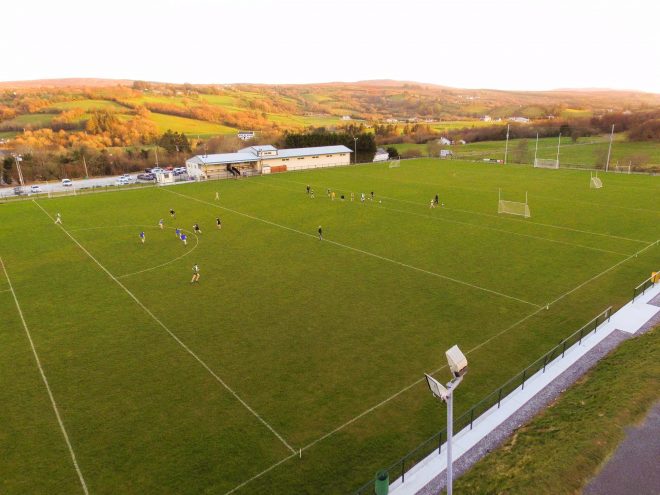 The chairman is calling on all club supporters, home and away, to get involved in the new development draw...