BY LIAM PORTER
NEW Finn Harps manager Ollie Horgan has admitted that he is taking a huge step-up from managing in the Ulster Senior League to the Airtricity First Division, but insisted he wouldn't have applied for the position if he didn't believe he could help Finn Harps push for promotion next year.
The Galway native, who was unveiled as the new Harps manager at a press conference in the Villa Rose Hotel on Tuesday night, said he had been extremely honoured to have been offered the position, describing it was one of the best days of his life.
While Horgan's name had been among those mentioned as a candidate for the position he was not considered to be among the favourites and his appointment took many by surprise.
A handful of Harps supporters did accept the open invitation to attend Monday night's press-conference and heard the new manager speak of the potential he believed there is within the club.
"I applied for the position two and a half years ago. I was unsuccessful then and I went back to Fanad United and worked with the U19s but when an opportunity rose again and I jumped at it. Anyone with ambitions to manage a team would be mad not to jump at the opportunity to manage this club. The potential, the support, what possibly is out there is enormous and I have been looking forward to that from the moment I got the phone call last night."
As yet the former Fanad United boss has not put a backroom team in place, and he says he will take his time on that front to ensure he has the right people on board.
"I have nothing concrete as yet for the backroom team. I have been chatting to people over the last two weeks, I've been chatting to people today, I'll be speaking to people tomorrow. I'll take stock of what is already in the club, I'll look at my options outside of the club and I will do that in my own time, I want to make sure I make the right decision in that instead of rushing into something I'm not fully happy with."
Hand in hand with that task though will come the job of speaking to players.
With only two of last season's squad still under contract and suggestions that other Airtricty League clubs may have an interest in some of the players, Horgan will need to move quickly to ensure he gets his squad assembled.
Admitting that he hopes to bring in some new faces to the squad, the St. Eunan's College teacher said however, that he believes there is enormous potential in the squad of players who were at Finn Harps last season.
"I might look outside the county but we're not looking going to the other end of the country for players. There a number of players that are 'nearby' that I would be interested in and I will be talking to in the next couple of days. But it's not a huge number we are talking about, there's quality already here but just trying to top it up and refine it is what I'm trying to do."
With budget restraints in place, Horgan also admitted that some of the players he has an interest in would have played in the Ulster Senior League last season.
Asked about working within a budget of around €2,000 a week (a figure mentioned last season) he replied: "I would like to operate off five times that budget but there are constraints in budget, there are constraints in everybody's budget within the League of Ireland. You work within that and you try to get the best out of the players who are already here and those I hope to take in. To me, we won't be too far away, even within the constraints mentioned there."
And he added: "There would be a number of players who featured in the Ulster Senior League last year that I would be interested in. It is a big step up without a shadow of a doubt, it is a big step up for me from that league, but I will certainly be approaching a number of them and giving them every chance. There is ability out there, without a shadow of a doubt. If they are motivated enough and dedicated enough, I don't see why a number of them couldn't step up."
The new Harps boss said he has already been in touch with some players and will be making contact with players over the next days and hopes to have a squad assembled by early December with a view to commencing pre-season training in January.
And, he says he is of the opinion that squad will be well capable of pushing for promotion next year.
"If I didn't believe Harps can challenge for promotion I don't think I'd apply for the position. It will be difficult and yes there will be obstacles out there without a shadow of a doubt.
"I'll take no end of passion, preparation and commitment and if I can get that from the players that are under my management then I would be very happy. If we can achieve and get the most out of the players that are there I would feel that I have done my job and I think that would be good enough to push at the higher end of the First Division table."
Posted: 3:47 pm November 27, 2013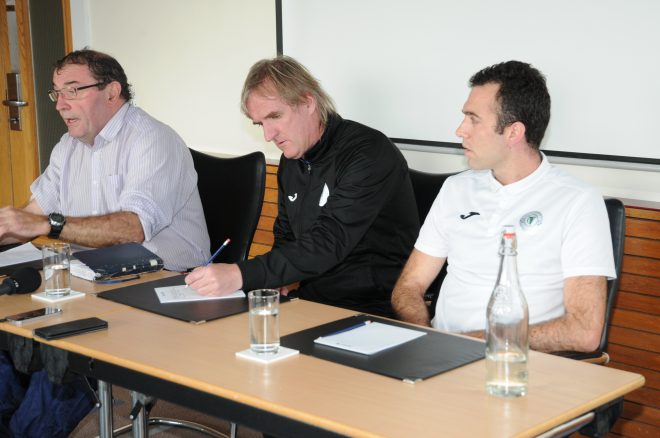 Finn Harps secretary John Campbell said the club's budget for the new season would include four underage teams competing...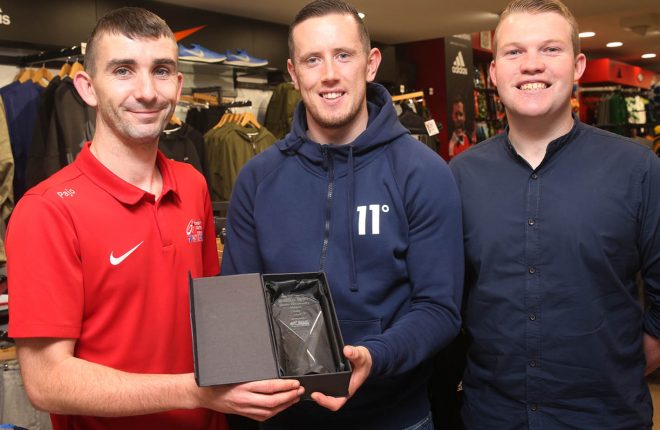 Gallagher was awarded the Donegal News Sports Personality of the Month award for July