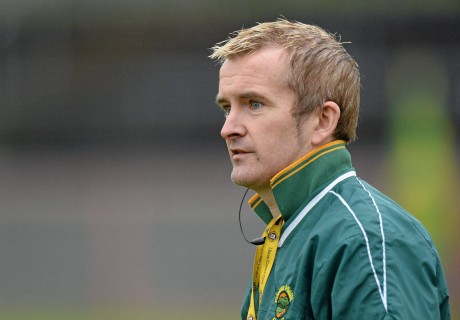 GARY McDaid thought long and hard about rolling up the sleeves and going in at the deep end with Glenswilly again.
The AGM was looming and Manus McFadden confirmed that he wasn't seeking another term in the job. McDaid pondered and made a few phonecalls. He found his answer.
A few month later and here he stands, McDaid and his men at the door of the Promised Land.
The job of the club manager has altered significantly in recent times. McDaid and his wife Mandi have a young daughter, Meghan, and little Jack arrived just last week. These are busy times.
McDaid is living the dream and has taken the club on a journey few thought was possible not too long ago.
At 35, he is a young manager, but it's a young man's game these days. McDaid's success with Glenswilly has been remarkable. Two years ago, he and John McGinley took them to their first ever Dr Maguire, having won the Donegal Comortas Peile na Gaeltachta title that May.
This year, the landscape was different: McDaid entered a room of broken dreams. 2012 had been hard on Glenswilly. Relegated from Division 1 having been beaten by Gaoth Dobhair in a play-off, they also relinquished their hold on Dr Maguire's ears, limping out of the Championship following a painful quarter-final defeat by Dungloe. The warning signs were there from early on, but it was an outcome they couldn't prevent.
McDaid asked his players for some soul-searching – and it worked a treat.
It would be easy to belittle McDaid's achievements and point to the players within the confines of the dressing room. But McDaid is the man who has, meticulously, pieced the jigsaw together.
"Oisin Kelly asked me the last day what was the big thing that's changed this year? I said it wasn't any one big thing but a million wee things that have made the difference," he says.
Glenswilly's set-up now is akin to a lot of inter-county teams, better than some, in fact.
It is all in the aim of perfection. McDaid has gathered a substantial backroom team, but at the nub of it all is that everyone has a role – and an important one. Whether it's the kitman, the physio, the waterman or the statisticians, they have all been handed a role by McDaid.
He's wired for sound on the sideline, cutting that confident figure on the sideline: Bleached-blonde hair, collar up and the ice coursing through his veins as he straddles the chalk in shorts. Every box is ticked, no stone is left unturned. It is preparation to the nth degree.
The St Eunan's College PE teacher has been involved now for two Donegal SFC wins, the Donegal Gaeltachta win and this year the Glenmen also won Division 2 of the All-County League.
"It took a lot of small steps to get us to this point," he notes.
"We've only been a senior club for the past eight years. The strides made have been huge and it's something we're very proud of here in the parish in the Glen. We've never won a county underage title. So to have two senior county titles and to be in an Ulster final is massive.
"We've only been in existence since 1982. Our players didn't have that much to look up to in the past. But these kids coming through now have a great group of players to emulate. They'll see the pictures on the wall. That's a great boost for the club. We'd huge numbers out there at Under 15s tonight (Thursday) under lights in the middle of November."
It was last October when he called Johnny McGinley to take a trip to the Derry SFC final. Ballinderry beat Slaughtneil that day. Ballinderry have always had their admirers in Glenswilly. Little did the intrepid duo think that 14 months later they'd be preparing to battle with Ballinderry in the Ulster final.
"Crossmaglen and Ballinderry; those are the two sides that everyone in Ulster looks up to," says McDaid, who has learned a lot in terms of proper preparation from his time studying at St Mary's and following club football in the 'six counties'.
"I remember last year, when I wasn't managing, going in with Johnny to watch Ballinderry in the Derry final.
"The quality of their play and the quality of their players is fantastic. Ballinderry are the benchmark that I've always aspired to be like as a club. They are football crazy. Being in the six counties, it really brings out the best in them.
"The passion they have there is way beyond anything I'd ever seen before I went to college in the North (St. Mary's, Belfast). I can see that in those Ballinderry players.
"That was something I picked up on living in the North and you're always trying to emulate wee ideas like that. You try to involve as many people as you can in the club.
"That's why we have such an extended backroom team as well. The amount of work those lads do is phenomenal. Most of it goes unseen outside our circle. But the players are very grateful."
Glenswilly played their first game of senior football in 2006. Now they're at the summit of Donegal and could plant the county's flag at Ulster's peak on Sunday. McDaid has been their guide. Last winter, the outlook was bleak, but a little honesty with themselves helped pave the path to glory. The rebuilding was stark, particularly the speed of it. Swiftly, Glenswilly gained traction and they've demonstrated that never-say-die mentality that is the hallmark of the great teams.
The line between confidence and cockiness is sometimes blurred, but in Glenswilly they can be positive. When their teams bursts through those red doors of Healy Park on Sunday, Michael Murphy, Neil Gallagher, Ciaran Bonner and Colin Kelly are in their army.
McDaid says: "On match day, if we can get the gameplan down, we're confident that we'll be there or there abouts at the end of the game."
They've taken those small steps; now the giant leap is the aim.
With McDaid at the controls, it seems perfectly possible that Glenswilly can ignite the bonfires again on Sunday.
Posted: 5:30 pm November 25, 2013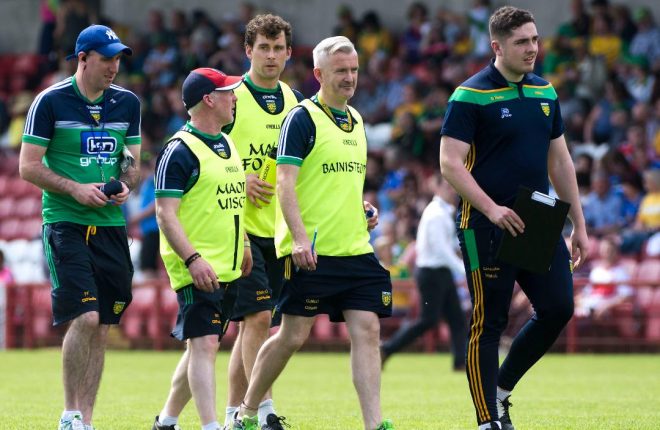 Donegal face Derry at Healy Park
Murphy first captained Donegal in the Senior Championship in 2011.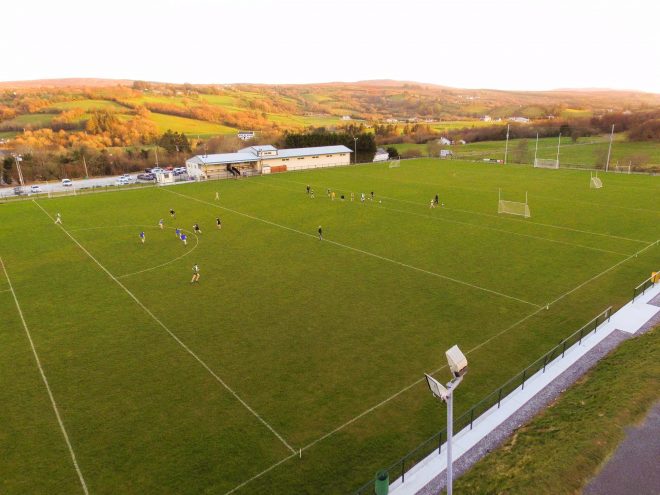 The chairman is calling on all club supporters, home and away, to get involved in the new development draw...