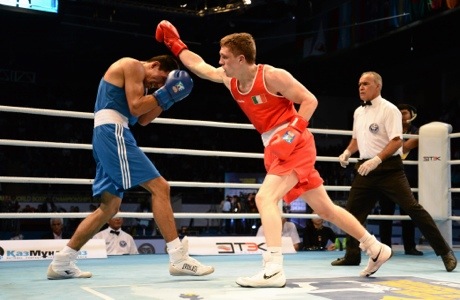 BY CHRIS MCNULTY
JASON Quigley has been a senior international boxer for only a matter of months.
On Saturday afternoon in Almaty, Kazakhstan, the young Finn Valley ABC stood on the second step on the podium after claiming a silver medal at the World Senior Championships.
Beaten by the home favourite, Zhanibek Alimkhanuly, in the middleweight final, Quigley has confirmed himself as a force to be reckoned with.
His scalps along the way to the final, Vijender Singh, Aston Brown, Zoltan Harcsa and Artem Cheebotarev were no mugs.
On the day, Alimkhanuly was the better boxer, but already the Quigley clan were looking forward to their next meeting with the young Kazakh ace.
"On the day he won the fight, but there is one thing that I'll tell you: We will be back and we will be gunning for him," Jason's father and coach, Conor, told the Donegal News from Almaty.
"In whatever Championship we meet him in again, God luck to him!"
Quigley went into the Championships nursing a minor hand injury, which made his week all the more impressive.
In a venue that was a Palace, Quigley was a king right up to the conclusion. His semi-final win over the Russian, Chebotarev, will go down as one of his best ever displays.
Quigley has been touted as a candidate to make a switch to professional boxing, but having been given a Sky Sports Scholarship recently and with the 2016 Olympics in Rio as his ultimate goal, the Irish and European Champion will stay put.
Quigley is just 22 and Alimkhanuly only 20; already, they are prime candidates for the big prizes in Brazil.
"That defeat will make him stronger," Conor Quigley said of his son.
That is the kind of athlete that he is. He has a desire inside of him that I have never seen in anyone else.
"When he loses he will come back a stronger man and a hungrier athlete than he is now.
"He is only 22 years of age. At 22 he is a European gold medalist and got on to be a World silver medalist all inside a few months."
As he emerged from the ring, Quigley cut an emotional figure.
He mentioned being heartbroken, but he is the first Irish male boxer to have made it to a world final.
He said: "If anyone had said to me that I'd win a medal out here, I'd have taken the hand off them."
It is amazing to think that Quigley only won his first Irish senior title eight months ago. Since then, he topped Europe and claimed a World silver medal.
Quigley is history maker and his exploits were hailed by the Irish Head Coach Billy Walsh.
He said: "By God, didn't he leave everything. He went to the soles of his boots. Hats off to him, he is a true legend."
Quigley once jotted the name of Darren O'Neill down on paper. O'Neill beat him in two National Senior finals, before Quigley finally exacted revenge in a quarter-final this year.
When next he meets with Alimkhanuly, sparks will fly.
A world silver, but Quigley's story is only beginning. The next chapter should be fascinating: The 2014 National Seniors with O'Neill, Conrad Cummings and Roy Sheahan all likely to be in the mix again.
The wheel starts spinning again soon.
Posted: 11:30 am October 27, 2013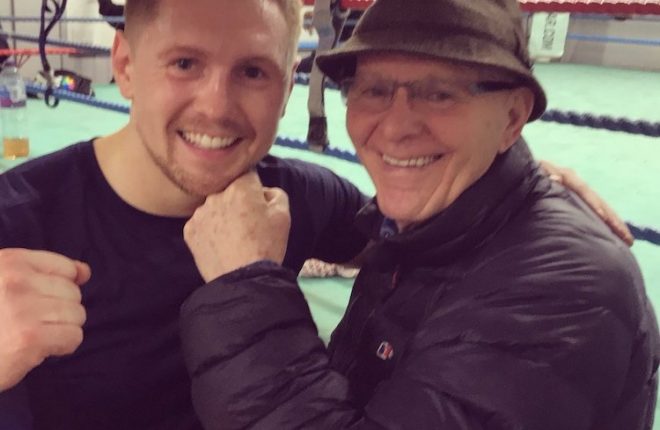 Brendan Ingle's funeral takes place in Sheffield today.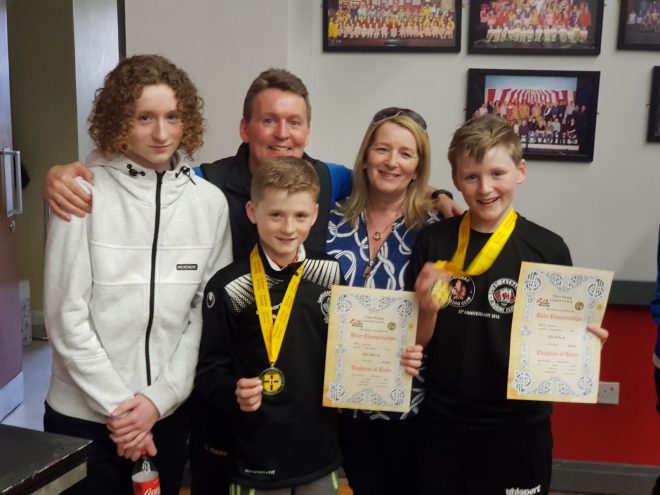 Seán Brady Devenney (11) and older brother Cathaír (12) from Corgary, Ballybofey, now progress to the All-Ireland finals in...