VIDEO BY DECLAN DOHERTY
THE annual Letterkenny Institute of Technology Careers and Postgraduate Fair took place on Monday. We caught some of the atmosphere on camera.
Speaking to Catherine Lyster, LYIT Careers Officer and organiser of the main event was journalist, Paddy Walsh. Read his in-depth feature below.
BY PADDY WALSH
AS STUDENTS ponder their next move on the career crossroads, the President of the Letterkenny Institute of Technology this week offered them a glimpse of hope in the wake of the economic downturn.
Addressing the attendance at the Careers and Postgraduate Studies Fair at the LYIT on Monday, Paul Hannigan spoke of a "slightly better confidence" in the area of employment than had been the case.
"This increased confidence is in turn leading to more jobs and opportunities," he maintained.
His comments came as huge numbers descended on the venue to seek out the various options available to them through the educational institutions and organisations who set up information stands at the annual Fair.
A snap survey of the students underlined both the importance of the event and the head scratching involved for at least some of them as they look to their future prospects.
Leanne Kearney from Moville will graduate this Friday in her third year of Law. She hopes to go on to complete a Masters either through the Open University or at Magee College in Derry.
"I'll definitely not be going abroad, I'm a bit of a homebird. I get homesick staying in Culdaff for a weekend," she laughed.
Barbara Dougal will also graduate this weekend and was also hoping to undertake a Masters degree course. She found this week's Career guidance event "very beneficial" while Aaron McArdle, another law student who hails from Castleblaney in County Monaghan, said he was examining all the options open to him without having made any decision on his future.
"The fact that everything here is in the one place makes it easy to access it," he remarked.
'Great options", agreed Dearbhlá Radcliffe. "It's a brilliant way of getting to know what's available." As to the future, she's considering Canada as one viable option. "Having family there helps, of course, but it's certainly something I'll be seriously looking at."
At the stand, where the brochures 'Work In Canada" and 'Work in the U.S.A.' were being distributed, Dana Catherwood, the U.S.I.T. Work & Travel Promotional Executive, confirmed: "There has been a lot of interest in Canada particularly whether it's for short term visits to work or longer durations."
Ballybofey based, Luke Marley, who has one year remaining in his four year Applied Computing course, was another LYIT student who would consider the emigration trail. "I haven't made my mind up yet but it's good to have these options available."
Dubliner Gearoid Maguire, who has been living in Convoy for the past ten years – "I came up on holidays and met a Donegal woman" – has also a year left in the Applied Computing course.
"I'll try to get a job here once I complete it. The kids are well settled and we wouldn't really want to have to uproot them."
Paddy McMenamin from Ballybofey is undertaking a degree course in Quantity Surveying with the option of a fourth year level eight to follow should he pursue it. He was employed as a kitchen fitter and with his building background is keen to take advantage of the course to further his career.
Careers Officer at the LYIT, Catherine Lyster said this year they'd seen a lot of interest from graduates, people wishing to study further, and those who were considering a career change.
"We were delighted with the turnout and once again would like to thank the colleges and businesses who came along to take part. There was definitely more optimism amongst our attendees this year," she pointed out.
LYIT chief, Mr Hannigan described it as a "big week" for the college with over 100 students having graduated in Killybegs and over a 1,000 set to graduate this weekend in Letterkenny. "I hope you will avail of the job opportunities here today," he told the participating students.
 
 
Posted: 9:47 am October 22, 2013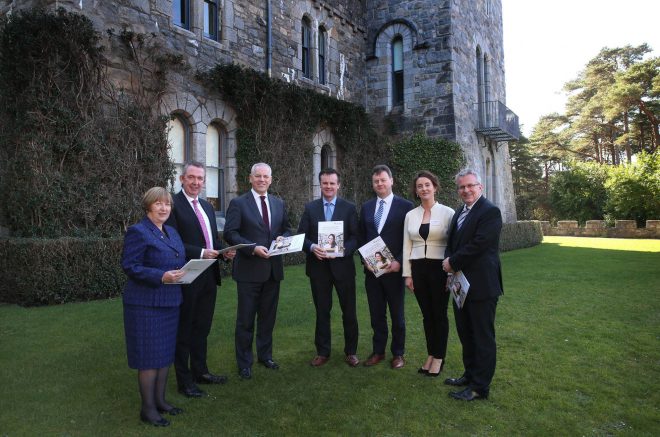 The Optum sponsorship scheme will provide valuable information on healthcare courses and career pathways in the region
    Three young Donegal designers made their way to Galway today for the finals of the Irish Fashion...
A member of Donegal Designer Makers, Parkinson's latest piece formed part of an exhibition which took place in Rathmullan...