BY CHRIS MCNULTY
c.mcnulty@donegalnews.com
MATTHEW Byrne gasped a sigh of relief when the schedule for this weekend's SFC semi-finals was released by the Donegal CCC.
Malin take on Killybegs on Sunday at 3pm – perfect timing as far as Byrne is concerned.
The alternative, a Saturday fixture, would have placed the Malin forward into a sticky wicket and a club versus country battle.
Byrne has been selected on the Republic of Ireland amateur squad that is hosting the Umbro Quadrangular Trophy in Limerick this week. Smith, who plays soccer with Glengad United, was picked by Gerry Smith after a series of trials on the twenty-man panel. They played Scotland on Thursday, faced the Isle of Man yesterday and took on Northen Ireland in the final game today.
Byrne will be straight back to Malin this evening.
The either, or scenario would not have been pleasant.
"This is such a big game for Malin…and then there's the opportunity of getting my first Irish cap. How would you choose there?" Byrne says.
"Put it this way: I was glad to hear that our semi-final was down for the Sunday!"
These are heady days for Malin. Little, patronised Malin are in their first ever SFC semi-final.
They've never won an Intermediate title, getting into the Senior Championship on the back of their League placings. A 0-13 to 0-9 Junior Championship final win over Naomh Colmcille in 1999 had been their zeneth previously. They'd had big days out in the League, but it is only now that Malin are still in Championship training on the darkened nights when the leaves are beginning to fall.
Having lowered the colours of St Eunan's, Malin have announced their arrival upon the stage. Slowly but surely Donegal has noted their coming.
Malin are in no mood for a moral victory of any sort this weekend.
"You have to follow it up, but at the same time we have never been in a semi-final before," Byrne says.
"This is our biggest game ever. This is easily the biggest game for Malin. We've won Division 2 and our target this year was to stay in Division 1 – but this is by far and away the biggest game.
"We definitely want to prove people wrong. We have a lot of confidence in our own players. We have intelligent players who can play a good game. If we get our best team out on the pitch and they play like they can then we feel we can beat anyone."
An art teacher at Moville Community College, Byrne was quietly effective against Eunan's on that Saturday evening at The Scarvey when Malin launched a shock torpedo through the Donegal SFC.
In February, Malin folk groaned when the balls were pulled from the drum at RnaG studios in Derrybeg. For the new round robin first round, hadn't Malin just found themselves in a group alongside St Eunan's and Naomh Conaill, the finalists from last year and two of the Dr Maguire favourites in 2013. When the dust settled, Malin were standing, the north Inishowen men the side with Naomh Conaill's heads on their sword.
To draw St Eunan's once was bad luck, but to draw them twice could have been seen as a horrid happening. Not so in Malin, though.
"If you're going to go a distance in the Championship, you've got to play and beat the top teams," Byrne says.
"We want to be playing the big teams in Malin. We were actually happy when that draw was made. We were as happy as Larry.
"We had nothing to lose. We were happy to get them when we did, in a quarter-final, rather than later on in the competition."
Byrne missed some of Malin's group games as he was in Australia for six weeks of the summer. He's back now with the bit between the teeth again.
Malin's secret is perhaps in the simplicity of it all.
Malin town is 'buzzing' he says, but Byrne explains that the squad has become immune to football talk in recent weeks.
"There is some hype in the town about the game," he acknowledges.
"Terence has been very good in dealing with it all. He had us back in on the Tuesday after the St Eunan's game and was making sure it was out of our heads.
"We'll go to this game exactly the same as we did for all our other games, with exactly the same mentality.
"There's a massive buzz around the place. We have to ignore that and treat this just like any normal game. We knew this would come with a semi-final, but we've had meetings and talked about how we'd deal with that. We just have to keep our heads away from all of that and zone out when people are talking about it.
"We thrive on it too, though. Everyone turns up the expectation when we do well. we have to ignore it, but you can ignore it and still feed off of it."
Killybegs might have lost fourteen games from fourteen in the League, but Byrne dismisses such talk, insisting he 'hates' any inference that Killybegs' League form will impact on Sunday.
He says: "This is new territory for us, but Killybegs have been in this position before. They're much more experienced in these games than we are. For us it's totally new.
"We will not take anything for granted. When we played them before in the League, we only kind of creeped away in the second half.
Malin have already surpassed their own aims for 2013 – "One hundred per cent, it was survival in Division 1," Byrne says – but now they stand one hour from a first ever senior final. That 'the wee village beat the big town', he mentions is already 'unbelievable', but the mania would spiral even more if they are unscathed on Sunday.
Where once Malin would have been intimidated, they are now emboldened enough to believe in their right to be here.
If they can safeguard against 'people playing the occasion rather than the match', Byrne says Malin can make the leap.
"It's there if we want it," he says. "We just need to totally focus on this game and try to get over the line this weekend – nothing else matters but this game."
Posted: 5:00 pm October 5, 2013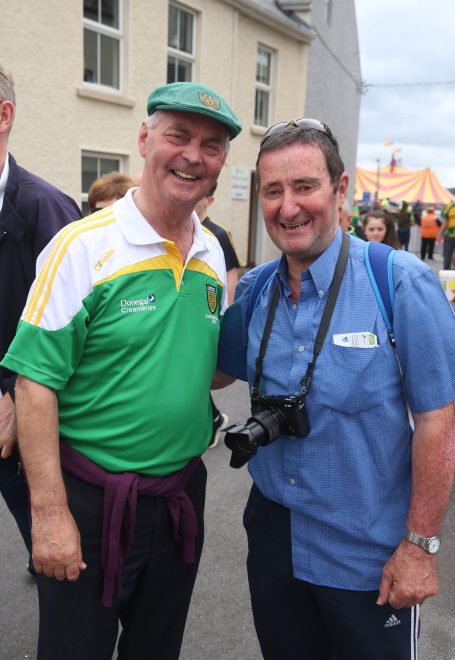 The Glenties native has captured images from thousands of games for local and national publications, including the Donegal News,...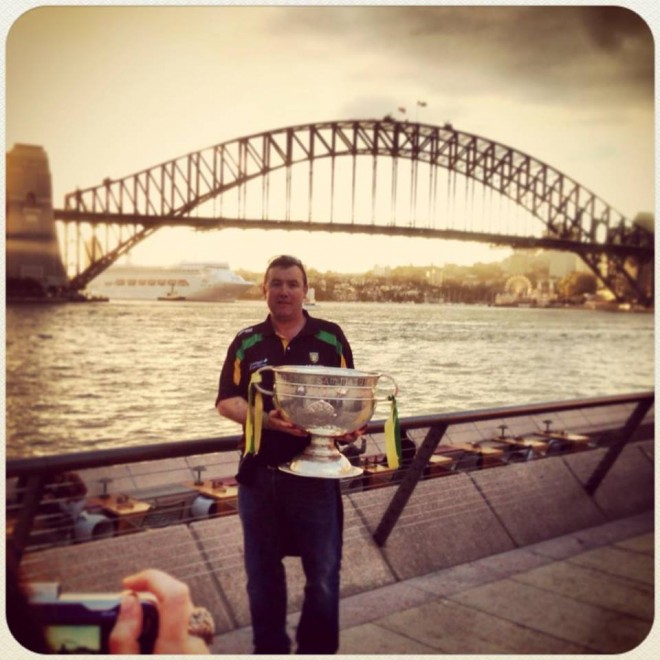 Donegal have been without a Cisteoir since July when St Naul's clubman Cieran Kelly stepped down, and the Executive...