BY CHRIS MCNULTY
c.mcnulty@donegalnews.com
'LE chéile is féidir linn'; 'Together we can'.
The green and gold band around Gary McDaid's left wrist bears a message that runs through the very veins of his Glenswilly team.
A number of the Glenswilly team sport the same bands, which carry the club's name, CLG Gleann tSuili.
Together they can and together they have.
In this year's Championship, Glenswilly have nearly perfected the art of winning by the most narrow of margins.
Even in defeat to Kilcar in their opening game in the Championship, Glenswilly were within a point at the final blow of Jimmy White's whistle.
Glenswilly have played five games in the Championship this year and four of them have been decided by a score. Only in their home hammering of Bundoran have Glenswilly been able to relax. They defeat St Michael's 0-9 to 0-9 and have won their quarter-final and semi-final, against Kilcar and Ardara, by a point.
"We had to engrave that toughness into the team," says Ciaran Bonner.
"There were a lot days when we were on the wrong end of that. We've managed to know how to get on the right side of it.
"You get that from big games and this group of players has been involved in a lot of big games over the years."
This Glenswilly team has been educated in the school of hard knocks. Their stomachs have churned countless times at having had the victorious rug pulled from beneath them late in the day.
Eight years ago, in the 2005 Ulster Intermediate final, Glenswilly looked set for a famous win against Monaghan's Inniskeen. 0-10 to 1-5 they'd been in front when Inniskeen pounced to snatch a title. Inniskeen went on to capture the All-Ireland Intermediate Championship that term.
"That was the game we probably took the most from," Bonner says.
"We were cruising in that game on a bad, wet and slippery day. We got caught with a high ball at the very end of the game. It went into the net and we were beaten by that."
It was the day that told Glenswilly that they were missing something.
Bonner says: "We always thought back here that we needed to be a bit ruthless then.
"You didn't get punished in the games and the levels we were playing at. when you step into Division 1 and make a mistake in an All-County League game, you are punished for it.
"The top-quality teams will all punish you if you slip at all."
Glenswilly lost the 2004 Donegal Under 21 final as St Michael's turned the tables late in the day, a year after Glenswilly won their first Under 21 'B' Championship. Bonner was a part of that Under 21 crop that provides the backbone of today's squad.
There is a one-for-all-and-all-for-one attitude in the camp right now.
Bonner says:  "This group of player grew up together. It's like a group of your own brothers. Every man puts his body on the line.
"It doesn't matter who you are; everybody gets the same respect here. If you're one of the smaller players or Michael Murphy, it's all the same when we take to the field.
"There is no 'i' in this team. Every player is for the team and if Gary asks you to play right corner-back or left corner-forward you do it."
In 2010, Glenswilly were almost ready to start hanging bunting in the parish when Naomh Conaill struck two decisive daggers to their hearts in a semi-final at O'Donnell Park.
Anthony and Leon Thompson hit a brace of goals to deny Glenswilly a berth in the final.
Bonner says: "That game we thew away against Glenties was just heartache. We threw it away with three minutes to go. We lost our focus. You learn from hurt.
"We've become battle-hardened from those defeats."
Last year, Glenswilly's grip on Dr Maguire's ears was loosened in a horrid quarter-final loss to Dungloe.
In their third final, Glenswilly want the scales to tip by the winning column.
"The determination is there," Bonner says. "We want to show people that we weren't nearly men, that we weren't one-hit wonders."
Glenswilly is a club that has gone places off the field too. The club held the launch of the All-Ireland inter-county championship series in the summer – and the visiting players were impressed by what greeted them in Foxhall.
It is one of the most advanced clubs in Donegal.
"It's the focal point of the Glen," says Caolán Kelly. "There's always something on. If there aren't people out running around the track, there'll be someone in the gym or there'll be classes on in the hall."
And, as the stalwart men from the Hills of Glenswilly have their eyes on the big prize again, they have each other's back.
"Glenswilly people have always stuck together,"Kelly says. "Whether it was going to a disco, or going anywhere, Glenswilly people were always united.  If you go out to the field and you see men struggling you'll go that extra wee bit to pull them out."
Glenswilly's ability to grind out the victory as the pressure cooker reaches its boiling point has defined their season to date. With an hour to go, all the want is another win, regardless of how it's obtained.
"If it's one point or six, we'll take it," says McDaid. "Around the time we lost to Naomh Conaill in 2010, we had lost a lot of the big games since we moved up to senior football. There was a lot of hurt there. When you lose big games, eventually we learned how to grind out games and how to get over the line."
____________________________________________________________
GLENSWILLY'S LATE HEARTBREAKS
by Chris McNulty

Donegal Under 21 'A' Championship final 2004; Glenswilly 1-08 St Michael's 1-11
GLENSWILLY reached the 'A' final only a year after winning the Under 21 'B' title and who stood before them but their old rivals from The Bridge.
Sean Stewart cracked home a first-half goal to give St Michael's the edge, but back came Glenswilly and it was the Glenmen who looked set to hang on and claim a back-to-back Under 21 at both grades of the Under 21 Championship.
St Michael's had other ideas and the Creeslough-Dunfanaghy side stole the win just in the nick of time. Glenswilly led by a point, but St Michael's swung the pendulum thanks to points from Danny Langan and Seamus Wilkinson.

Ulster Intermediate Final 2005; Glenswilly 0-10 Inniskeen 2-05
"HEARTBROKEN?" wondered Francie Martin after this one. "It was a real disaster. It's unbelievable."
Glenswilly had stormed their way to the Donegal Intermediate Championship and blazed a trail to the Ulster final, where they met Monaghan's Inniskeen at Brewster Park, Enniskillen.
It had all been going so well for Glenswilly, who led 0-10 to 1-5 with time almost at a close. Then, the roof caved in.
Martin Callan thumped a hopeful diagonal ball in towards his full-forward line. Glenswilly appeared to have it under control before, from somewhere, Pearse McSkane ghosted in to apply the finish touch and steal a win for Inniskeen.
Glenswilly had been 0-5 to 0-2 ahead when Inniskeen bagged their first goal – also prevenatble. A spell of pressure yielded two '45's, the second of which was cleanly fielded by Neil Gallagher who, in trying to create space for the clearance, dropped the ball and Meegan toe-poked it home.
Donegal SFC semi-final 2010; Glenswilly 2-08 Naomh Conaill 2-13
IT was a game that was pulsating in its drama before, finally, a pair of late goals from the Thompson brothers, Anthony and Leon, fired Naomh Conaill into the final at the expense of stunned Glenswilly.
Naomh Conaill had been ahead for much of this contest, but goals by Colin Kelly and Michael Murphy, allied to a spate of three quick-fire points in as many minutes, had Glenswilly three points up with three minutes left. Enter the Thompsons. First up, Leo McLoone's quick thinking fed skipper Anthony Thompson and, after selling a dummy to a defender, he shot low past Philip O'Donnell.
Then, the crowning moment came when Man of the Match Leon struck gold in stoppage time to seal a 2-13 to 2-08 win in front of an enthralled attendance of 3,000.
Glenswilly had come from behind to lead for the first time with ten minutes left as Neil Gallagher and Kelly (2) pushed them in front – only for Naomh Conaill to stage their late smash-and-grab raid.
Posted: 1:00 pm October 19, 2013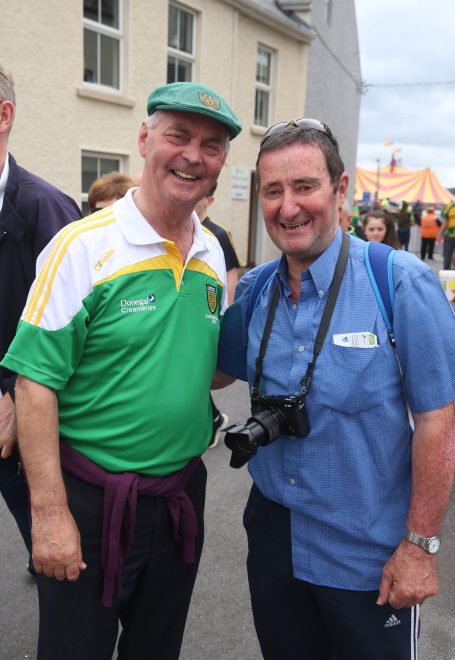 The Glenties native has captured images from thousands of games for local and national publications, including the Donegal News,...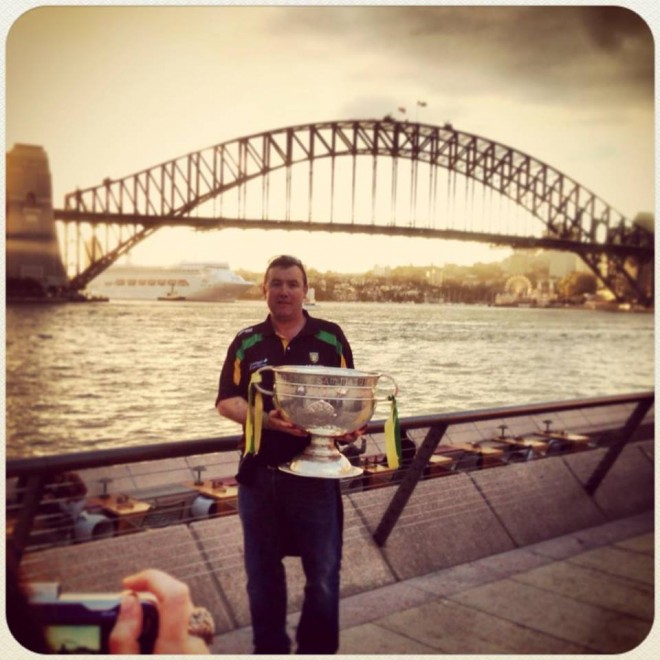 Donegal have been without a Cisteoir since July when St Naul's clubman Cieran Kelly stepped down, and the Executive...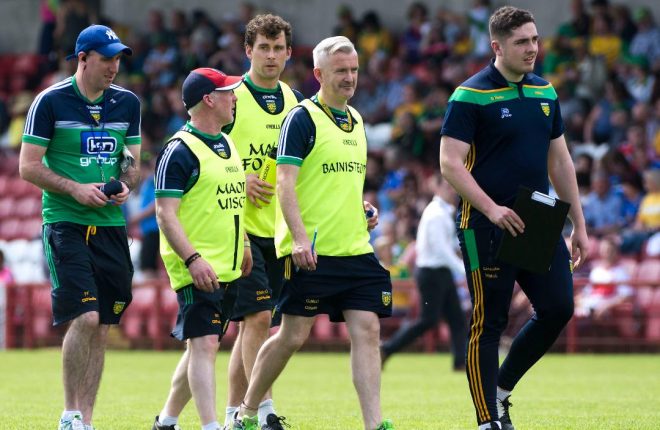 Donegal face Derry at Healy Park