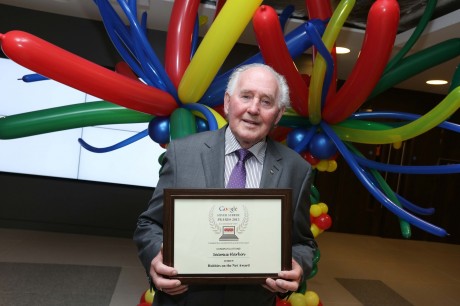 CREESLOUGH man Seamus Harkin has won the prestigious 'Hobbies on the Net Award' due to his phenomenal use of technology in his daily life.
These awards, in conjunction with Google and Age Action, recognise the talents and achievements of those aged over 50 who have learned how to use technology to enhance their daily lives.
Like many, Seamus left school at the tender age of 14, but always had a curiosity about digital technology. He is a well known and much sought after fiddle repair man whose knowledge of computers and the Internet is self-taught.
In 1986 he was involved in installing the first computer in a national school in Ireland, a BBC Compact.
To date, he has written seven books – all on his computer – and he talks online to his son in Sydney and keeps in touch with friends and family through social media.
He edits his photo collection on Photoshop and buys old fiddles on eBay, which he lovingly restores and sells to clients all over Ireland.
Known locally as the 'Singing Undertaker', his life has been shaped by his enthusiasm for technology and self-taught skills.
Without technology, Seamus says he would not have published his books, songs or bought old fiddles on eBay and he would not be the man he is today. S
eamus was nominated by his daughter-in-law Janet Harkin
Age Action Chief Executive, Mr Robin Webster, said it is important that we encourage as many older people as possible to learn how to use computers and new technology.
"These technologies enable older people to play a full part in their communities. New technology, as today's winners show, can dramatically enhance the quality of older people's lives.
"We hope that the example of today's winners will encourage many more older people to take the plunge and begin learning these important new skills."
In total five awards were presented at the ceremony.
Posted: 4:58 pm October 4, 2013