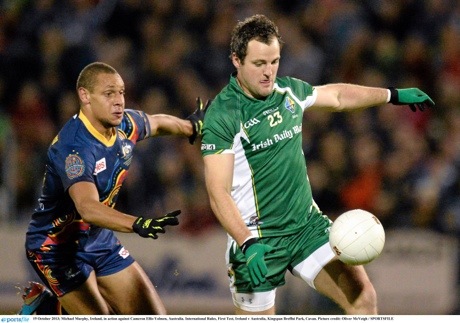 Ireland 57 (2-12-9) Australia 35 (1-7-9)
By Chris McNulty at Kingspan Breffni Park

THEY can hit the hay and rest easy in Glenswilly tonight after Michael Murphy came through the first Test of the International Rules series in Cavan.
Irish captain Murphy showed flashes of class to help Ireland to a 22-point win that firmly puts the Paul Earley-managed side in pole position ahead of next weekend's second Test at Croke Park.
Murphy will line out for Glenswilly in Sunday's Donegal SFC final against Killybegs in Ballybofey mere hours after playing around 50 of the 72 minutes at Kingspan Breffni Park.
It was far from the most taxing of runs out the Donegal ace will have had, though.
"He spent a lot of time on the pitch, but in the third quarter he was in the full-forward line and we weren't getting ball up to him," manager Earley said.
"He wasn't having to work too hard because we weren't getting the ball up over the 45-metre line.
"He might have had 45-46 minutes on the pitch, but ten or fifteen minutes of that, there wasn't much work being done."
Dublin's Paul Flynn, taking part in the post-match press conference allayed any fears about possible fatigue for the Glenswilly full-forward.
"He's a machine anyway, so he'll be grand. I wouldn't worry about him," Flynn said of Murphy, who scored two overs in the first quarter and a behind in the fourth to take a total of seven points from his night's work.
Murphy was joined in the team by Donegal colleagues Neil McGee (Gaoth Dobhair) at corner-back and Patrick McBrearty (Kilcar) at corner-forward.
It was Murphy who got the game's first score, an 'over', from a free in the opening minute, before another, a fine sweeping effort after taking a driving pass by Sean Cavanagh four minutes later.
Murphy and McBrearty were showing well, but Murphy was just off-cue with a tenth-minute effort under stern pressure from the Aussies.
Ireland took control in the next two minutes thanks to Laois duo Ross Munnelly and Colm Begley.
The latter scored an over in between two fine efforts by Munnelly.
The Australians were struggling to get good quality ball into their full-forward division and it was a trouble-free beginning for McGee and company in the Irish backline.
Ireland had a commanding thirteen-point lead at the end of the first quarter after Monaghan's Conor McManus dispossessed his man to score a behind.
Ireland were 21 up at half-time, with the team of Indigenous Australians – who had performed a traditional War Dance beforehand – really disjointed at times.
Jack McCaffrey, Aidan O'Shea, Ciarán Byrne, Munnelly and Cavanagh got in on the act to give Ireland a 28-9 lead at the midway juncture.
Donegal's McBrearty could have had a goal in the 28th minute. Dubliner McCaffrey went on one of those trademark runs of his that cut down the forest of Australians before him.
He laid off to McBrearty, who burst past the goalkeeper, Ashley McGrath, but with a little too much haste as his momentum saw him tumble over the end-line.
Quick-fire overs by Byrne and Paul Flynn fired Ireland ahead by 23 points, before Motlop stemmed the flow briefly.
Ireland got their first goal in the 48th minute when Zach Tuohy broke through to score, but it was in the third quarter that the visitors finally offered something.
Led by Motlop, they came storming back and got a goal of their own when Jake Neade rolled home.
At the start of the fourth quarter, Motlop somehow crashed an effort against the upright when it appeared easier to score.
Inspired by a fine Murphy effort for a behind, Ireland kicked on in the closing stages. Four minutes from the end, they hit their second goal when Murphy's dropping ball in was picked up by Mayo's Kevin McLoughlin and he fired home.
Colm Boyle and Conor McManus scored overs as Ireland pushed the advantage out to 22 points and the hosts are now the clear favourites to win the series.
Ireland: Paddy O'Rourke; Neil McGee, Finian Hanley, Chrissy McKaigue; Lee Keegan, Zach Tuohy (1-0-0), Jack McCaffrey (0-0-1); Aidan Walsh, Sean Cavanagh (0-1-0); Paul Flynn (0-1-1), Ciarán Byrne (0-1-1), Ciarán Sheehan (0-1-0); Patrick McBrearty, Michael Murphy (0-2-1), Ross Munnelly (0-2-2).
Interchange: Colm Begley (0-1-0), Aidan O'Shea (0-1-0), Colm Boyle (0-1-0), Kevin McLoughlin (1-0-0), Conor McManus (0-1-1), Ciarán Kilkenny (0-0-1), Michael Shields, Paul Conroy.
Australia: Ashley McGrath; Jarrod Habrow, Christopher Yarran, Tony Armstrong; Cameron Ellis-Yolmen, Nathan Lovett-Murray, Alwyn Davey (0-1-0); Lance Franklin (0-1-4), Daniel Wells (0-0-1); Steven Motlop (0-2-2), Lindsay Thomas, Lewis Jetta (0-1-0); Eddie Betts, Mathew Stokes (0-1-0), Joshua Hill.
Interchange: Shaun Edwards, Sharrod Wellingham, Leroy Jetta (0-1-0), Jake Neade (1-0-0), Dominic Barry, Aaron Davey (0-0-1).
Referees: Maurice Deegan (Ireland), Matt Stevic (Australia).
Attendance: 17,657
Posted: 12:56 am October 20, 2013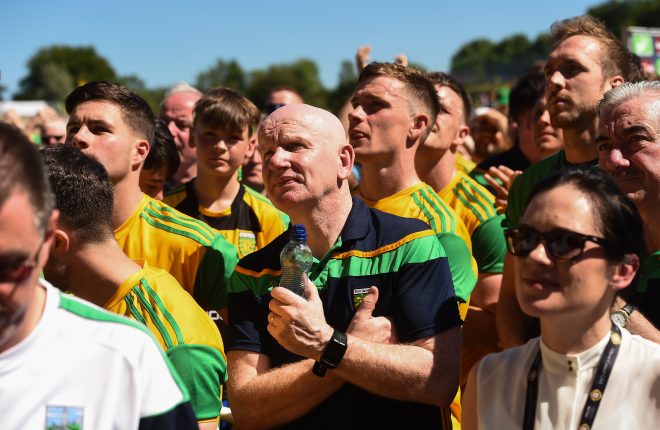 Last Sunday was one of those really special days to hail from Donegal
McBrearty's season is over.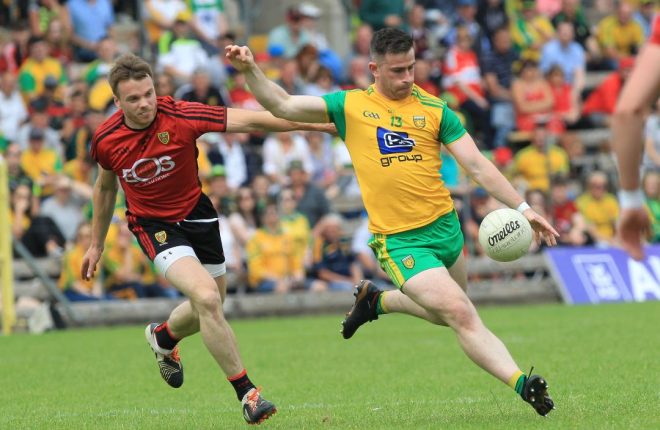 Patrick McBrearty's form to date this campaign has been simply sensational.