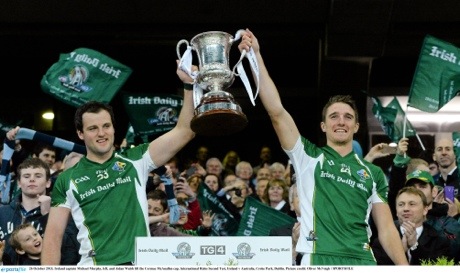 IRELAND 116 (6-22-5) AUSTRALIA 37 (2-7-4)
Ireland win 173-72 on aggregate
BY CHRIS MCNULTY AT CROKE PARK
MICHAEL Murphy's talents at this game are plainly obvious, but the Donegal skipper doesn't have a flicker of regret at passing up a chance at Australian Rules.
Time was when the Glenswilly man was courted strongly by the controversial former AFL agent Ricky Nixon, but Murphy resisted the lure.
On the evidence of the International Rules Tests, it is easy to see why Murphy had been earmarked.
Once again, he was to the fore in Croke Park on Saturday night, the Ireland captain playing a huge role in what conceivably could be the last running of this hybrid series.
Murphy was involved in so many of Ireland's key plays, scoring four 'overs' himself and that powerful frame of his is quite the prospect at the edge of the square in this game.
Murphy and Donegal team-mate Patrick McBrearty contributed a total of 23 of Ireland's scores on what was a record-breaking night at Croke Park with Neil McGee also playing a role in the Ireland defence.
Ireland won this pulling up, Paul Earley's side scoring a record 116 and their 79-point win was the biggest in 38 Tests since 1984. The crowd of 28,525 was the lowest ever Irish attendance, but Murphy is clearly a fan.
"I love playing Gaelic Football and I have a keen interest in other sports. AFL is one of them. It's a very enjoyable game to play, this compromise rules," said Murphy.
"It's enjoyable mainly because it is a skills-based game. it's about kicking accurately, about catching accurately, making incisive runs, shooting and scoring. They are all great parts of Gaelic football and AFL. The tackle is very clean and understandable.
"As a spectacle sometimes it can be very stop-start, but we were conscious of that as players and we wanted to put on a show today. I think that we did that over four quarters."
Ireland blew the visitors away on Saturday night. With a 22-point lead from the first Test, Ireland doubled that advantage as they led 30-8 at the close of the first quarter.
Monaghan's Conor McManus, Ireland's top scorer with 24 points, hit the opening goal when he fired home in the 12th minute after Murphy broke down Ciarán McKeever's ball in.
Three minutes later, Jack McCaffrey hit the back of the net with Murphy again involved in the move.
McBrearty might have got in for a goal early in the second quarter, but the Kilcar man was denied by a superb saving tackle.
A Ciarán Kilkenny goal and a behind by McBrearty helped Ireland lead 53-16 at half-time.
Murphy had a majestic third quarter, winning a mark and kicking a score early in that period and he then superbly curled over from close to the sideline of the 13m line.
McManus palmed home his second goal and it was already a rout with Ireland 78-25 in front heading for the last quarter.
There, Ireland really pushed home their advantage in an utterly one-sided contest.
McBrearty found the net with a well-taken goal in the early stages of that quarter, while Paul Conroy added a goal when his long ball deceived everyone as Murphy narrowly missed getting a vital touch.
The Australians were very disappointing and the future of the series is now in grave doubt.
Murphy feels hat it should be retained.
He said: "It's a game that is still in its infancy – only 30 years old.
"Gaelic football is over 100 years old, the same as the AFL. There may need to be some minor changes.
"We take great honour in representing the country. As a spectacle we knew that last week, or even the last series, needed a little more entertainment.
"That was the drive in us over the four quarters: to make it a good spectacle.
"This is a highly-skilled game.
"A number of years ago, the ratio between skill and physicality was mainly towards physicality. Now it's pushed towards skill.
"We were always interested in trying to nail the skills of the game."
At the outset of this Test match, there were some rumblings old with players getting involved and while there was the odd flicker throughout, the game became so much of a procession by Ireland that the life was sucked from the Aussies.
Murphy and company have been living alongside professionals for the last couple of weeks.
And, although the Australians came with an entirely indigenous team, there was satisfaction among the Irish Gaelic footballers.
Murphy said: "It is in the back of the head that we are amateurs and that we play an amateur game.
"We train and we train hard, but we're testing ourselves, physically and skill-wise, against a professional outfit, albeit with a compromise of rules. There is great satisfaction in that.
"There is great satisfaction in winning, full stop. We wanted to win the series in front of a home crowd."
For Murphy, it was a special night as he accepted the Cormac McAnallen Cup – the third piece of silverware that he's lifted at GAA headquarters.
Ireland: Paddy O'Rourke; Neil McGee, Michael Shields (0-0-1), Chrissy McKaigue (0-1-0); Lee Keegan (0-3-2), Zach Tuohy, Jack McCaffrey (1-0-0); Aidan Walsh (0-0-1), Sean Cavanagh (0-1-1); Paul Flynn (0-1-2), Ciarán Byrne, Ciarán Sheehan (0-3-1); Ross Munnelly (0-3-1), Michael Murphy (0-4-0), Conor McManus (2-4-0).
Interchange: Paul Conroy (1-0-1), Ciarán McKeever, Colm Boyle, Colm Begley (0-0-1), John Doyle (0-0-1), Kevin McLoughlin, Patrick McBrearty (1-1-2), Ciarán Kilkenny (1-1-0).
Australia: Ashley McGrath; Jarrod Harbrow (0-0-1), Christopher Yarran, Tony Armstrong; Sharrod Wellingham (0-1-0), Shaun Edwards, Nathan Lovett-Murray; Carmeron Ellis-Yolmen, Daniel Wells; Mathew Stokes (0-0-1), Steven Motlop, Aaron Davey; Jake Neade (1-1-0), Lewis Jetta (0-2-0), Eddie Betts (1-1-0).
Interchange: Leroy Jetta, Lindsay Thomas (0-1-0), Alwyn Davey (0-1-0), Joshua Hill (0-1-1), Dominic Barry
Referees: Maurice Deegan (Ireland), Matt Stevic (Australia).
Attendance: 28,525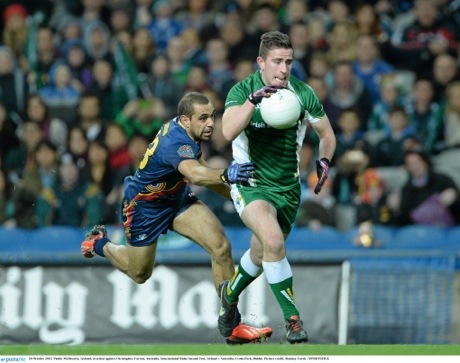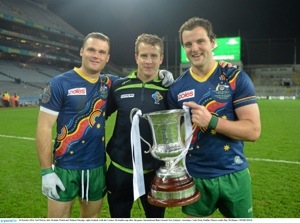 Posted: 7:30 am October 27, 2013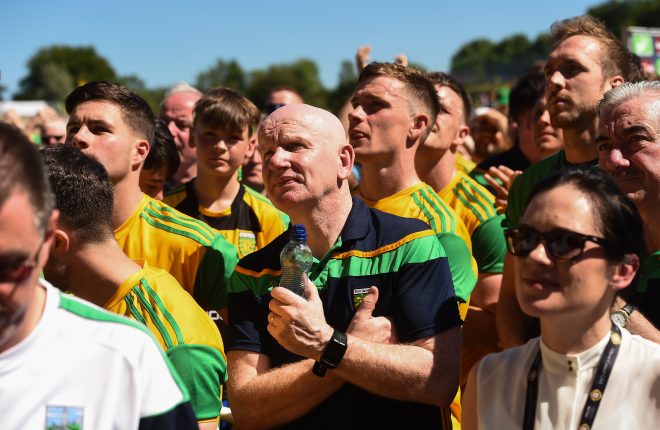 Last Sunday was one of those really special days to hail from Donegal
McBrearty's season is over.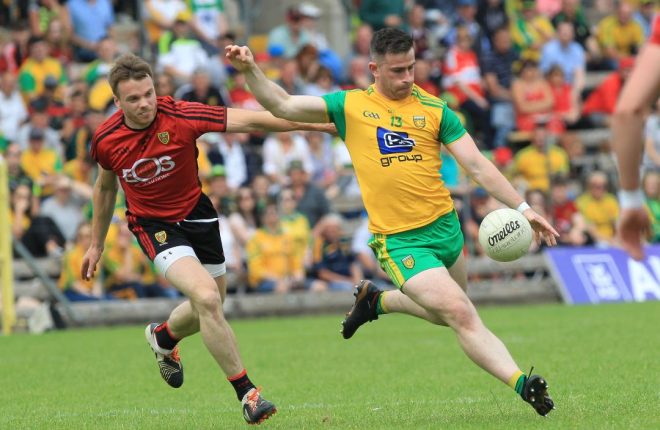 Patrick McBrearty's form to date this campaign has been simply sensational.