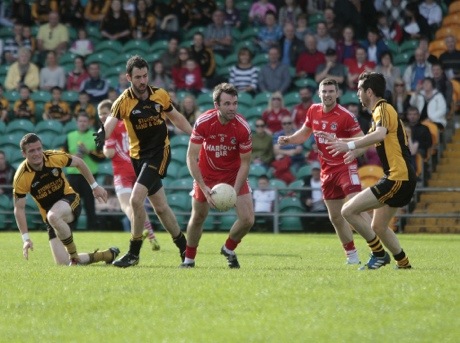 Malin 1-07 Killybegs 0-11
Report by Chris McNulty at Sean MacCumhaill Park
THE form book can now be tossed into the Atlantic.
Killybegs, whose Division 1 League sequence reads a dreary 'played 14, lost 14' held off Malin to reach the Donegal SFC final.
The fourteen men of Killybegs overcame the sending off of the influential Enda Murphy late in the first half to reach their second county final in four years.
With Donegal panelist Matthew Smyth and the recently called-up Hugh McFadden pointing the way, Martin 'Slua' Boyle's side made their greater experience of the big day count when it mattered.
There seemed a little bit of stage fright in a Malin side that was appearing in the club's first ever SFC semi-final and their fairytale run has come to an end.
Michael Byrne's 35th minute goal had them ahead, but it was Killybegs who took on the momentum.
Killybegs defended heroically late on, with goalkeeper Antoine O'Hara denying wing-back Kieran McColgan with a brave close-range save in the game's final minute. Anthony Kelly's raking ball in had been batted down by John G McLaughlin to the marauding McColgan, who was thwarted by O'Hara's block.
Moments earlier, with the entire Killybegs team stationed in their own half, Brendan Faherty – restored to the starting XV having got back from Chicago for the game – blocked John G McLaughlin as he advanced into the danger zone.
Killybegs, the six-times Dr Maguire winners, had been rocked in the 29th minute when Murphy was red carded by Ian Molloy. With Brendan McLaughlin opening up on a surging run out of defence, he was stopped in his tracks by a heavy, high challenge from the Killybegs midfielder. There could be little complaints about the decision, which now means that Murphy must endure the agony of watching as a spectator as his team takes on Glenswilly in the final.
Killybegs enjoyed the better start, with Smyth, McFadden and Faherty giving them a 0-3 to 0-1 lead in the sixth minute after an early Anthony Kelly free opened the account of the Inishowen side.
Charlie Byrne and Declan Walsh paved the way for Kelly to score his side's second point in the tenth minute.
Remarkably, they would add just one more point during the first half, a Michael Byrne effort in the 17th minute.
Killybegs, too, struggled for openings, though McFadden opened up a two-point lead. The big full-forward fetched long Christopher Murrin pass close to the corner, but managed to work out past Damien Harkin to curl over a beauty of a score that outlined his precocious talents.
Shane Molloy thumped over, but the second quarter was one that had a serious absence of action on the scoreboard with both sides squandering notable chances to add to their tallies.
With Smyth lording the middle third, Killybegs were on top in winning possession from kick-outs, with Malin struggling to come to terms with the occasion.
Killybegs lost Murphy with the clock running down in the opening period, but the intervention of Shane Molloy ensured they were ahead at the break.
Stephen McLaughlin, another man to have received a phone call from Jim McGuinness, surged through for Malin and off-loaded to the edge of the square.
With O'Hara's eyes widening in the goal as he sensed the inevitable, with Malin hands awaiting for a knock-down, the black and amber crew were almost ready for celebration, when Molloy managed to stem them flow, somehow getting a touch on it to preserve their lead, 0-5 to 0-3.
Daniel Breslin and Charlie Byrne swapped scores on the resumption before Malin struck gold.
Michael Byrne might well have had 15 on his back, but his role was much deeper than his number suggested. His ghosting runs in were causing headaches for Killybegs and, in the fifth minute of part two, he riffled to the net in style after taking an off-load by Brendan McLaughlin.
Byrne's finish was precise and powerful, O'Hara having little chance of saving on this occasion.
Killybegs' response was perfect.
Captain Benny Boyle drew them level with a fine free off the floor and they were ahead sixty seconds later.
Smyth slotted over following a determined piece of play by McFadden, who gamely held off a number of challenges before popping off to Boyle, whose sweeping pass was met by the in-rushing Smith.
When Boyle won a free beyond the '45 there seemed little danger, but McFadden belied his young years as he slammed over the black spot with a score that served notice of his team's intentions.
A pair of Kelly frees came either side of Smyth's third and just a point was between them with ten minutes left.
Killybegs were making light of the numerical disadvantage and McFadden displayed commendable steel in sailing over a free taken from the sideline 40m from the target to make it a two-point game.
With O'Hara and his rearguard holding firm, Byrne's late score was in scant consolation for Malin, whose music died.
Meanwhile, the boys from Killybegs go rolling on and a county final awaits a team making a habit of scrunching up the pages of the form guide.
Malin: Declan Lafferty; Finbarr Collins, Damien Harkin, Gary Farren; Kieran McColgan, Declan Walsh, Charlie Byrne (0-1); Anthony Kelly (0-4, 3f), John G McLaughlin; Stephen McLaughlin, Matthew Byrne, Brendan McLaughlin; Michael Byrne (1-2), Terence Doherty, Paul McLaughlin. Subs: Adam Byrne for P.McLaughlin (44 mins), Dan McDaid for Doherty (52 mins).
Killybegs: Antoine O'Hara; Eoin 'Ban' Cunningham, Jason Noctor, Daniel O'Donnell; Christopher Murrin, Shane Molloy (0-1), David Conwell; Enda Murphy, Matthew Smyth (0-3); Daniel Breslin (0-1), Conal Molloy, Benny Boyle (0-1, 1f); Brendan Faherty (0-1), Hugh McFadden (0-4, 2f), Brendan McGuire. Subs: Pauric Gallagher for O'Donnell (50 mins), Mark Boyle for Maguire (54 mins), Charles Tully for Breslin (60 mins).
Referee: Ian Molloy (Naomh Conaill).
Posted: 8:08 pm October 6, 2013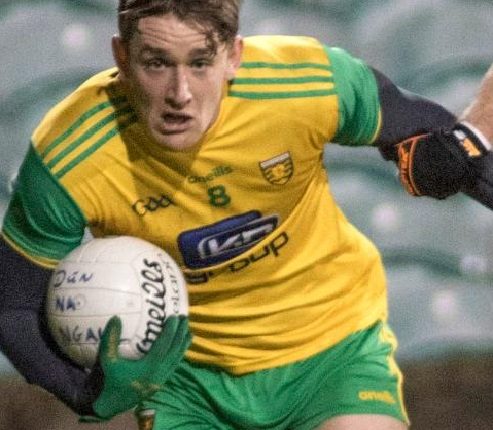 The Killybegs man wasn't happy with the Fermanagh result but he hopes they can learn from it in the...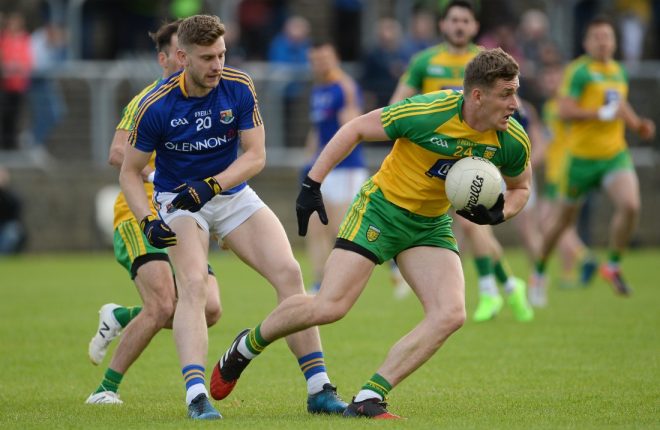 A big day for the Killybegs man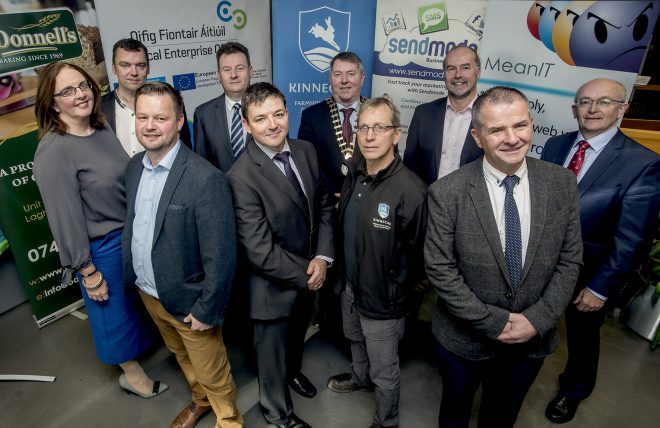 The funding was made available under the new Local Enterprise Office Innovation Investment Fund, a programme designed to help...