BY CHRIS MCNULTY
DONEGAL hurling manager Ray Durack has backed the new proposals for the National Hurling League.
Central Council will vote on Saturday on the proposal to alter the League for 2014. The proposals would see the total number of teams in Division 1A and 1B from 12 to 14.
For Donegal, currently in Division 3A, it would mean going into a higher level of competition. The new proposal, if accepted, would see Donegal play Division 2B with Down, Mayo, Armagh, Roscommon and Fingal. Each team would play one another once with the top two teams playing a final and the winners getting promotion to Division 2A.
"I would definitely be interested in that, big time," Durack told the Donegal News.
"I have been pushing hard for Donegal to get into the Ulster Senior Hurling Championship again. It would be great to get a chance to play against Down, Armagh and these sorts of teams.
"Everything is a learning process in this game and you can only get better by playing better teams.
"We would be looking at playing challenge games against these teams anyway, so wouldn't we be better playing them in competitive games?
"It would really help to push Donegal hurling on."
A simple majority will be required to get the new proposals into rule. If the proposal is accepted, Central Council will be asked to approve this structure for a five-year period.
Donegal won the Nicky Rackard Cup this year for the first time thanks to a 3-20 to 3-16 win over Roscommon at Croke Park in June.
It has since been learned that Donegal will not, in fact, play Christy Ring hurling in 2014.
"I didn't find that out until a couple of weeks after we'd won the Nicky Rackard," Durack said. "The format has changed again. Basically now we have to go and win it again. Then, the Nicky Rackard winners play the bottom team from the Christy Ring. It's a bit of a blow, but we'll just have to give the Nicky Rackard another go.
"There's nothing to stop Donegal from playing at a higher level. We've been long enough playing at the lower tiers and we feel we're good enough to press on."
Posted: 3:30 pm October 8, 2013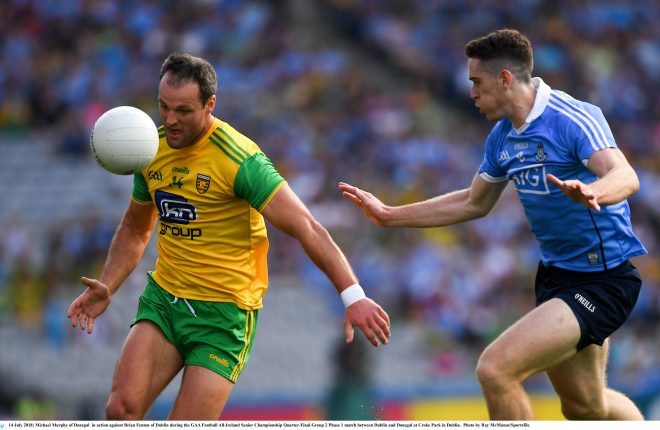 Dublin too strong in Croker.